Nene Leakes admits 'he's different' after husband Gregg Leakes' cancer returns
Thoughts and prayers with Gregg and Nene Leakes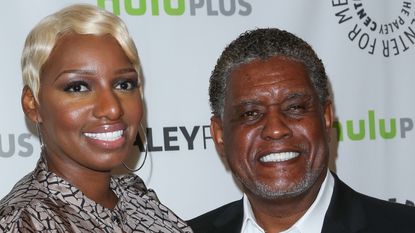 (Image credit: Paul Archuleta/FilmMagic/Getty)
Gregg Leakes' cancer has returned, his wife NeNe Leakes revealed on Monday.
The former Real Housewives of Atlanta star shared the news with fans on social media, asking for prayers for Gregg and herself.
Speaking on an Instagram Live with The Jasmine Brand, Nene revealed that this was the first time she was publicly sharing the news that Gregg's cancer had returned and that he had been in the hospital for nearly a week already.
Before she shared the news, Nene was asked casually how her husband was doing.
It is here that Nene's demeanor changes in the video.
"He's been in the hospital…tomorrow will be a week," Nene shares with the blogger.
"I haven't talked publicly about that, this is the first time I'm saying something about it… I'm sure he'll be home in about a week."
"It's difficult," she said, adding that Gregg was "different."
---
More from woman&home:
• Don't dismiss warning signs as IBS.
• What your toilet habits might be telling you about your health
• Just how old is your body really?
---
"He's super small," she said. "If you've ever been around somebody who's had cancer before, he's different. He's different."
As she explains that he's had to have an operation like this before—which saw him stay in the hospital for around 15 days—Nene asked fans to "pray for Gregg… pray for his strength."
A visibly emotional Nene also asked for fans to send positivity her way, adding "pray for me, too."
Gregg was first diagnosed with stage III colon cancer back in June 2018 and Nene had previously opened up to PEOPLE about how she dealt with Gregg's cancer the first time around.
She told the magazine, "It's very, very hard to be a caretaker. People call and they say, 'How's Gregg doing?' and I want to throw the phone and say, 'How the f- am I doing? I'm going crazy over here, Gregg is wearing me out!'"
"I am not good at this s-! I would rather hire somebody. Gregg doesn't want me to hire somebody, but I'm just not good. I'm not good at fluffing the pillow; I'm good at buying the pillow."
The couple—who famously divorced in 2011 after 14 years of marriage but remarried in 2013 with a television special titled "I Dream of Nene"—have faced hardships in the past due to ill health.
Gregg took to his Instagram in January 2019 to apologise to his wife. Sharing a snap of the reality star and actress, he wrote, "…I'm tired of hurting my wife who is only trying to take good care of me and wants only the best for me too. She deserves much more for her hard efforts and tireless hours spent on me… Cancer WILL change your Life..."
Despite sharing their struggles, the couple persevered and have remained together since, often sharing snaps of their happy times together with fans on social media.
Up until now, NeNe's last update to fans about her husband's health was back in 2019 when she was elated to share the news that her husband, aged 66, had been given the all-clear following treatment.
Here's hoping there will be a similar outcome for Gregg this time around and he'll get the all-clear once again.
Jack Slater is not the Last Action Hero, but that's what comes up first when you Google him. Preferring a much more sedentary life, Jack gets his thrills by covering news, entertainment, celebrity, film and culture for woman&home, and other digital publications.
Having written for various print and online publications—ranging from national syndicates to niche magazines—Jack has written about nearly everything there is to write about, covering LGBTQ+ news, celebrity features, TV and film scoops, reviewing the latest theatre shows lighting up London's West End and the most pressing of SEO based stories.