Nadia Sawalha: 'I Thought I Was Dying During The Menopause'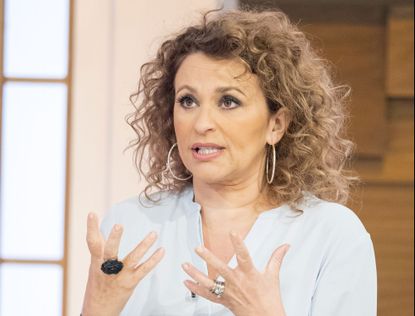 woman&home newsletter
Sign up to our free daily email for the latest royal and entertainment news, interesting opinion, expert advice on styling and beauty trends, and no-nonsense guides to the health and wellness questions you want answered.
Thank you for signing up to . You will receive a verification email shortly.
There was a problem. Please refresh the page and try again.
Let's face it, when it comes to matters of health, wellbeing, and our bodies,Loose Women's Nadia Sawalha is not one to shy away from discussing the real issues.
Her honesty is somethings fans clearly love about her, having praised her for opening up about the deeply personal issues ofmenopausal hair loss (opens in new tab) and incontinence (opens in new tab) previously on the ITV show.
The TV star recently spoke exclusively to woman&home online, and admitted that because of her honesty on the show, she's now feeling so much more comfortable talking about the issues that really affect her.
In particular, Nadia had confessed how bladder sensitivity has plagued her life for years, after first noticing it following the birth of her children. She admitted that "I first started noticing the incontinence after I had my children. I had my children quite late - I had my son at 42, so I would say really in my mid-40s.
"I think the thing is with it is that there is a lot of camaraderie between women who have a sensitive bladder. Women who have had babies will go 'don't make me laugh!', crossing their legs. And it becomes a normal thing. And it's because we all ignored the advice to work on our pelvic floor when pregnant. But what I've found out, with my work with incontinence-wear company Depend, is that doctors and midwives aren't getting the message across well enough."
So did she go to the doctor for help? "I didn't go to my doctor when it happened because I thought, 'This is just what happens' - everyone says it. And that's the thing, everyone just accepts it, so our advice is very much to go to the doctor."
Discussing those much-advised pelvic floor recommendations, she admitted "I definitely didn't do my pelvic floor. When you have your baby the last thing you're thinking about your pelvic floor.But then it started to get worse. I was very overweight at one point - I was four and a half stone heavier than I am now, so I started running to help me loose weight.And I even managed to do two marathons!
"But in between those two marathons I was starting to realise that I was wetting myself whilst running. And because of that, I actually stopped running. Because, like lots of people, I had started to remove myself from situations.
"I remember once I actually wet myself on a rollercoaster and after that I thought, 'well, I'm never going on a roller coaster again!', and I remember just logging that in my brain - there's another thing I can't do."
But now Nadia has now developed a way to cope with her body's changes - and she uses three specific things to help tackle it.
"I have a three-pronged attack.I use Depend, who sell discrete incontinence products (opens in new tab). And I promise, you can't even notice them! They're like normal underwear. For all those women who have found themselves not doing what they want to do, use them, seriously.
Secondly, Nadia keeps active. "And I also make sure that I keep my weight down.I do anexercise called Rebounding with Rebound UK (opens in new tab), which is really good," she told us.
And finally, she makes sure she regularly strengthens her pelvic floor muscles. "Rebounding is essentially a fun workout on a small trampoline, which can help to keep me fit and has really strengthened my pelvic floor."
But despite being so open on Loose Women, she admitted that she couldn't quite bear to tell her husband, Mark, about the realities of getting older and the menopause.
(Nadia on Loose Women)
She said, "My husband is seven years younger than me, it's not a sexy thing to talk about is it? It's not 'Oh I've recently has this fantasy and I want you to cover me in chocolate and whipped cream.', it's 'I wet myself sometimes!'
"And I did feel funny about it, which is extraordinary to me because we have an incredibly close relationship. We talk about everything, we've been through enormous trials and tribulations together. We don't have any secrets, but for some reason I didn't want to tell him this. I kind of felt sorry for him."
According to Nadia though, her tendency to wet herself wasn't the only thing that left her feeling self-conscious around her partner - saying that another symptom of the menopause could have made things a bit tricky in the bedroom.
She said, "I also felt really embarrassed about telling him about my menopause, because as soon as you start talking about it everyone starts going 'Ooh dry fanny, you won't want sex!' It is just very unsexy. It did affect us a bit."
But when Nadia did tell her husband about what she'd been going through, she couldn't have been happier with the response.
"All that sort of stuff I just hadn't said to him. And when I did, he said, 'I've seen you give birth with no painkillers, you've got the most unbelievable body, why do you think something like that would affect me in any way about you?' So I'm really blessed that I'm married to somebody like that."
But what about the rest of the menopause symptoms? Although Nadia admitted to noticing immense physical changes during that time of her life, she also revealed that the emotional changes that came with the menopause hit her incredibly hard too - leaving her feeling as though she had dementia.
She revealed, "The menopause is really dark, very very dark. I had irrational rages - you get really angry out of nowhere and all of a sudden I'd have these flipouts.
"I also experienced memory loss - which then got me really paranoid that I had dementia. Before I knew I had the menopause I thought I was getting that. That was petrifying, and I didn't want to tell anybody that.
"And I still worry about that. I don't know how much of that is just mad life, menopause. But when I started to read up on menopause symptoms, I realised I was perimenopausal, and a lot of women were saying the same thing. And oh my god, the relief!"
But there was one other symptom of the menopause that even left her fearing for her life.
"During the menopause, I was also bleeding for months and months and months, round-the-clock. And I remember ringing the doctor and I said 'I'm really bleeding a lot'.
"He asked, 'is it a mug-full a day? Are you filling a mug?' And I said 'It's probably about half a mug', and he said 'That's okay then'. But it's petrifying - it's just pouring.
"You think you're dying. I really thought I was dying - I thought I had womb cancer, dementia, all of that. And I didn't want to tell anyone. So I was really really depressed. It was such a shock. You hear about things like the night sweats, but you don't hear about the really dark side."
Amy Hunt is an experienced digital journalist specialising in homes, interiors and hobbies. She began her career working as the features assistant at woman&home magazine, before moving over to the digital side of the brand where she eventually became the Lifestyle Editor up until January 2022. Amy won the Digital Journalist of the Year award at the AOP Awards in 2019 for her work on womanandhome.com.