Nadia Sawalha's kind gesture brings Loose Women co-star Kaye Adams 'almost to tears'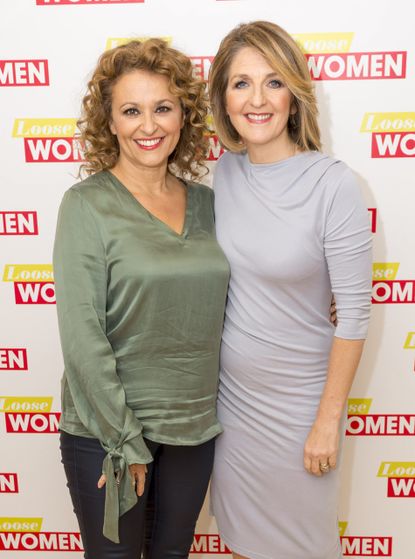 (Image credit: Ken McKay/ITV/REX/Shutterstock)
TV star Kaye Adams may be the consummate professional in the Loose Women studio, but there's one place where she used to feel completely out of her depth: the kitchen.
Speaking to Woman & Homefor our June issue (on sale now), Kaye confessed how until recently she couldn't even get a readymeal right.
The star recalled an indecent where she found herself "hacking the bottom of a blackened pie, praying that there would be enough pastry left to stop the filling oozing out all over the worktop." Oh dear!
But all that changed when Kaye's friend and Loose Women co-star Nadia Sawalha made a major gesture - and offered to teach her how to cook.
MORE:Nadia Sawalha reveals plans to have plastic surgery following years of body insecurities
Kaye revealed: "When, for the zillionth time, I exclaimed to Nadia, 'How do you do that?' she finally replied, 'I'll teach you.'
"Some of the questions I would ask drew looks of utter incredulity but I make no apologies for not knowing how to macerate my onions (it's when you marinate them in vinegar). After all, I am the girl who stunned my home economics class by somehow making Pineapple-The-Right-Way-Up Cake."
Under Nadia's tutelage, Kaye's cooking has gone from strength to strength - and her family's reaction to her efforts almost brought her to tears.
"Nadia was incredibly patient and when, after more than a few attempts, I made my first (perfect) pavlova under her watchful eye, she beamed like a proud father at the birth of twins," Kaye said.
"The first time my youngest, Bonnie, tasted my stir-fried beef and declared, 'It's as good as Nadia's!' I nearly shed a tear."
Way to go, Kaye!
MORE: 5 things you didn't know about Nadia Sawalha
Now, the star feels almost as comfortable in the kitchen as she does in front of the camera.
She said: "Finally, I am enjoying cooking – and the reaction my efforts receive. The sense of dread has gone and I can't deny it feels good not to be met with a collective grimace when I shout: 'Dinner's ready!'"
Read the full interview with Kaye Adams in the June issue of Woman & Home, on sale now. Her new cookbook with Nadia Sawalha,Nadia and Kaye Disaster Chef: Simply Recipes For Cooks Who Can't (opens in new tab),is out now.