Molly Ringwald's daughter won't watch Breakfast Club for this one reason
The Breakfast Club had a cult following but Molly Ringwald's daughter won't watch it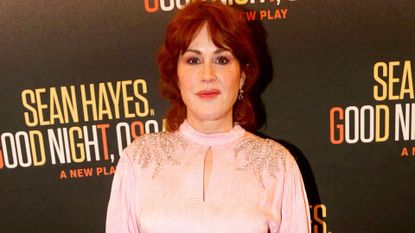 (Image credit: Getty Images)
Molly Ringwald, who starred as Claire Standish in the cult movie The Breakfast Club, explains why her young daughter won't watch the movie with her.
Let's be real - there are a lot of movies and TV shows from the past that don't necessarily always hold up to today's political correctness standards. One of those films, according to Molly Ringwald's daughter, is one of her mom's most beloved movies - The Breakfast Club.
Molly revealed that her daughter primarily refuses to watch the movie, which also stars Emilio Estevez, Paul Gleason, Anthony Michael Hall, Judd Nelson, and Ally Sheedy, due to its sexist tropes.
"She's very liberal. I mean, I'm very liberal, but she's another level. Which she should be, and I'm glad," she said of her 13-year-old daughter, Adele.
The movie, which came out in 1985, has a massive cult following, even almost 40 years after its release, and many even consider it to be one of the best films of all time. But to Molly's daughter, this fact doesn't excuse the film's contents.
Fans of the movie may remember a handful of scenes in which Claire (Molly's character) is berated, teased, and even sexually harassed by another character - only to later kiss him in the school parking lot. The film also features a slew of gay and racial stereotypes that are exhibited throughout.
Molly told The Guardian that she recognizes that the film came from a different era - an era where there wasn't as much consideration about what can and can't be said on screen (or, at all, really). The same goes for a plethora of Molly's most popular movies, primarily the ones directed by John Hughes, like Pretty In Pink and 16 Candles, for example.
"There were certain things that were accepted that just wouldn't be accepted now," she continued.
According to a 2018 essay that features Molly in The New Yorker, there were apparently other scenes that ended up getting cut from the film before it hit theaters due to their explicit and/or sexist themes.
"There was a scene in which an attractive female gym teacher swam naked in the school's swimming pool as Mr. Vernon, the teacher who is in charge of the students' detention, spied on her," she says.
She then explains that she pleaded with John (the director) to cut the scene, which inevitably put the actress playing the teacher out of a job. "The scene wasn't in the first draft I read, and I lobbied John to cut it. He did, and although I'm sure the actress who had been cast in the part still blames me for foiling her break, I think the film is better for it," she continues.
Madeline Merinuk is woman&home's US lifestyle news writer. She covers celebrity, entertainment, fashion, and beauty news but is also obsessed with internet trends - you can find her reciting trending TikTok sounds out loud at any given time.
After winning multiple student journalism awards for her investigative work, she graduated from Hofstra University in 2021 with a B.A. in Journalism. After graduating, she worked at today.com, the digital site for the Today Show, where she wrote pop culture news and interviewed big-name personalities like Emily Ratajkowski, Haley Lu Richardson, Emma Corrin, and more.
Her personal interests, in no particular order, are: cheese, Joni Mitchell, reading, hot yoga, traveling, having multiple chapsticks in every handbag at all times, and dancing to ABBA songs as if she were in the Mamma Mia movies.