Miranda is returning to our screens for a one-off special to mark 10th anniversary
She's back!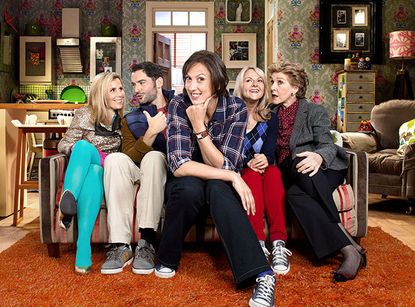 (Image credit: BBC)
It's been almost five years since Miranda Hart was last on our screens but now the star has announced her beloved comedy will return for an hour-long special.
The new show titled Miranda: My Such Fun Celebration will mark the 10th anniversary of the sitcom.
Due to air on BBC One later this year, the entertainment special will take the form of a live show - rather than a traditional episode format.
The one off-event at the London Palladium will see cast members reminisce over the past decade of the popular comedy.
Naturally, Miranda will play host for the show but the BBC have also promised viewers "not only some poignant reflections and behind the scenes titbits but much silliness, dancing and enforced galloping". Tom Ellis and Sarah Hadland also starred in the series, but organisers are remaining tight-lipped on whether they will be making an appearance at the live show.
The sitcom first aired on November 9th 2009 and ran for three series, with a few specials.
Fans tuned in for the last episode, which was aired on New Year's Day in 2015, to see Miranda marry her beloved Gary - played by Ellis.
READ MORE: Princess Diana fans will have to wait a bit longer to see her in The Crown (opens in new tab)
Creator and star of the show Miranda Hart said, "What happened with my sitcom and comedy alter-ego over the last ten years has been unexpected to say the least, so it's very moving for me to have the chance to celebrate and thank my cast and the fans from The Palladium stage.
"We are hoping to put together a what I call such fun hour of television for them all."
The BBC's director of content, Charlotte Moore, promised that fans would not be disappointed with the new live format.
She said, "Miranda is one of the great British sitcoms so to celebrate its tenth anniversary, this BBC One special promises an hour of pure, unadulterated fun from the home of entertainment itself, the London Palladium."
Sally Phillips also starred in the series at Miranda's snooty friend, Tilly, alongsidePatricia Hodge who played her overbearing mother, Penny.
Words by Lizzie Thomson