Michelle Obama reveals what it's like to spend the night at Buckingham Palace With The Queen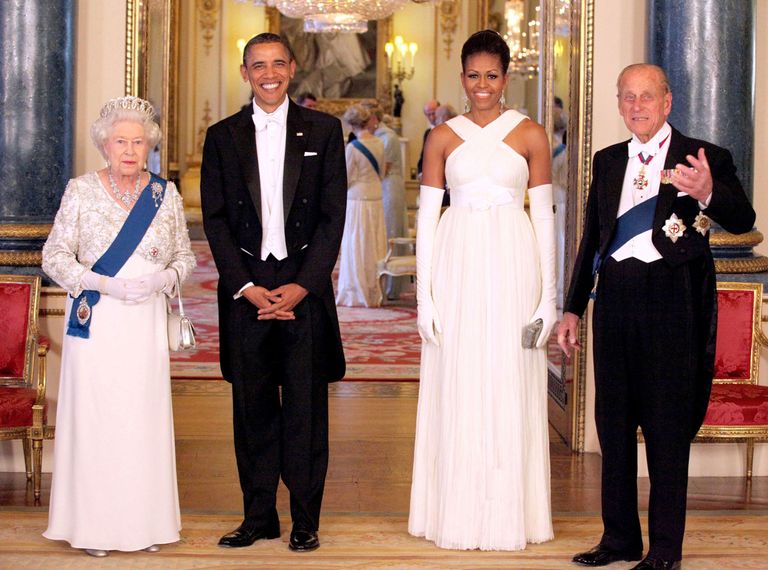 By Amy Hunt
When Michelle and Barack Obama joined the Queen and Prince Philip for a stay at Buckingham Palace, it made for perhaps one of the most glamorous sleepovers the world has ever seen.
Shortly after Barack's inauguration as President, the couple headed over to England. On their visit, the pair formally met with the monarch and her husband.
And given that they'd flown half-way across the world, the pair were offered a home at the grand palace for the duration of their stay.
54-year-old Michelle, speaking at a panel, has now shared an intriguing insight into the sleepover.
The former First Lady confessed that she wasn't nervous about a stay at the royal institution, given that she'd met with the famous couple many times before being asked to stay.
"I think by the time we had the sleepover we had enough interacting with them."
MORE: Where To Grab A Pair Of Michelle Obama's £50 Trainers
Michelle also revealed that some interesting details about the Royal Family, sharing that love to "gossip" - just like any other family.
"The surprising thing is folks wanted to be treated normally. Everybody is happy when all the people are gone. They want to be hugged, they want to be touched. They gossip." Now that, we would love to see...
Michelle was also asked the tricky question of whose food she prefered at the panel event - but certainly wasn't afraid to be honest.
She said, "I don't want to insult anybody, American food is just better." However, she did go on to confess that the Queen has "better china".
Being perhaps one of the most famous families in the world, you'd expect the royals to have a wealth of expensive possessions.
But Michelle revealed the unexpected nugget that the family actually have a room filled entirely of gold at Buckingham Palace.
She admitted, "Everything is gold. We had seen the gold room - there's a room where they keep all the gold.
"It was Sasha's birthday and the Queen opened the house and she let us see that room."
The former First Lady also stated that royal state banquets are every inch as lavish as you'd expect.
"During the state banquet, the plate that I thought was the charger, that was the plate. They put food on the gold charger."
Michelle and husband Barack are well-known to be close to the British royal family. In particular, they share a close friendship with Prince Harry, after working together on the Invictus Games.
It's been rumoured that the couple will, as such, attend Harry's upcoming wedding to Meghan Markle. However, as a guest is still to be confirmed, we'll have to wait until the day to see if the speculation is true...