Could Darcey Bussell Replace Len Goodman As Head Judge?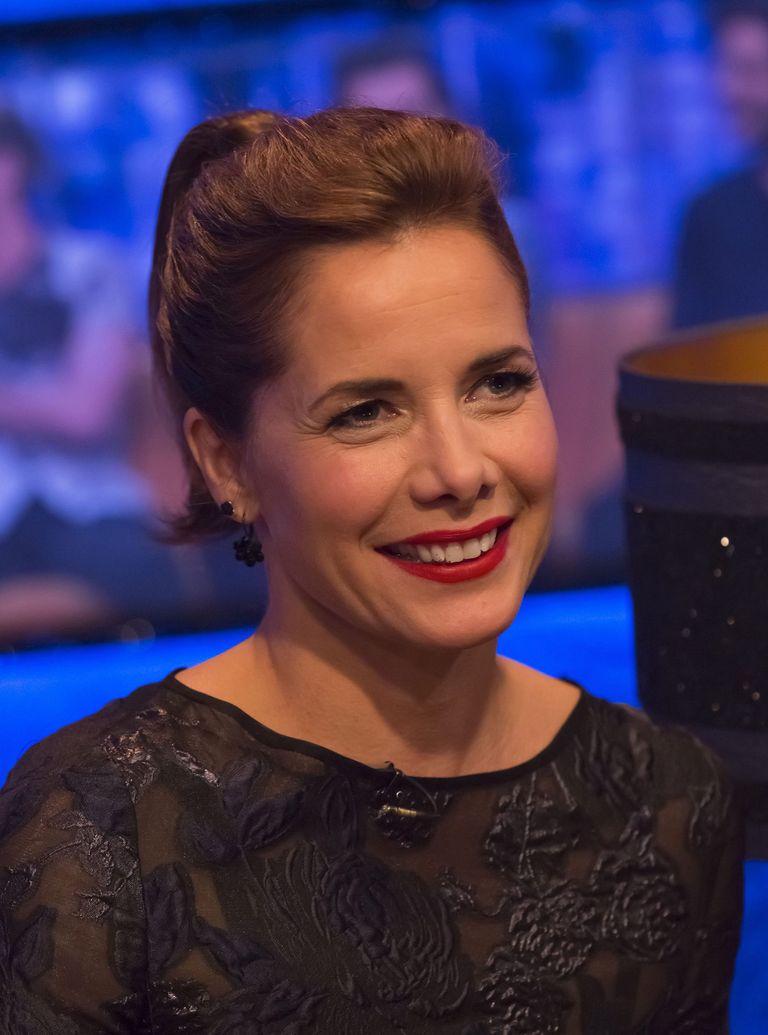 The Strictly final hits our screens on Saturday night and the special event marks Len Goodman's final live episode, after a 12 year run. Over the past few months rumours have circulated about a possible replacement for the head judge, however today sources close to the BBC have revealed Darcey Bussell could be taking over the top spot.
BBC chiefs are yet to make the final decision, but executives have expressed an interest in having a female in the role and Darcey has established herself as a major figure on the show. Producers feel that the position requires a level-headed, calm personality and someone who is popular with the public - and Darcey ticks all those boxes.
Other possible replacements include, Anton Du Beke, Brendan Cole, former judge Arlene Philips, ballroom dancing coach Gary Edwards and Australian ballroom judge Helen Richie.
However a source close to the show has revealed that the BBC wouldn't feel comfortable bringing somebody in over Darcey's head.
We think the former ballerina would make an excellent head judge!
Ed Balls Joins Strictly Come Dancing Live Tour
The former shadow chancellor was the 10th celebrity to be eliminated on Strictly Come Dancing, after losing the dance-off to fellow contestant Judge Rinder. However, Ed won't have to hang up his dancing shoes for too long, as it was announced today that he will be joining several other celebrities on the Strictly Come Dancing UK tour.
The live tour starts in Birmingham in January and the line-up will feature 2016 contestants Ore Oduba, Louise Redknapp, Danny Mac, Lesley Joseph and Daisy Lowe. It will be the 10th Strictly Come Dancing tour, consisting of 21 dates across England and Scotland.
Ed Balls will be joined by judges Len Goodman, Craig Revel-Horwood and Karen Hardy as well as tour host Anita Rani.
Despite consistently landing at the bottom of the judge's leaderboard, Ed Balls remained a firm favourite with the public with his comedic dance routines, including a Gangnam Style salsa and a Western-themed Charleston.
If his performances on the live shows were anything to go by, those with tickets to the Strictly Come Dancing Live Tour are definitely in for a treat!
http://www.youtube.com/watch?v=Czqtjk_iGFU
Could Another Strictly Baby Be On The Cards?
Louise Redknapp has revealed she's hoping to have another baby next year, after the Strictly season finishes. Whilst appearing on TV show This Morning, Louise said her dance partner Kevin Clifton may be her lucky fertility charm and help her fall pregnant. Two of Kevin's previous partners, Frankie Bridge and Kellie Bright, fell pregnant the year after the show finished.
Louise is married to footballer Jamie Redknapp and the couple have two children together, twelve year-old Charles and eight year-old Beau. Louise added that she'd love to have a baby girl to complete her family.
Talking about the topic on the show, Louise said, "It's one of those things fertility. I didn't have my first son easily, it took four years. My second one, four weeks. It's not something I'll rule out, if it happens we'll see."
"Jamie would love another baby." She continued, "I'm not getting any younger so we'll see what happens. But I'm in Strictly shape now so we'll see."
We'll just have to wait until next year to see if another Strictly baby could be on the cards.
Strictly Star Attacked Following Blackpool Show
There was a disappointing end to the Strictly Come Dancing Blackpool special show. After filming was completed, professional dancer Gorka Marquez was attacked while out celebrating with fellow dancers and contestants, in an unprovoked attack that resulted in him losing two teeth. The 26-year-old is said to be now set to undergo dental surgery to repair the damage. The BBC said Marquez had been "sadly the victim of an unprovoked incident", adding, "He will be back in training this week and is looking forward to the group routine next weekend."
Last week ITV announced a rival dancing show, set to air next year, which could rival the much loved show. Dance, Dance, Dance, which starts in the spring, will see celebrity contestants recreate iconic dance routines from music videos and films, in front of a live studio audience, over a period of several weeks. The programme will be fronted by Alesha Dixon, both an ex Strictly Come Dancing judge and contestant herself, who will be joined by Will Best for her presenting duties. There will be three judges who will mark the contestants who have been confirmed to be Diversity's Ashley Banjo, and choreographers Tina Landon and Timor Steffens.
Recently, Strictly Come Dancing revealed who would be appearing on their annual Christmas Special, and it could be the best line-up yet. This year's show, is made up of just ex contestants, with Frankie Bridge, Gethin Jones, Ainsley Harriott, Pamela Stephenson, Denise Lewis and Melvin Odoom all set to return to the Strictly Ballroom to dance once more. This is the first time that a contestant from this year's main series will compete, with Melvin being first to get the boot from the 2016 series. The show will be bitter/sweet, as it will be the final time Len Goodman will take his place as head judge, following the announcement in July, that this series of Strictly would be his last.
The announcement of the line up comes following a week of baby news. There must be something in the water. Strictly star Anton Du Beke has revealed he's set to become a father for the first time, after confirming he's expecting twins with his partner Hannah Summers. Anton took to Twitter to announce the news and shared a pictures of a top hat, a cane and two sets of ballet shoes! The couple have been receiving IVF treatment over the past few years and are said to be overjoyed with the news. Anton has starred in the BBC hit show since 2004 and has been rumoured to replace Len next year, but with the twins due in the spring we're sure Anton will already have his hands full!
It was also announced recently that professional dancer, Aliona Kavanagh, is expecting her first child. Aliona, who quit the show last year so she could move to America shared the good news on her Twitter page. Accompanying an intimate photo of the couple was the message "Just want to share our amazing news! Vin & I are pregnant and we are sooo excited to have our little miracle." The dancer, alongside celebrity partner Jay McGuinness, was last year's Strictly winner.
[twitter]
It was another action packed week on Strictly Come Dancing. Apparently, though, the action behind the scenes was even hotter, as backstage sources claim that a second walkout was narrowly avoided. Craig Revel Horwood controversially awarded Greg Rutherford and Natalie Lowe a mere 4 points for their performance, dismissing Natalie's rumba choreography as inauthentic and reducing her to tears. According to a source on the show, Greg threatened to leave the show after storming off stage and had to be calmed by several crew members. "Four people had to restrain him as he insisted that he was done with the show," the source told The Mirror. The pair returned to training on Monday - but could there be more fireworks in store this weekend?
Following news that Brendan Cole would be missing the show due to an aggressive lung infection, came the announcement that Laura Whitmore would also be absent from a weekend performance The Irish television presenter damaged her ankle during training and was unable to perform putting her future on the show in doubt. She expressed her disappointment at being ordered to rest on her twitter page saying the jive, which she was supposed to perform with partner Giovanni, was the dance she was most looking forward to.
There was almost another injury during the live show when a lift being performed by politician Ed Balls went wrong almost resulting in him dropping his professional partner Katya. Although the near miss put him bottom of the leader board it was Lesley Joseph's journey that came to an end after facing Daisy Lowe in the dance off.
http://www.youtube.com/watch?v=VnTckkiHEIw
It has been a dramatic couple of weeks in the world of Strictly. Just a week after Will Young dramatically quit the show, came news that Brendan Cole will be replaced with another dancer after being rushed to hospital. Brendan, who is partnered with Anastasia,was forced to perform last week despite feeling under the weather after contracting a lung infection but it seems things have taken a turn for the worst. The dancer who has been in the show since it first started has been told to rest. He was replaced by Gorka Marquez, who was voted out alongside Tameka Empson in week two. A note from Brendan was read out on last night's It Takes Two show saying 'I'll let you in on a little secret, we have the lovely Gorka stepping in for me for a few days whilst I try and recover and beat this little chest infection.' He joked 'I don't know how happy I am about it, he's Spanish, he's good looking, and he's got a body that's pretty much the best on the show.'
This followed news that Will Young had quit the show after just three weeks. He was tipped to go far in the competition, scoring high points for his dances, but made a speedy departure offering no explanation aside from 'personal reasons'. The former Pop Idol winner did reveal that 'as a performer, a viewer, and a fan of the show, to dance as a contestant was an experience I always hoped for. I have made some great friends, and am I in awe of their performances week in and week out.' His dance partner Karen Clifton took to twitter later in the evening to say 'It was great dancing with him, he was such fun to work with and I wish him all the very best for the future.' See his dance from last weekend's show here...
Vinnie Shergill who has worked on Strictly since 2013 let us in on a couple of secrets from the show and revealed what it is like to work on the show. 'Although it's only on for four months, it's a year-round job for me. My role is to get the celebrities for the show, so I'm constantly on the hunt, and agents are always approaching me with clients who would love to be on the show. Six months before everything kicks off, my life is a constant stream of meetings, trying to pin down the people we want. I start every year with a wish list.
We try to have a really diverse group to appeal to all age groups. It doesn't matter if someone can dance, but it's useful to know - if they can't, it doesn't mean they can't do the show. It's all about personality and what they can bring to the programme, Prince Harry would definitely be my dream celebrity contestant! I'm a big fan of his and I know from several people that he does watch the show. We use codenames for our celebrities before they're announced. This year they were all Shakespeare characters, and the year before they were Disney characters. Jeremy Vine was Nemo and Daniel O'Donnell was Tarzan! The names are a closely guarded secret only very few people within the Strictly camp know before they're announced.'
Strictly Come Dancing is back on our screens and we couldn't be any happier about it!15 celebrities have been battling it out for the glamorous glitterball trophy, with Tameka Empson, Melvin Odoom and Naga Munchetty the first three to be voted out. U.S singer Anastacia made headlines for an incredibly generous gesture. The U.S singer annouced that she will be donating her fee to a breast cancer charity. In 2003 the singer was treated for breast cancer and in 2013 she underwent a double mastectomy when the disease returned. She has not revealed how much her fee is worth or which charity the donation will be going to. The I'm Out Of Love singer made further headlines in the second week of the competition when she was voted into the bottom two. Having ripped her scar tissue during training she was unable to perform in the dance off and who left the competition was put down to the public vote.
Before the competition kicked off officially the show held a red carpet launch event. This was the first time we were able to lay eyes on the bedazzling line-up bedecked in all their ballroom-ready finery...
Scroll down to see who you are voting for with the final line-up of this year's show...
Greg Rutherford
He's only just returned from the 2016 Rio Olympics, but it seems there's no rest for World Champion long jumper Greg Rutherford, as he'll be slipping on his dancing shoes to star in this year's Strictly. He said: "I love being challenged and taking to the Strictly ballroom is like nothing I have ever done before - doing this is a long jump away from my day job for sure!"
Tameka Emspon
You probably know Tameka for her role in EastEnders, but it seems she's been building up to her debut on another BBC hit show for some time..."I have been waiting years to take part in Strictly and I'm so excited that I finally get to show the nation my moves! It's always been a dream and I can't wait to get started!"
Lesley Joseph
Birds of a Feather actress is hoping to impress this season, saying: "Strictly is an iconic show and I have always loved the glamour and the dedication and the entertainment and this year it suddenly seemed right to take part. I am scared and excited and apprehensive and thrilled to be a part of this wonderful show and I will try my best and enjoy this amazing experience!"
Judge Rinder
Order, Order! The next contestant to be confirmed for this year's Strictly Come Dancing is TV judge Robert 'judge' Rinder. The accouncement was made during Scott Mills BBC Radio 1 show where he confirmed he had signed up for the new series. He said, "The only thing I knew would make my grandmother more proud than watching my TV courtroom was to see me dressed up in white tie doing the Foxtrot. So although I suspect the latter will be far more difficult, I am doing Strictly Come Dancing for her". We wonder if the judges will be as scathing as he is to some of the guests on his show. Only time will tell.
Claudia Fragapane
Fresh from the Rio Olympics, gymnast Claudia Fragapane has been confirmed as the 11th contestant for this year's Strictly. Whilst the pint-sized gymnast (she is just 4"7) is no stranger to lycra and spandex the 18 year old is excited by the prospect of the sparkly costumes. She said "I love costumes that stand out. Lots of sparkles!"
Anastacia
Singer Anastacia is the tenth contestant to be comfirmed for the upcoming series. The Left Outside Alone singer told Chris Evans on his BBC Radio 2 breakfast show: "I'm a total '10' on the level of excitement and definitely a '10' scared! Taking part in Strictly is a dream, it's such a new challenge for me. I've never done anything like this before so I hope I pull it off!"
Naga Munchetty
BBC breakfast presenter Naga Munchetty has been announced as the latest contestant on this year's Strictly, confirming the news on her morning show. The journalist has been working for the BBC since 2008 but given the prime time morning news slot in 2014. Naga has very limited dance experience noting that she has previously had two dance lessons which were now 12 years ago. There is one person in particular who has inspired her to don her dancing shoes. "Anita (Rani) was my inspiration for doing this - Strictly was completely out of her comfort zone and she really went for it. She gave it her all."
Daisy Lowe
Model Daisy Lowe was announced as a celebrity contestant on the Strictly twitter account. Daughter of Pearl Lowe and Gavin Rossdale, she has starred in major fashion campaigns for some of the biggest labels in the world, and recently became a British Fashion Council Ambassador for London Fashion Weekend. She said: "My friends and family and I adore Strictly, so when the chance came up to take part - I jumped at it! I am itching to get started and am so looking forward to learning a new skill."
Danny Mac
Hollyoaks actor and former west-end star Danny Mac has played wheeling and dealing Dodger Savage since 2011 but previously performed in shows such as Les Miserables and Wicked. The 28 year old soap star is excited to follow in the footsteps of fellow Hollyoaks alumni Ashley Taylor-Dawson. On the announcement being made he revealed he is nervous to be on show infront of millions of people each week. He said 'I have no idea how this is going to go, to be completely honest. I feel like I'm jumping out of a plane and hoping the parachute will open'
Louise Redknapp
Former pop star and TV personality Louise Redknapp is to join this year's line up. Louise was a member of 90s girl band Eternal. More recently she has presented different TV shows and has been the face of numerous advertising campaigns. She's also been a judge on the UK version of So You Think You Can Dance and participated in the celebrity addition of The Apprentice in 2008. Louise is married to English footballer Jamie Redknapp.
Melvin Odoom
KISS FM DJ Melvin Odoom was announced this morning as the latest celebrity confirmed for this year's line-up. The presenter told his listeners on this morning's KISS FM that he is "Honoured to be a part of Strictly 2016! I'm looking forward to learning some moves of course...but basically it's just the sequins that clinched it for me."
Ore Oduba
29 year-old BBC sport presenter Ore is currently busy in Rio for the Olympics, but has said that he "can't wait to get started" on this year's show. He's admitted to feeling "nervously excited" but we can imagine himdoing fabulously on the dancefloor.
Laura Whitmore
The former I'm A Celebrity Get Me Out Of Here Now presenter will join Will Young and Ed Balls for the competition that will kick off in September. The announcement was made on Nick Grimshaw's Radio1 breakfast show.
Will Young
The singer, who first rose to fame in the singing competition Pop Idol in 2001, will be waltzing and foxtrotting in the hopes of impressing judges Darcey, Len, Bruno and Craig this year.
Ed Balls
The show's Twitter account announced Ed by cheekily referring to an incident when Ed was searching for an article on himself, but accidentally typed his name into the status box and posted a Tweet of just his name - fans now refer to the anniversary of this day as 'Ed Balls Day'. Thankfully, the politician saw the funny side and tweeted back: "BBC Strictly".
It was announced last month that this will be Len Goodman's last series as a Head Judge on Strictly Come Dancing. Of course, the question on everyone's lips is who'll be replacing him? Len himself has backed either Anton Du Beke or Karen Hardy, but new reports are suggesting that an outsider has alreay bagged the job.
Helen Richey, who is already a judge on the Australian version of the show and has worked an impressive 15 series', is the new favourite. A source told The Sun: "Helen is known across the dancing world and highly respected. She's been a judge in Australia for 12 years so is used to the cameras and has a similar calm temperament to Len."
It was recently announced that three new professional dancers will be joining the show, replacing old favourites Ola Jordan and Gleb Savchenko.
The new bunch look to be just as talented and glamorous as the last, and we can't wait to see who they get paired up with when the series starts this Autumn. So who are these new foxtrotters? We've got the lowdown!
Neil Jones
Undefeated four-time British National Champion, Neil Jones, joins his wife and dance partner Katya on the Strictly professional roster. The couple have been dancing together since 2008 and have won the World Amateur Latin Championships three times running. Although it's their first time on the roster, we're sure The Joneses are going to be tough competition. But, which Jones will do the best? We'll just have to wait and see.
AJ Pritchard
Born in Stoke-on-Trent, AJ is one of the youngest professional dancers on the show - in fact he was only nine when Strictly Come Dancing was first aired, which is quite scary. The talented dancer is partnered with Chloe Hewitt, who is also joining the roster. The two are currently the British Open Youth Latin Champions and European Youth Latin Champions and if that wasn't enough they also got to the semi-finals of Britain's Got Talent in 2013.
Chloe Hewitt
Unlike her partner AJ, Chloe Hewitt was only eight when the first episode of Strictly was aired. Now at age 20, she is the youngest ever professional dancer to join the roster. But don't let her age fool you. Besides winning the European Open Youth Latin Championship, AJ and Chloe were also the three-time National Youth Latin Champions from 2012-2014. On joining the show, she said : "My childhood dream of being on Strictly Come Dancing is now reality. "The sheer excitement is exhilarating and I cannot wait to be part of the Strictly family," she continued.
Oksana Platero
Many of us will be sad to see blonde bombshell Ola Jordan go, but Ukrainian dancer Oksana Platero is set to fill her shoes. The 26-year old siren has appeared on America's Dancing with the Stars in the past, so she definitely knows what she's doing. So could Oksana find romance on the show? Well she's married to fellow dancer Jonathan Platero, and they dance together in a troupe called 'The Connection', which do everything from ballroom to hip-hop, to salsa, and the couple seem very much in love on social media. Let's hope Oksana doesn't fall into the Strictly Curse - as the show is notorious for ruining relationships - at least not during her first series, anyway!
Katya Jones
Another bombshell is set to join the professionals, in the form of Katya, a Russian-born latin dancer. She first won the amateur latin championships in 2010 and has triumphed twice since in the competition. Katya is also married, again to a fellow dancer named Neil Jones. Katya also designs some of her own outfits, so we're hoping to see some self-designed, sparkly little numbers on the Strictly dancefloor come September.
Gorka Marquez
Spanish hunk Gorka is the handsome replacement of Gleb Savchenko, and he's been dancing since the age of 12. He's also in a relationship, and seems very loved-up with Glaswegian dancer Lauren Sheridan, although she is working for a cruise company so they often have long periods apart. On his role on the show, he said, 'it's something that every dancer dreams of and something that I have always wanted to have the opportunity to do'. We're rooting for him to be paired with a talented celeb, so we can see lots more of him throughout the series.