Madonna celebrates 30 years of controversial SEX book with cheeky social media post: 'You're welcome b-tches'
It's been 30 years since Madonna released her coffee table book, Sex, which many thought was too shocking – even for Madonna!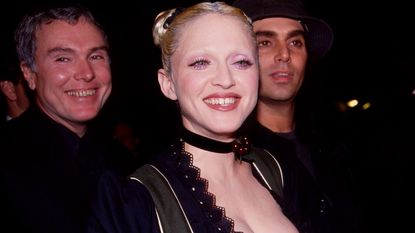 (Image credit: Sonia Moskowitz/Getty Images)
By 1992, Madonna had already outraged the public, the press and even the Pope. But she'd go one step further, all thanks to a little book.
Concerts like the Blonde Ambition tour in 1990 had her threatened with arrest, as she simulated masturbation on stage.
Music videos like the iconic Like a Prayer in 1989 had her condemned from the Pope himself, who labelled the singer "blasphemous."
It appeared that Madonna couldn't really go any further, but never one to back down from a challenge, the legendary Queen of Pop would go ahead and do just that with the release of a coffee table book.
October 21, 1992 – The SEX book is released worldwide. Who got to purchase a copy of the book on the day of its release? Tell us your story! #MadonnaStory pic.twitter.com/vyc2CR4eNeOctober 21, 2018
See more
What was Madonna's Sex book?
On October 21, 1992, Madonna released Sex, a coffee table book filled with images of the star in provocative poses.
Featuring images of sadomasochism, sexual fantasy and plenty of nudity, the book was released the day after Madonna's fifth studio album, titled Erotica.
Written through the fictional creation of a character named Mistress Dita, Madonna's images and short stories covered all avenues of sexuality.
Many other celebrities appeared throughout the book, including supermodel Naomi Campbell, Isabella Rossellini and rapper Vanilla Ice.
Why was Madonna's Sex book so controversial?
She's no stranger to outrage and shock - even to this day, after her recent 'coming out' viral video sparked a big reaction from fans and press - but the reaction to SEX was next level.
Many, including those normally supportive of Madonna's rebellious nature, felt that the singer had simply gone too far.
From uncompromising visuals of various sex acts to scenes of BDSM, the book did not shy away from taboo.
The legacy of Madonna's Sex book as the singer celebrates its anniversary
Despite many at the time suggesting Madonna had ruined her career or gone past the point of return, Sex was actually a record-breaking success.
In the US alone, Sex sold 150,000 copies on its first day. The book topped both the Washington Post and the New York Times best seller lists.
In a matter of days, it had sold more than 1.5 million copies worldwide and, to this day, remains the best and fastest-selling coffee table book in history.
The book was launched with a star-studded party, where similar famous rebels like Grace Jones attended.
The book has benefited from modern re-evaluations, with many critics today commending Madonna for being ahead of her time.
Defending the controversial book some three decades later, Madonna took to social media late on Saturday evening.
In her post, the Like a Virgin icon wrote, "30 years ago I published a book called S.E.X."
"in addition to photos of me naked there were photos of Men kissing Men, Woman kissing Woman and Me kissing everyone. I also wrote about my sexual fantasies and shared my point of view"
Touching on the backlash, Madonna added, "I spent the next few years being interviewed by narrow minded people who tried to shame me… I was called a whore, a witch, a heretic and the devil."
"Now, Cardi B can sing about her WAP. Kim Kardashian can grace the cover of any magazine with her naked ass and Miley Cyrus can come in like a wrecking ball."
She concludes the post, "You're welcome b-tches."
Jack Slater is not the Last Action Hero, but that's what comes up first when you Google him. Preferring a much more sedentary life, Jack gets his thrills by covering news, entertainment, celebrity, film and culture for woman&home, and other digital publications.
Having written for various print and online publications—ranging from national syndicates to niche magazines—Jack has written about nearly everything there is to write about, covering LGBTQ+ news, celebrity features, TV and film scoops, reviewing the latest theatre shows lighting up London's West End and the most pressing of SEO based stories.