'Have a life away from your children' Loose Woman panellist Saira Khan on why she thinks it's important to have time off from being a mum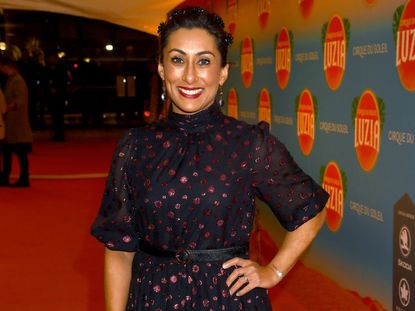 Women's ambassador for the United Nations and Loose Women panellist Saira Khan, 49, shares her wisdom
Being a parent is a skill you have to learn.
My husband Steve and I went on a parenting course to give us the necessary skills to raise our adopted daughter Amara and our birth child, Zac. If you're finding it difficult, you need to ask for help. A lot of parents blame it on the 'teenage years' or the 'terrible twos' but this behaviour is a sign they need help, or you need to communicate better.
MORE: Davina McCall on her next big project with the kids and finding her 'happy' dress size
Have a life away from your children.
Some of my friends take their baby to work and it is the most important thing to them. But I've got my life and my children have theirs. I've always worked and never felt guilty. Now I need to be around more to help with homework, but my children aren't hanging off my apron strings. I've made them independent from a young age. Amara was one when she went to the childminder's, while Zac was just eight months old. I have a healthier relationship with them because they've been able to have their own life.
You don't have to rush into making a commitment.
I knew getting married would be the biggest decision I'd ever make soI took a long time [Saira married at 32] because I was waiting for the person I wanted to spend the rest of my life with. You don't have to rush into making a commitment unless you feel it's 100% right and it's based on your values.
Be confident enough to speak up in a relationship.
Equalityis really important. My husband and I are both equal economicallyand when you have that, you have the right to speak up. A lot of men expect women to do everything for the children and if you're dependent on a partner for income, it's difficult to have that balance. It takes confidence and hard work to get into an equal relationship, but it takesthe edge off those financial arguments, which, for many couples, is a big issue.
For our full interview with Saira, pick up the March issue of woman&home on sale 6 February
Jack is Celebrity Content Director at Future PLC, working across the Women's Lifestyle brands such as Woman&Home, Woman, Woman's Own, Women's Weekly and GoodtoKnow.