Kylie Minogue opens up about trademark battle with Kylie Jenner - fans say she "deserved" to win
While on Watch What Happens Live, Kylie Minogue discussed the battle with Kylie Jenner over a 'Kylie' trademark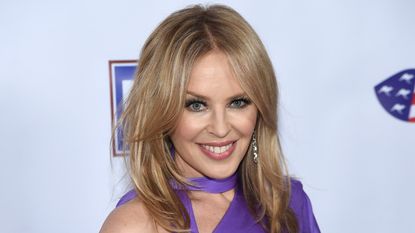 (Image credit: Jamie McCarthy / Staff / Getty)
It's been a few years but, clearly, fans are still thinking about Kylie Minogue's legal battle with reality star and business mogul Kylie Jenner over a 'Kylie' trademark.
Kylie, who recently celebrated her 54th birthday with an adorable throwback photo, spoke up about the episode, which kicked off in the mid-2010s and was resolved a few years later, while on Watch What Happens Live with host Andy Cohen.
For those who need a refresher: back in April of 2014, Kylie Jenner filed paperwork to officially trademark her name in connection to her eponymous clothing and makeup business in the United States. Kylie Minogue reacted by filing an opposition through her legal representatives in February of 2016 and the reality star's claim was officially rejected in 2017.
The details of the opposition claim included the fact that Kylie Minogue had been known in the entertainment industry since 1979, registered her website www.kylie.com in 1996 and released her first album (dubbed Kylie) in 1988.
---
"It was just business, obviously," the singer said to Andy after a viewer from Dallas asked her about it on the show. "When I was named Kylie, I think I had met one person older than me who was called Kylie, so [it was] kind of unusual. I've spent a lifetime protecting my brand and building my brand, so it was just something that had to be done. We came to an agreement."
Andy went on to ask Kylie if she had to reach out to the Kardashian/Jenner matriarch, Kris Jenner, to resolve the matter. "No, but I'd love to meet them," the singer responded.
Just a year after the trademark issue was resolved, Kylie Minogue opened up about it to Rolling Stone magazine, specifically citing how upset she was at some of the verbiage used by her own team in the notice of opposition. In fact, her attorneys referred to Kylie Jenner as a "secondary reality television personality who appeared on the television series Keeping Up with the Kardashians as a supporting character" to her "half-sisters Kim, Khloe, and Kourtney Kardashian (i.e., the Kardashians)."
"Can you imagine me saying that?" she said to the magazine in 2018. "That was just unfortunate that that is how those lawyers speak. I genuinely hope that it's understood that certainly did not come from me. Good news is, that's all wrapped up, we didn't have to go to court. That's all done and I'm sure I'll meet them one day."
Kylie's reflections on the matter, which she made public on Watch What Happens Live earlier this week, prompted her legion of fans to once again declare their support for the artist.
"I don't know why Jenner thought she could trademark 'Kylie' in the first place. Girl," one Twitter user wrote.
"Imagine battling Kylie Minogue over who gets to be Kylie. 😩 Shameless!!," yet another fan commented.
"There is only one Kylie, all others are just jealous Jenners," someone else wrote.
Although rehashing an almost decade-old legal conversation doesn't do anyone any good, we must admit that Kylie Minogue's class in handling the situation, even while discussing it on Watch What Happens Live this week, reminded us of why her star has always shined so bright.
Anna Rahmanan is a New York-based writer and editor who covers culture, entertainment, food, fashion and travel news. Anna's words have appeared on Time Out New York, the Huffington Post, Fortune, Forbes, Us Weekly, Bon Appetit and Brooklyn Magazine, among other outlets.