Kim Cattrall Talks Beauty And Diet Secrets, Men And Making Her Own Rules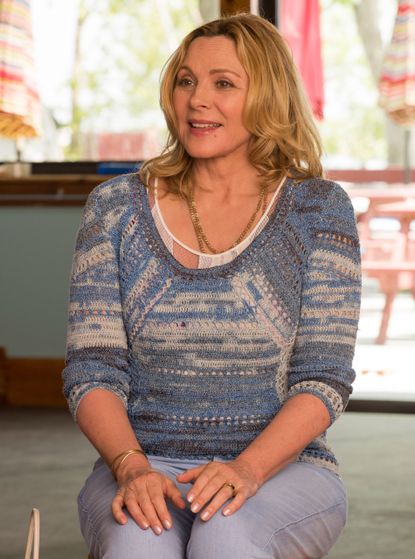 Best known for her role as Samantha in Sex and the City, Kim Cattrall, 59, is back on our screens in award-winning black comdedy, Sensitive Skin. Cattrall plays Davina, a former model and actress in the midst of a midlife crisis who feels she's losing her zest for life. Struggling with sexual temptation and professional jealousy, she must cope with her fear of the future alongside her husband, Alan (Don McKellar). The New York-based actress spoke to us about ageing gracefully and breaking boundaries...
When I hit my 40s I thought, "I can't play a sexy siren any more." Almost 20 years later it's still going on. I think that's because I take care of myself, which includes dieting and minimising stress and exercising. I joke that I've been on a diet since 1974, which is basically true. I like to eat, and my body type is not naturally this thin - especially at this age. So I do watch what I eat and drink but I'm not obsessive - it's just a way of life. So I don't have dessert after every meal - I just can't do it. I have a big appetite and I like to eat, and staying on top of that is about knowing myself and saying, "I can eat that today, but tomorrow I'm not going to". And I'm always aware from gaining and losing weight for parts that the time in the gym trying to lose extra weight is really hard work! I always have that in my mind.
I work out every other day. I try to do cardio three or four times a week. And I've had injuries in the past so I also do 'physio yoga' - a combination of physio and yoga so I'm constantly trying to rehabilitate my body. The older I get, the less jarring I want my exercise to be and I find that a long walk is equally as helpful and satisfying as a three-mile jog.
My beauty regime consists mostly of moisturiser. I've got a very good dermatologist because I have very sensitive skin. I like to exfoliate and I wear make-up that has sun protection, but other than that it's a very lax regime. I wear a very minimal amount of make up in daily life because I like my skin to breathe.
I don't really know what the fascination with cosmetic surgery is. It's a very personal thing and it's no-one's business. If it makes you feels better then do it. I don't know if I ever will - I'll see.
I'm pushing myself as I get older to be less safe. There's less pretence. I have less armour. We're all frightened because we don't know what's ahead of us. I don't have any answers; I only have questions. Even telling someone you love them is a vulnerable place because they might say, "Thanks but I don't feel the same!"
My generation and the one before me had the freedom to make up our own rules. There has been a huge change over the past 15 years of what a woman in her 50s and 60s can be - we are so much more open to choice. We are taking much better care of themselves; we are all healthier and living longer and creating lives for ourselves that are more than our mothers had. So there is more opportunity - and women are not beholden to a man or even a job to get fulfilment.
I don't know if men are intimidated by me - you'll have to ask men! If my accomplishments frighten someone, it's nothing to do with me - that's to do with them. But the men who are in my life see me as a person not a character - as a woman. My male friends don't seem to have any feelings of intimidation that I'm a 100 watt sex bomb standing next to them; they are able to distinguish between the Kim that is their friend, and the characters I have played.
One of the most powerful lessons my dad taught me was: "Luck is where preparation meets opportunity." When I auditioned for theatre schools I was prepared and was accepted by a very good one. I wasn't wishing and hoping; I'd done the work. The most painful thing about my father's dementia was its inconsistency because sometimes he would recognise me and sometimes he couldn't. He was such a proud, proud man, so he would try to cover up the fact he didn't know, or didn't understand. It's been three years since he died, but the child within me is still trying to come to terms with the void left.
The real Kim Cattrall...
Foodie weakness? Anything homemade - it doesn't matter what. There are very few things I won't eat. Who are you closest to? One of my college friends, who I don't want to name because I don't want to upset anyone else! Biggest fear? To be misunderstood. Relaxation is... Solitude. What are you best at? Being a good listener. What's your biggest regret? That I didn't have more time.
Sensitive Skin airs on Wednesdays at 10pm on Sky Arts.
Sign up to our free daily email for the latest royal and entertainment news, interesting opinion, expert advice on styling and beauty trends, and no-nonsense guides to the health and wellness questions you want answered.