Kelly Ripa reveals the 'sexual rituals' that her Mark Consuelos engaged in on FaceTime
In her new podcast, Kelly Ripa went into detail about how her and husband Mark Consuelos kept the spark alive while apart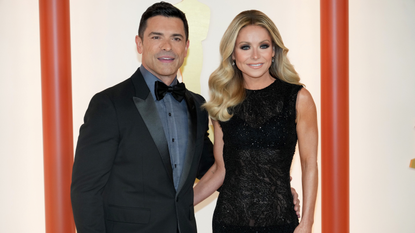 (Image credit: Jeff Kravitz / Contributor)
In a very candid debut episode of her new SiriusXM podcast Let's Talk Off Camera with Kelly Ripa, the 52-year-old TV host went on the record alongside her husband Mark Consuelos during a conversation with their marriage counselor, Dr. Linda Carter.
The couple, who recently exchanged sweet happy anniversary messages with each other, specifically got candid about how they kept their romance alive while Mark was away filming during the pandemic.
"There were rituals," Kelly explained. "We had sexual rituals that were so ludicrous over FaceTime."
Kelly immediately addressed feeling insecure about herself during that time, a refreshing outlook considering how taboo it usually is to talk about similar situations.
"I became so alarmed at my appearance over FaceTime that I started rigging the computer to hang from a ladder," Kelly, who says fans stop her to give her hair advice and she doesn't like it, revealed. "I'm not kidding. I hung the computer over a ladder so that I could look up to Mark and he did not have to see what gravity was actually doing. You get really close to yourself in situations where you're separated from your husband for long periods of time."
But that's not all that Kelly shared on the podcast. In fact, the celebrity, who has been married to Mark for nearly 27 years, also got deep about the effects of menopause on her sexual drive, admitting that, at times, she needed a break from physical intimacy.
"I didn't give you a break," Mark said to his wife on the podcast. "There have never been months [between having sex] unless I was in another country but if you just decided, 'Yeah, we're not having sex anymore,' I would probably have a problem with that."
Speaking of: Kelly also mentioned that cutting her husband off completely on a sexual level would be a "dealbreaker" for him - a fact that Mark himself did not deny. "Unless you had some type of medical condition where, like, you lost the use of [your body]," he said.
Kelly and Mark - who share three kids: 25-year-old Michael, 21-year-old Lola and 20-year-old Joaquin - will soon be spending even more time together. In fact, it was just recently announced that Mark will take over Ryan Seacrest's gig as Kelly's co-host on Live starting April 17.
In an official statement announcing his departure last month, Ryan praised Kelly while wishing her husband the best of luck on the show.
"[Kelly] has been an amazing partner, friend and confidant and, although we will always be a part of each other's lives, I will miss our mornings together," Ryan said then. "We've made memories to last a lifetime, met some of the most incredible people and had the warmest welcome into the homes of so many viewers across America. It's been a memorable ride and now I'm excited to pass the baton to Kelly's 'real' husband, Mark."
"I couldn't be more honored or excited," 51-year-old Mark said about the development, completely echoing our very own feelings - especially following that very intimate conversation between the spouses on Kelly's new podcast.
Anna Rahmanan is a New York-based writer and editor who covers culture, entertainment, food, fashion and travel news. Anna's words have appeared on Time Out New York, the Huffington Post, Fortune, Forbes, Us Weekly, Bon Appetit and Brooklyn Magazine, among other outlets.