Could YOU Be A Scriptwriter?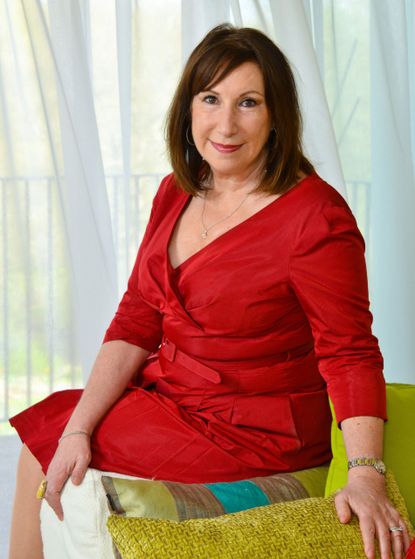 If you didn't catch the first series of BBC One's In the Club, don't fret because the pregnancy drama is returning to our screens for series two - and rumour has it that it's set to be even better than the last. Written by acclaimed scriptwriter Kay Mellor and starring the likes of Jill Halfpenny, Hermione Norris and Katherine Parkinson, it follows the trials and tribulations of a group of mums who meet at antenatal classes and the often unlikely bonds that are formed.
Not only has 64-year-old Kay Mellor drawn inspiration from her own experiences as a mother-of-two (to grown-up daughters, actress Gaynor Faye and television producer Yvonne Francas), she also admits basing some of her characters on her beloved friends! Having found herself pregnant at 16, it was two children and several years later that she plucked up the courage to take a three-year drama course and since then, she's written several hit series including Fat Friends and The Syndicate - and she's even met Steven Spielberg! She now lives with her teacher husband Anthony in Leeds.
In an exclusive interview with us, the scriptwriter revealed that she's now working on yet another brand new series called Love, Life and Records, and we couldn't help but wonder what goes into bringing her stories to life. We're not the only ones who have fantasised about seeing our ideas on screen, are we? Fortunately for us, Kay told us exactly how to get started when it comes to writing a script...
1. Analyse your competition. If you want to write for television, record a show that makes you think, "I really love the way this writer tells stories". Watch it back again, but this time analyse it - write down how many scenes contain comedy or tragedy and when you get to a bit you love, ask yourself, "How did they make me love it?".
2. Learn the magic formula. Read fairytales and children's stories - everything from Little Red Riding Hood to Goldilocks and the Three Bears - and you'll see there's a method used, which is the secret to their success. The character is introduced, then the conflict happens, then the rising action, before the climax and resolution. It's the same with TV and film.
3. Get writing. Start with your opening paragraph introducing your character, then spend half an hour thinking about how you want things to end - and write it down. You might think, "What? That's crazy!" - but if you're going to jump in your car, you know where you're going, don't you?
In the Club starts on Tuesday 3 May at 9pm on BBC One. To read our full interview with Kay Mellor, pick up the June issue of woman&home, on sale Thursday 5 May.