Kate Hudson lost out on this unforgettable movie role to Nicole Kidman – but what other iconic roles nearly went to other actors?
Kate Hudson could've appeared in one of the most lavish movie musicals ever, but she's not the only star to narrowly miss out on huge roles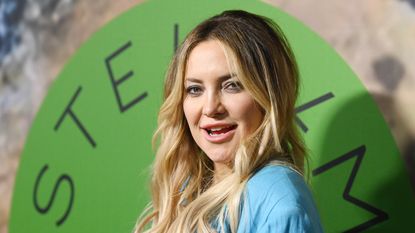 (Image credit: Gilbert Flores/WWD via Getty Images)
Nicole Kidman has starred in many legendary movies, but the majority of people might first associate her with Moulin Rouge!
The 2001 musical spectacular put Nicole on the map in an entirely different way, giving her one of her biggest, all-singing, all-dancing spectacular roles.
Not to mention the fact she got to wear a $2.5 million necklace which required its own security.
While speaking on Erin and Sara Foster's The World's First Podcast earlier this week, Kate was asked which role she auditioned for and didn't get that she really wanted, to which she revealed she was close to scooping the role of the doomed courtesan played by Nicole.
"I really wanted that part and it was written at the time for a 19-year-old girl, I believe," she said.
"Then what happened was I was sort of in the auditioning process and then Nicole had a relationship with Baz and wanted to do it. And so of course, it was like, 'I guess Nicole Kidman's doing it,'" she added.
Speaking about how far along she got in the audition process and her connection with Baz, Kate added, "He's so wonderful. And energetically, I just felt very connected to the way he does things. So I was bummed out. Of course, totally got it, because it's Nicole. It couldn't be more different… I really wanted that part."
Kate, of course, hasn't been short of her own iconic roles, having starred in the likes of Almost Famous and How to Lose a Guy in 10 Days.
But it got us to thinking – which other movies almost looked completely different?
Bette Midler in Sister Act
Whoopi Goldberg made Sister Act what it was. But she wasn't the first choice for the role of Dolores Van Cartier.
Screenwriter Paul Rudnick pitched Sister Act to producer Scott Rudin in 1987, with Bette Midler in mind for the lead role. The script was brought to Disney. However, Bette turned down the role, fearing that her fans would not want to see her play a nun.
Reese Witherspoon in Clueless
Alicia Silverstone recently made a comeback as Clueless' Cher for the Super Bowl, but Reese Witherspoon almost played the plaid wearing teen icon first.
Clueless director Amy Heckerling revealed in 2020 that she met with Reese about taking on the role.
Britney Spears in The Notebook
Now this one is truly mind-blowing. Britney Spears almost marked her return to acting with the role which went to Rachel McAdams in The Notebook.
Britney, who had previously starred in Crossroads, had something of a reunion with fellow Mickey Mouse Club star Ryan Gosling as she read for the role.
"I did [a screen-test with Britney Spears], yeah. I hadn't seen her really since she was about 12… so she's so grown up, but she was really good, actually," the actor added.
Charlize Theron in Chicago
Renee Zellweger shocked audiences when she proved she could pull off a musical number with aplomb just as easily as she could become the lovable Bridget Jones when she starred as Roxie Hart in Chicago.
This time, it wasn't just that Charlize was a contender for the role – she actually had the part.
But the movie had a tumultuous time behind the scenes, and the original director ended up leaving the production.
When new director Rob Marshall joined, he opted to go another way for his leads – so Charlize was out, and Renee was in.
Madonna in Showgirls
Another one which has our jaws on the floor.
The Queen of Pop herself was nearly the Queen of Las Vegas in the notorious 90s flick, Showgirls.
Madonna was approached to star as Cristal Connors, the celebrity dancer who clashes with Elizabeth Berkeley's Nomi Malone.
Gina Gershon went on to play the role after Madonna reportedly requested a complete script rewrite.
Matthew McConaughey in Titanic
Hard to believe but Leonardo DiCaprio wasn't a shoo-in for Jack Dawson.
Kate Winslet, during a visit to The Late Show with Stephen Colbert, revealed that when she auditioned for the part of Rose, she read her lines alongside Matthew McConaughey.
While Kate called him "completely fantastic", she added that "it just wouldn't have been the whole 'Jack and Rose, Kate and Leo' thing."
Julia Roberts in Sleepless in Seattle
In a 2014 interview with InStyle, Julia Roberts revealed that she turned down the leading role in the Nora Ephron romcom.
"I'd been offered Sleepless in Seattle, but couldn't do it," she said, but she acknowledged that somethings are meant to happen, praising Meg Ryan and Tom Hanks for another one of their winning joint projects.
"Meg Ryan and Tom Hanks are just such a jewel of a fit in that," Julia said.
Christina Applegate in Legally Blonde
The hilarious star of Netflix's Dead to Me turned down the role of Elle Woods because she didn't want to be typecast as a dumb blonde.
"What a stupid move that was, right?," Christina joked with ETOnline in the past.
Nevertheless, she doesn't regret it, saying Reese Witherspoon "did a much better job than I ever could, and so that's her life."
Henry Winkler in Grease
In 2017, Henry Winkler revealed to AARP The Magazine that he turned down the role of T-Bird leader Danny Zuko in Grease because he "didn't want to be typecast" following his long-running career as The Fonz in Happy Days.
Can you seriously picture Grease without John Travolta and Olivia Newton-John?
Michelle Pfeiffer in Silence of the Lambs
Silence of the Lambs director Jonathan Demme's first choice to play Clarice Starling was none other than Michelle Pfeiffer.
The problem, he said at a Q&A (as first reported by NME), was that the Scarface actor was "concerned about the darkness of the piece."
The role, of course, went to Jodie Foster who picked up an Academy Award for it.
Jack Slater is not the Last Action Hero, but that's what comes up first when you Google him. Preferring a much more sedentary life, Jack gets his thrills by covering news, entertainment, celebrity, film and culture for woman&home, and other digital publications.
Having written for various print and online publications—ranging from national syndicates to niche magazines—Jack has written about nearly everything there is to write about, covering LGBTQ+ news, celebrity features, TV and film scoops, reviewing the latest theatre shows lighting up London's West End and the most pressing of SEO based stories.