The $2.5 million necklace worn by Nicole Kidman which required two bodyguards of its own
Nicole Kidman wore the stunning $2.5 million necklace for 2001's lavish movie musical, Moulin Rouge!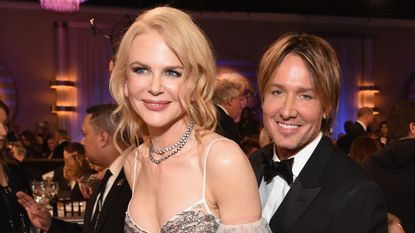 (Image credit: Michael Kovac/Getty Images for Moet & Chandon)
"They call her… the sparkling diamond."
These words introduce Nicole Kidman's character, the all-singing, all-dancing courtesan Satine in 2001's Moulin Rouge!
And truer words have never been spoken.
Nicole wore millions of dollars' worth of jewelry for the film, including one necklace alone which cost a staggering $2.5M – a figure which has meant it now features in the Guinness Book of Records as the most valuable piece of jewelry ever created for a motion picture.
New details about the stunning piece of jewelry have emerged now, over 20 years after the film was released, as the movie's director has sat down for a new interview with Vulture.
Speaking about why the necklace had to be real, despite the cost, Baz explains, "Back in the day when we did Moulin Rouge!, we did our own version of a Cartier diamond necklace for Nicole Kidman."
"See, in those days, you couldn't make something sparkle on film like real diamonds. You needed real diamonds. So that necklace is real. It's worth $2.5 million."
"The problem is, if you bring something of real value on set, you need two security guards standing by at all times. Luckily, now you can just do the sparkle in post."
That might be lucky for filmmakers, but it certainly lacks the same level of glamour.
The necklace itself was conceived by Baz and his wife, Oscar winning costume designer Catherine Martin.
They worked with famed jewelry designer Stefao Canturi to create the intricate, lace-like diamond necklace.
The end product was a truly Spectacular, Spectacular 134-carat white gold necklace, made up of 1,308 diamonds with a Sri Lankan blue sapphire on the clasp.
Patricia Canturi, the brand director of the Canturi label, said Stefano spent weeks researching late-1800s French jewelry for the necklace to be as accurate as possible.
As per The Adventurine, Canturi says, "He worked to capture the opulence and eclecticism of extravagant jewelry in the late 1800s, a time when fine jewelry was designed, crafted and worn with passion."
"He took inspiration from the Louis XVI style, openwork lace pattern, scrolls and splendorous bodice jewelry. The decadent necklace was meant to accentuate [Nicole's] beautiful neckline and décolletage, and especially stands out amongst a sea of theatrical costume pieces worn by cancan dancers throughout the film."
The iconic necklace currently resides in the private personal Canturi collection.
The painstaking detail behind the necklace is a result of what Baz describes as his filmmaking style, which he compares to being the "Stanley Kubrick of confetti" in his Vulture interview.
He elaborates, saying, "George Lucas saw 'The Great Gatsby' and said, 'The thing that you do is you create worlds' — and this is a great phrase — 'with an immaculate reality.' Meaning that it doesn't matter that the audience understands the rules on the outside, only that on the inside, the reality is immaculate. You can't just arbitrarily do a thing because you feel like it. The reality has got to be so immaculate that within it, the audience will buy into the world
Baz definitely knows how to create long-lasting words – the enduring legacy of Moulin Rouge has most recently inspired a Broadway production based on the movie.
Jack Slater is not the Last Action Hero, but that's what comes up first when you Google him. Preferring a much more sedentary life, Jack gets his thrills by covering news, entertainment, celebrity, film and culture for woman&home, and other digital publications.
Having written for various print and online publications—ranging from national syndicates to niche magazines—Jack has written about nearly everything there is to write about, covering LGBTQ+ news, celebrity features, TV and film scoops, reviewing the latest theatre shows lighting up London's West End and the most pressing of SEO based stories.