Julia Bradbury: 'My biggest motivation is staying alive for my children'
Julia Bradbury shares her inspirational story of resilience, her passion for life and why she will always remain positive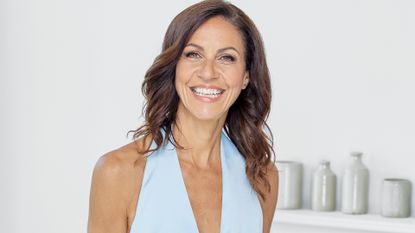 (Image credit: Future/woman&home/Dan Kennedy)
Julia Bradbury is in London's Holland Park admiring the fractal patterns of nature when a class of chattering primary school children parade past, a vision of fluorescent high vis.
"How lovely is that?," smiles the former BBC Countryfile presenter. East Midlands-born Julia has always been appreciative of her surroundings. One week before her woman&home cover shoot, we're meeting for her interview in one of her favorite open spaces in London.
"I've promised myself that I will be outside every single day. I want to feel the daylight whether it's rain or shine," says Julia. "Being amongst trees reduces your stress levels, increases love hormone oxytocin, can lower blood pressure and just makes you feel happy."
Sat beside Julia, who started out on cable channel L!VE TV before becoming GMTV's LA correspondent, the feel-good energy is palpable and she says her gratitude for life has 'heightened' since being diagnosed with breast cancer. She went public with her illness in September 2021. Last October announcing a life-saving skin and nipple-saving mastectomy on Twitter and when Julia Bradbury shared post-mastectomy selfie from hospital bed - she received support from her legions of fans.
A moving ITV documentary Julia Bradbury: Breast Cancer And Me laid bare her treatment and a deeply emotional journey alongside her property developer partner Gerard Cunningham, their son Zephyr, 11, and seven-year-old twin girls Zena and Xanthe.
Here, "six months out the other side," Julia opens up about new developments in her cancer fight, 'resetting' her life, and how her relationship with those closest to her has evolved…
"I'm not talking about my cancer diagnosis on social media to elongate sympathy. It's not about me but to spread awareness and open up the conversation," she says. "The outpouring of support is still very touching. I've been slowly getting back into work and doing a bit of filming for This Morning."
Julia explains that she's chosen to park her worries about a recurrence of cancer, and to focus on the positive changes she can make to nourish her body and increase resilience. "Well, I want to increase my odds. I was considered healthy, but I was eating way too much refined sugar every day, which is toxic and disrupts the hormone balance. Too much of anything can be bad - sugar, alcohol, even supplements. It's all about balance."
The TV presenter admits that historically, she hasn't been very kind to her gut and her body and admits that she was a heavy drinker in her past. "Right now, I don't feel comfortable drinking alcohol because if I drink one unit of alcohol a day my risk of recurrence is between 5 and 6% across my lifetime. With four units a day, it goes up to 28%." She also reveals that a comprehensive hormone test known as the Dutch Test revealed that her levels of the stress hormone cortisol were very high.
"So most nights I try to be upstairs with the lights low and no screens," she says. "Meditating or doing something gentle by 10pm to be asleep before 11pm."
"My message to women going through cancer is if it's within your bandwidth and doesn't stress you, find out as much information as you can," adds Julia - and she means business.
The former Countryfile host says that her extensive research has found that the food you're eating, genetics, lifestyle choices, how much sleep you're getting, your stress levels, and the lifestyle you lead can contribute to various chronic illnesses.
"For me, it makes sense to try and be as healthy as you can be going through this process," says Julia, who's switched to a mainly plant-based diet. "A growing body of medical professionals believe that certain cancers require different fuels and for breast cancer, it's recommended to mostly eat plant-based, not be heavy on dairy and to exercise often."
In fact, Julia says, "Sitting still is the new smoking!" and that fitness is a vital element of preventing recurrence. "I exercise six times a week, weight train two or three times and in that mix do tennis, yoga and I'm just getting into Qi Gong. I believe in having a goal and a purpose, from little daily activities that make me feel good, to bigger life goals.. My biggest motivation is staying alive for my children.
Julia's mantra for life has become, "be grateful for what you do have, not what you don't have."
"I have a breast, I have my nipple but I don't have sensation and because I'm naturally slim, I have what I call the mozzarella cheese effect around, as my friend Ben Sheppard and I call it, my pneumatic boob."
"Because my skin is very thin, you can really see the silicone implant beneath and it will be that way unless I have another procedure to inject fat from somewhere else. I don't want to do that. It would purely be for aesthetics. I suppose age has something to do with it. In your 50s and 60s, femininity is still part of your identity but it's not the be-all and end-all."
Just like any parent, Julia admits she has concerns over how her diagnosis has impacted her children. "We won't know how my diagnosis has impacted the children for maybe another ten years. I think we did our best when we told them."
The TV presenter highly praises the FruitFly Collective, a charity that helps families talk to children about cancer and treatment. She also pays loving tribute to her partner and family who, despite knowing the challenges they would face, have been really understanding of the enormity of a mastectomy.
"They know that the research I'm doing and changing the balance of my life is an important part of my recovery so they don't question it."
Julia says she'd love to do a TV series exploring personal medicine. "We've reached a threshold of a very interesting moment in science and medicine," she says. "There are lots of doctors talking about this - podcasts of doctors interviewing doctors - and sometimes it's all medical heavy."
The hardworking TV presenter adds, "It would be nice for a layperson to explore it and make it accessible. Other career ideas? Maybe I'll develop a makeup range in the future because I have yet to find a clean, high-performance cosmetics brand!"
---
---
The full interview with Julia is featured in the September issue of woman&home, on sale August 4, 2022
Gemma is a freelance celebrity interviewer, journalist, and showbiz expert. She's sat down with everyone from Kim Kardashian and Nicki Minaj to Ed Sheeran and Ant and Dec plus thousands of famous faces in between.
Since launching her freelance journalism business in January 2015, she's written for publications including The Sunday Times Magazine, Fabulous, Event (Mail on Sunday), HELLO!, OK!, Grazia, NOW, Closer, LOOK, New, Reveal, Essentials, Cosmopolitan, The Sun, Daily Mirror, and Daily Mail.