Josephine Baker to enter France's Pantheon as first Black woman—everything you need to know about the revolutionary performer
Josephine Baker received a Gaulle Legion of Honor in 1961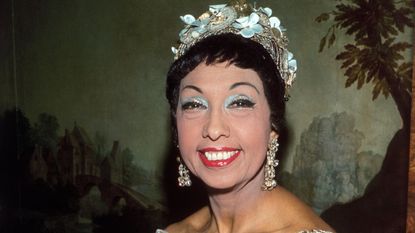 (Image credit: Pictorial Press Ltd / Alamy Stock Photo)
Josephine Baker is set to become the first Black woman to be laid to rest in France's historic Pantheon after President Emmanuel Macron reportedly agreed that she will be inducted here in the fall.
Born in Missouri, Josephine Baker went on to show her love and commitment to France during the war. The dancer, singer and actor worked with the French Resistance during World War II, having moved to Europe in the 1920s. Now, 46 years after she was laid to rest in Monaco, she is set to be given one of France's highest honors. Josephine Baker's remains will be moved from Monaco to France's iconic Parisian monument, the Pantheon mausoleum.
This historic move will reportedly take place in November and will make Josephine the first Black woman to enter the Pantheon. It's been reported that a group campaigning for her induction there met with French President Emmanuel Macron back in July, with one of the members, Jennifer Guesdon, explaining, "When the president said yes, [it was a] great joy."
---
Josephine Baker's family have been seeking her induction there for eight years now and according to The Guardian (opens in new tab), they have since gone on to receive a staggering 38,000 signatures on a petition.
This petition powerfully paid tribute to Josephine's legacy and life's work, declaring, "She was an artist, the first Black international star, a muse of the cubists, a resistance fighter during the second world war in the French army, active alongside Martin Luther King in the civil rights fight."
The ceremony to bury Josephine in the Pantheon is said to be taking place on November 30, 2021. This already hugely significant moment is made all the more so given the importance of this date. November 30 was when American-born Josephine married her French husband Jean Lion and officially became a French citizen.
What is France's Pantheon?
France's Pantheon is a memorial complex where great national figures in French history are laid to rest, including those from the fields of politics, science and literature. Inspired by the magnificent Pantheon in Rome, the architecture and significance of those who are buried there makes this a truly magnificent monument.
It's understood that only the president of France is able to induct figures into the former church and Josephine Baker will be joining only five women currently buried at the Pantheon.
The last person to be inducted back in 2018 was one of these five, soon-to-be-six, remarkable women: Simone Veil. Simone was a former French minister who fought for abortion rights and survived the horrors of the Holocaust. She is buried along with fellow French heroes, including Alexandre Dumas, author of The Three Musketeers, and physicist and chemist Marie Curie.
How did Josephine Baker change the world and what is she most known for?
Josephine Baker was an American-born dancer, singer and actor, who joined the Theatre des Champs-Elysées to dance after relocating to Paris in 1925. It was here that she is understood to have introduced the Charleston to French audiences, with this jazz style dance having already been made popular in the US where it was named after the South Carolina town where it originated.
And Josephine's skill soon made her the talk of Paris town, with The Telegraph (opens in new tab) reporting that fellow Paris-dweller Ernest Hemingway once described her as "the most sensational woman anyone ever saw". After capturing people's imaginations with her dancing talent, however, further success beckoned and Josephine went on to become the first Black woman to star in a major motion picture.
Whilst nowadays people might be compelled by Netflix's best French TV shows, it was the silent film, Siren of the Tropics, that delighted 1920s audiences.
Her dancing, singing and acting abilities made her one of France's most beloved entertainers, though it was her commitment and efforts on behalf of the country during World War II which she is perhaps now best known for. It was during the war that Josephine was recruited by the Deuxième Bureau, the French military intelligence agency.
She was enlisted to help put her fame and charm to good use, gathering information on German troops at high profile parties and gatherings. This is thought to have included those held at the Japanese and Italian Embassies, with Josephine famously sharing that, "The Parisians gave me their hearts, I am ready to give them my life."
Following Germany's invasion of France in 1940, Josephine continued to stand against them, moving to Southern France and housing members of General Charles de Gaulle's 'Free French' forces. She was later awarded a Gaulle Legion of Honor medal in August 1961.
Whilst her heart remained in France, however, Josephine Baker did also become involved in the US Civil Rights Movement during the 1950s and 60s, speaking alongside Martin Luther King Jr at the March to Washington in 1963.
According to The Telegraph, Martin Luther King Jr's wife Coretta once approached Josephine after his assassination in 1968 about the possibility of her taking a wider role. However, Josephine reportedly declined, suggesting that her children were "too young to lose their mother". Josephine and her family instead remained based in France, where she sadly passed away seven years later.
Why did Josephine Baker leave the United States?
Dancer, singer and actor Josephine Baker was born Freda Josephine McDonald in Saint Louis, Missouri in 1906, but moved to France in 1925 to make her home in the French capital. As reported by The Telegraph, Josephine was one of many Black Americans who went to Paris as an escape from the appalling racial segregation and treatment they received in the US.
Though Josephine did return to the US during her lifetime, she was refused admission to a number of hotels and restaurants whilst on her 1951 US tour and reportedly refused to perform for segregated audiences. Instead, she devoted herself to supporting the US Civil Rights Movement.
Who was Josephine Baker married to?
Josephine Baker is understood to have married four times throughout her lifetime and tied the knot with her first husband Willie Wells after running away from home as a teenager, before divorcing within a matter of weeks. It was whilst touring the US in 1921 that Josephine met her second husband, William Howard Baker, and after their wedding took his name, officially becoming Josephine Baker.
Two years later, Josephine and William divorced after her move to New York to pursue her career reportedly put a strain on their marriage. It was after moving to France and becoming a household name that Josephine married her third husband, Jean Lion, in November 1937.
As reported by Harper's Bazaar (opens in new tab), it was during her and Jean's marriage that Josephine first met artist Frida Kahlo. The two women reportedly met and began a relationship, despite this being considered taboo at the time. She, Jean and Frida soon all went their separate ways, however, and Josephine's final nuptials took place in 1947. Josephine married French conductor Jo Bouillon, with their marriage lasting 14 years, before ending in divorce in 1961.
Who are Josephine Baker's children?
Josephine Baker adopted 12 children throughout her lifetime, all hailing from different parts of the world. She is said to have raised her "Rainbow Tribe", as she reportedly referred to her loving family, at her Château des Milandes in Southern France. During their school years, Josephine reportedly charged admission to the grounds of her stunning home, so that people could come and observe her children playing peacefully, whilst they also sometimes sang for paying guests.
According to SportsKeeda, (opens in new tab) Josephine had two daughters, Marianne and Stellina, and ten sons: Jeannot, Akio, Luis, Jari, Jean-Claude, Noël, Moïse, Brahim Koffi and Mara. Whilst Josephine continued to tour during their childhood, it was her fourth husband Jo who is said to have often looked after the children at home at the Château.
When did Josephine Baker die?
Josephine Baker passed away on April 12, 1975 in Paris, aged 68, after suffering a cerebral hemorrhage. Just a few days before her death, Josephine is understood to have performed to a sold-out crowd in Paris, her enduring love of singing and dancing evident even at this time. Following her tragic death, Josephine's popularity in France was showcased in the number of people who lined the streets the day of her funeral.
The remarkable French woman was also given a twenty-one gun salute at the service. Reporting at the time, The New York Times (opens in new tab), revealed that amongst the guests who paid their respects on this sad day were Princess Grace of Monaco, who was a close friend of Josephine, Alain de Boissieu, son‐in‐law of Charles de Gaulle and actor Sophia Loren.
Josephine was then laid to rest in Monaco, dressed in a French military uniform, complete with the medals she had received.
Emma is a Senior Lifestyle Writer with six years of experience working in digital publishing. Her specialist areas including literature, the British Royal Family and knowing all there is to know about the latest TV shows on the BBC, ITV, Channel 4 and every streaming service out there. When she's not writing about the next unmissable show to add to your to-watch list or delving into royal protocol, you can find Emma cooking and watching yet more crime dramas.