Jennifer Lawrence finally revealed her baby son's name and it's kind of unusual with a creative twist
In a new interview, Jennifer Lawrence admitted that giving birth to baby son Cy felt like 'starting over.'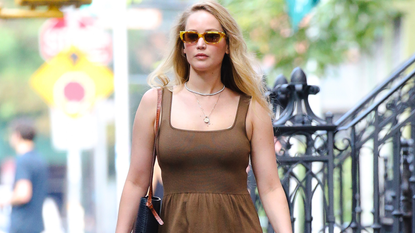 (Image credit: MEGA / Contributor)
Jennifer Lawrence and husband Cooke Maroney gave birth to their son this past February but, until now, the couple did not divulge their baby's name.
Jennifer, who has in the past been vocal about her political leanings while urging fans to find back against Republican party's 'radical wing' in passionate call to action, currently graces the cover of Vogue (opens in new tab)'s October issue and, in an accompanying interview, she got candid about giving birth to son Cy.
The 32-year-old actor explained that her and Cooke, a 38-year-old art gallerist, chose their baby's name as an homage to postwar American painter Cy Twombly, who is one of Cooke's favorite artists.
"It's so scary to talk about motherhood," Jennifer said in the interview. "Only because it's so different for everybody. If I say, 'It was amazing from the start,' some people will think, 'It wasn't amazing for me at first, and feel bad.'"
Jennifer went on to say that giving birth felt like her "whole life had started over" given the strong love she felt for her offspring. "I was just so in love," she said. "I also fell in love with all babies everywhere. Newborns are just so amazing. They're these pink, swollen, fragile little survivors. Now I love all babies. Now I hear a baby crying in a restaurant and I'm like, 'Awwww, precioussss.'"
In the article, Jennifer also praised the power of friendship in helping her navigate motherhood, both through the easier and harder times.
---
"Fortunately I have so many girlfriends who were honest. Who were like, 'It's scary. You might not connect right away. You might not fall in love right away'. So I felt so prepared to be forgiving," said Jennifer. "I remember walking with one of my best friends at, like, nine months, and being like, 'Everyone keeps saying that I will love my baby more than my cat. But that's not true. Maybe I'll love him as much as my cat?'"
The interview didn't just explore Jennifer's latest role as a mother but also functioned as a way to promote her newest film effort, Causeway, which is scheduled to drop in theaters and on Apple TV on November November 4, 2022.
In the movie, which premieres at the 2022 Toronto International Film Festival this week, Jennifer takes on the role of an Afghanistan vet who suffers a traumatic brain injury, returns to her New Orleans hometown and strikes an unlikely friendship with a local mechanic, played by Brian Tyree Henry.
"It's very personal," Jennifer said about the film, which explores heavy themes. "I get emotional every time I watch the movie. It's too personal to talk about. have had a pretty consistent theme in all my movies since I was 18. I'm curious if, now that I'm older and I have a baby, I'll finally break out of that."
We'll all have to wait and see about that one.
Anna Rahmanan is a New York-based writer and editor who covers culture, entertainment, food, fashion and travel news. Anna's words have appeared on Time Out New York, the Huffington Post, Fortune, Forbes, Us Weekly, Bon Appetit and Brooklyn Magazine, among other outlets.