Jennifer Hudson makes history with her first Tony Award win
It's official, Jennifer Hudson is an EGOT winner, a feat demonstrative of her talent all across genres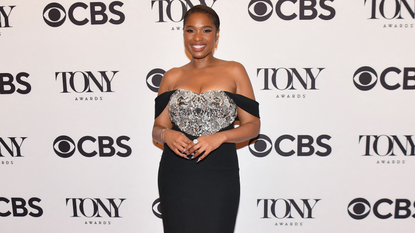 (Image credit: ANGELA WEISS / Contributor)
During last night's award ceremony, Jennifer Hudson received a Tony Award for her work as a producer on A Strange Loop, officially making history by solidifying her EGOT status, an acronym that denotes having won an Emmy Award, a Grammy Award, an Oscar and a Tony Award. Congratulations, Jennifer!
Jennifer, who relatively recently took on the role of her friend Aretha Franklin in her biopic, first won an Oscar in 2007 for her work on Dreamgirls. She went on to nab two Grammys, one in 2009 for her eponymous album Jennifer Hudson and another in 2017 in the Best Musical Theater Album category for The Color Purple. She won a Daytime Emmy just last year for the short film Baba Yaga.
The 40-year-old actor and singer has, in the past, discussed the possibility of earning such an achievement. "I got a dog and named it Oscar and then I won my Oscar," she joked to PEOPLE (opens in new tab) in 2020. "And then I got a dog and named it Grammy and then I won my Grammy. So I think I should get some dogs and name them Emmy and Tony and it'll give me good luck and I'll win. [They're] like my good luck charms."
In January, Jennifer also spoke to Harper's Bazaar (opens in new tab) about the possibility of "going EGOT."
"You know, I would love to achieve that one day. If I've come this far, why not go for the T?," she said to the outlet back then. "I do this for the love of the craft. I'm truly passionate about what I do. I've been blessed to achieve so much in my life. So if it permits itself for me to have the opportunity to add the T to my EGO, I will."
What she was able to conquer following last night's win is remarkable: she's only the 17th person in the world that can now boast about being part of the "EGOT club," whose members include John Legend, Andrew Lloyd Webber, Audrey Hepburn, Mel Brooks, and Rita Moreno, among a few others. Jennifer is also the youngest person ever to achieve EGOT status.
Jennifer's career trajectory is truly an astounding one. She first rose to fame as a finalist on season three of American Idol. Although she placed seventh, she went on to truly astonish fans in Dreamgirls, starring alongside Jamie Foxx, Eddie Murphy and Beyonce Knowles. She put out albums and continued showing off her acting chops in Cats, Sing, Winne Mandela, and more.
She's most recently also told US Magazine that she would be up reprising her role as Louise, Carrie Bradshaw's assistant in the first Sex and the City movie, in And Just Like That season 2. We couldn't agree with her more.
Anna Rahmanan is a New York-based writer and editor who covers culture, entertainment, food, fashion and travel news. Anna's words have appeared on Time Out New York, the Huffington Post, Fortune, Forbes, Us Weekly, Bon Appetit and Brooklyn Magazine, among other outlets.