Jennifer Aniston admits her recent Friends reunion was a 'sucker punch' to the gut
Friends star Jennifer Aniston reflects on the importance of the TV show in shaping her career and Hollywood as a whole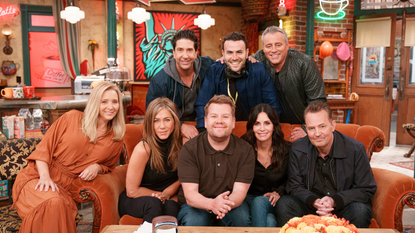 (Image credit: CBS Photo Archive / Contributor)
In a new Actors on Actors interview on Variety alongside fellow artist Sebastian Stan, Jennifer Aniston opened up about the emotional toll that starring in the Friends reunion took on her, specifically referring to the experience as a "sucker punch to the gut."
"We just had the idea this is going to be so fun, we're going back to the sets exactly the way they were," Jennifer, who in the past has revealed she felt the need to walk off the Friends reunion set during filming, says in the interview. "And literally, every single nook on a shelf was the same. It was so creepy. But each and every one of us, we walked in, it was just like, 'Oh [...] Time travel.'"
Friends originally premiered on NBC in 1994. The uber-successful show wrapped up after 10 seasons and 236 episodes in 2004. In May of 2021, the original cast reunited for a revival of sorts to be aired on HBO Max. The six main stars took to the set to reminisce about their time on the show, also revealing that they had all stayed close throughout the years.
Jennifer discussed said real-life relationships in the Variety interview as well.
"It was 2004 when it ended. And we were different. We were so little. Our lives were ahead of us. And so much has changed," she noted. "We kind of had rose-colored glasses going into it. And then, it was like, 'This is really a lot heavier than I thought.' But I wouldn't change a lick of it. Every time we all get together, it's just like no time has passed."
The 53-year-old actor posits that her tight relationship with the castmates was in large part due to the success that they all learned to navigate together.
"We're each other's fall guy because the world was happening. We were exploding, and that kind of notoriety was sudden," she said. "And we were in these four walls doing the show, and this insanity is happening. And thank God we had each other because we really couldn't talk about it outside. It was before social media, so we still had some sanity."
Since the end of Friends, Jennifer has appeared in a plethora of other TV shows and films, most recently earning Emmy and Golden Globes nominations for her role on Apple TV's The Morning Show, about the world of daytime news.
Jennifer has also been making headlines throughout the years for her dedication to a healthy lifestyle and her now-infamous hair and beauty routines.
Lest you think Jennifer is no longer able to exercise her comedic chops since leaving the set of Friends, though, think again. Just a few weeks ago, the actor stunned fans with Barbra Streisand likeness, celebrating the legendary artist's 80th birthday by posting a slew of images on Instagram recreating iconic Barbra photos.
Let's be honest: as much as we miss Friends, we're glad Jennifer still finds a way to thoroughly entertain us.
Anna Rahmanan is a New York-based writer and editor who covers culture, entertainment, food, fashion and travel news. Anna's words have appeared on Time Out New York, the Huffington Post, Fortune, Forbes, Us Weekly, Bon Appetit and Brooklyn Magazine, among other outlets.