Jane Fonda had the most hilarious quip when asked about her current relationship status
Jane Fonda spoke very openly about the strained relationship with her late father, Henry Fonda and how it affected her history with men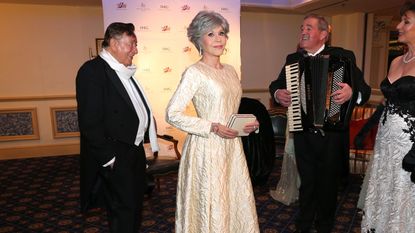 (Image credit: Gisela Schober/Getty Images)
Jane Fonda is a legitimate Hollywood icon – not only for her only illustrious career, but for the fact that she's part of a true dynasty.
Her father, Henry Fonda, was an acting great with a career spanning five decades before his death in 1982. Her brother, Peter Fonda, was also a prominent actor.
Despite all being in the business, Jane and Henry had a strained relationship – and the legendary star is getting candid with CNN host Chris Wallace about what this meant to her, and her relationships with other men.
Explaining that her relationship with her father skewed her perception of herself and her relationships with men in the past, Jane added, "'I just assumed that nobody would be interested in knowing me, unless I was with a man who was really interesting, and they were all interesting."
Jane was married three times, to director Roger Vadim, politician and activist Tom Hayden, and CNN founder Ted Turner.
As for where she stands now? She's single, she cheekily added with, "a drawer full of vibrators," but she told Chris Wallace, "I can honestly say, Chris, that I am.... I am happier than I've ever been."
Jane has spoken about the distance between her and her father in the past, noting that she was sent to boarding school after her mother died by suicide when Jane was just 12 years old.
At the time, Henry told his daughter that her mother died of a heart attack. In fact, Jane didn't find out the truth about her mother's death for years – and it was through a magazine that she ultimately uncovered the truth.
While this might hint at the tensions between Henry and Jane, the Grace and Frankie actress recently revealed more about the pair's relationship in an emotional interview.
In a clip from her upcoming appearance on Who's Talking to Chris Wallace, the Barbarella icon describes an emotional moment with her father when asked by host Chris Wallace whether the pair resolved their differences before Henry's death.
Jane Fonda said she saw her father Henry "break down and weep" for the first time during one of their final moments together before his death.
"Before he died I was able to tell him that I loved him and that I forgave him for, you know, whatever didn't happen," Jane revealed. "And I hope that he would forgive me for not being a better daughter. I got to say that to him."
"He didn't say anything. But he wept," she continues. "I had never seen that before. I'd never seen my father break down and weep. And… it was, it was powerful."
Elsewhere in the interview, Jane has to look away from the screen as the host shares a clip of Henry and Jane acting together in the movie, On Golden Pond.
Asked why, a teary Jane reveals, "Because it makes me cry. I miss my dad so much."
The movie in which they starred together helped heal some of the wounds between the pair, Jane also shared.
Recounting the scene in which Jane's character Chelsea tells her dad, Norman, she wanted to be friends with him, the actress said she improvised parts of the scene.
"I purposely did something that hadn't been rehearsed because I wanted him to be surprised. And when I said 'I want to be your friend' and I touched his arm, that we'd not rehearsed that, and he flinches. And he ducked his head and he puts his hand like this… but I saw that he was emotional."
"It's funny, for an actor who doesn't want to be seen as emotional, but he was terrified of emotions. And that meant a lot to me."
Jack Slater is not the Last Action Hero, but that's what comes up first when you Google him. Preferring a much more sedentary life, Jack gets his thrills by covering news, entertainment, celebrity, film and culture for woman&home, and other digital publications.
Having written for various print and online publications—ranging from national syndicates to niche magazines—Jack has written about nearly everything there is to write about, covering LGBTQ+ news, celebrity features, TV and film scoops, reviewing the latest theatre shows lighting up London's West End and the most pressing of SEO based stories.