Is Virgin River based on a book and what is the hit Netflix drama about?
If you're wondering is Virgin River based on a book you're likely not alone as it's swept us away with its heartfelt and dramatic storylines...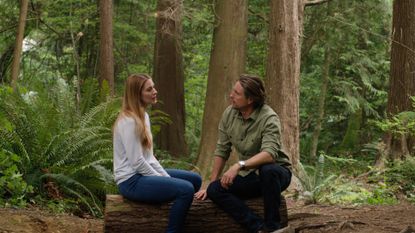 (Image credit: Cr. COURTESY OF NETFLIX © 2022)
woman&home newsletter
Sign up to our free daily email for the latest royal and entertainment news, interesting opinion, expert advice on styling and beauty trends, and no-nonsense guides to the health and wellness questions you want answered.
Thank you for signing up to Woman & Home. You will receive a verification email shortly.
There was a problem. Please refresh the page and try again.
Is Virgin River based on a book might be the question on viewers' minds after taking in all those unmissable moments in season 4 of the Netflix drama.
Since it first landed in 2019, the Netflix show has sparked plenty of intriguing questions, from where is Virgin River filmed to what is known so far about Virgin River season 5. Set in the remote town of Virgin River, the series has consistently kept viewers coming back for more as they root for their favorite characters and hope to see the talented Virgin River cast members return again year after year to develop their stories. Virgin River season 4 arrived on Netflix last month and with so many loose ends tied up and others just beginning to emerge some viewers might well be wondering what inspired the series in the first place.
But is Virgin River based on a book, what is the Netflix drama about and how does it differ from its inspiration?
*Warning: spoilers for Virgin River seasons 1-4 ahead!*
What is Virgin River about?
If you've yet to immerse yourself in the heart-stopping romances, betrayals and dangerous moments in the hit Netflix show then you've been missing out on some serious drama. Virgin River follows Melinda 'Mel' Monroe, who leaves LA for the town of Virgin River after the loss of her husband. With her personal life as she once knew it in tatters, Mel answers a job ad for a midwife and nurse practitioner in the town and is determined to start afresh.
Initially it's not quite as she expected as not all the Virgin River residents roll out the welcome mat and Mel debates leaving. Before long, however, she has been well and truly drawn into the local community. Handsome bar-owner and former marine Jack Sheridan also has a lot to do with her newfound happiness in Virgin River and across the seasons fans have seen their relationship develop into the stuff of fairytales, only the course of true love never did run smooth.
Virgin River seasons 3 and 4 placed a few obstacles in the way of Mel and Jack's happily-ever-after, with the question of the paternity of Mel's baby and Jack's ex-girlfriend Charmaine's pregnancy making things a little complicated.
And the Netflix show isn't solely about the romance, with major questions like does Brady die in Virgin River and who *really* shot Jack intriguing viewers for many episodes. So if you loved the love stories and friendships that made the Firefly Lane book and show so special and the sweeping landscapes and dark moments that have fans eager for Shetland season 7 then Virgin River might just be the show you've been looking for with its range of compelling storylines.
Is Virgin River based on a book?
Like so many unmissable shows in recent months, from The Holiday to The Essex Serpent, Virgin River is based on a book. More specifically, it's based upon an entire series of books written by Robyn Carr and the first installment, simply titled Virgin River, was first published in 2007.
Set in the stunning small town of Virgin River in Northern California, Robyn's series follows widowed Melinda 'Mel' Monroe upping sticks from the big city after losing her husband. Each book picks up with new central characters, whilst the others remain in the background as part of the wider Virgin River community.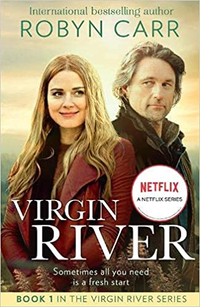 Virgin River by Robyn Carr | RRP £7.99
Delve into the series that inspired the show as widow Melinda Monroe starts afresh in the town of Virgin River, only to feel she might have made a horrible mistake. After a baby is abandoned, midwife Mel finds herself with a decision to make: to stay and make a difference there or to cut and run from the unfamiliar town.
Opening up to EW back in 2018, Robyn discussed how she felt there was a need for a "positive drama" as she reflected upon how she felt Virgin River fits into that.
"There's a need for positive drama. Not just goody-two-shoes, everything-is-beautiful kind of story, but a kind of story where people have real problems and real issues and they have to resolve them," she explained.
Robyn continued, "Hopefully intelligently and with the help that's available. Maybe with counseling, maybe with medical intervention. They need to come out the other side in a better place than they were, and the characters need to serve as positive role models for the women who are reading the books."
How many books are there in the Virgin River series? Plus what order to read them in
The Virgin River novels in order:
Book 1: Virgin River
Book 2: Shelter Mountain
Book 3: Whispering Rock
Book 4: A Virgin River Christmas
Book 5: Second Chance Pass
Book 6: Temptation Ridge
Book 7: Paradise Valley
Book 8: Under the Christmas Tree
Book 9: Forbidden Falls
Book 10: Angel's Peak
Book 11: Moonlight Road
Book 12: Midnight Confessions
Book 13: Promise Canyon
Book 14: Wild Man Creek
Book 15: Harvest Moon
Book 16: Bring Me Home for Christmas
Book 17: Hidden Summit
Book 18: Redwood Bend
Book 19: Sunrise Point
Book 20: My Kind of Christmas
Book 21: Return to Virgin River
If you've already binge-watched your way through to the Virgin River season 4 ending but aren't quite ready to leave the world of Mel, Jack and their fellow Virgin River residents behind until season 5, then the Virgin River books could be the answer. According to the bestselling writer's author site, the popular romance series consists of a staggering 21 books and this includes festive specials. Robyn Carr's most recent Virgin River book, Return to Virgin River, is set to be released as a mass market paperback in September 2022.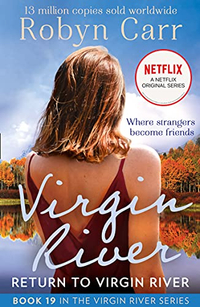 Return to Virgin River by Robyn Carr | RRP £2.99
Bringing you all the heart-warming moments you could ever want, Return to Virgin River sees author Kaylee Sloan heading to Virgin River after losing her mother. Grief-stricken and with a deadline looming, Kaylee might have viewed the isolated town as a haven but it soon becomes so much more as she becomes involved in Virgin River's community.
Originally published in October 2020 in hardback and eBook, the 21st installment of the Virgin River series focuses upon successful writer Kaylee Sloan. Having just lost her mother the grief has taken hold and with deadlines looming, she does what Mel Monroe did all those years before and heads for the quiet seclusion of Virgin River.
Embraced by the townspeople, Kaylee might finally be able to start her journey to heal as she comes to the conclusion that Virgin River could just be the place to pick up the pieces of her old life and start again.
This echo of Mel's journey at the start of the Virgin River series and in the Netflix show so far could be a wonderful full-circle moment sure to entrance fans.
Whether you're intrigued to read beyond the storylines and characters introduced in the show so far or you've read all of the Virgin River books already, there's never been a better time to dive into the series ahead of season 5 of the adaptation.
How do the Virgin River books differ from the show?
Whilst the overarching themes and storylines of the Virgin River books are generally pretty similar to the Netflix show, even the best book-to-TV and best book-to-movie adaptations tend to switch up some details to bring the original story to life on screen. Netflix's Virgin River is no different and there are some departures from the source material that could surprise show-only fans.
This means that whilst book readers might have some idea of what storylines and characters could lie ahead in the show, it's always possible that the Netflix Virgin River series will go its own way whilst still drawing on the novels for inspiration.
Each novel in the Virgin River book series follows a different protagonist, leaving the previous installments' lead characters as secondary figures in the new stories. This is a huge contrast to the Virgin River show where despite having a talented cast playing many regular characters, the central love story of Mel Monroe and Jack Sheridan has remained very much front and center throughout the series so far.
This change could perhaps have been made to help anchor the viewers in the show and by focusing on key characters consistently, Virgin River keeps fans' invested in their journeys and development and has a central place around which the showrunners can build other storylines. It really cements Virgin River as a community rather than just a place, which is such an important part of the show and book.
Another difference between the Virgin River books and the adaptation is that in the show Charmaine Roberts is a hugely significant character. She gets plenty of screen time and delivered the bombshell that made the season 4 finale so explosive as she confessed she'd lied about Jack being the father of her unborn twins.
In Robyn Carr's books, Charmaine does exist, but her backstory with Jack saw them have a much more casual relationship and though she does fall pregnant in the novels, there isn't the same paternity scandal surrounding it. It's made clear Jack isn't the father and instead of a potential love triangle, Jack breaks things off with Charmaine as soon as his feelings for Mel develop and she accepts his decision.
Mel's backstory is also a little different in the Virgin River books as her late husband Mark died in a robbery at a store. The couple had been hoping to grow their family at the time, though Mel hadn't ever gotten pregnant or lost a child. In the Netflix drama, Mark was killed in a car accident and he and Mel had lost a baby daughter. The show's version adds even more emotional depth to Mel, with layers to be revealed gradually as fans (and Virgin River residents) got to know her over the episodes.
Now you know the ultimate question - is Virgin River based on a book? - why not check out Robyn Carr's romance series? Packed with all the romance and drama that has made the Netflix adaptation so watchable, the books could help you to continue enjoying the world of Virgin River as you await season 5.
Virgin River seasons 1-4 are available to watch on Netflix now.
Sign up to our free daily email for the latest royal and entertainment news, interesting opinion, expert advice on styling and beauty trends, and no-nonsense guides to the health and wellness questions you want answered.
Emma is a Royal Editor with seven years of experience working in digital publishing. Her specialist areas including literature, the British Royal Family and knowing all there is to know about the latest TV shows on the BBC, ITV, Channel 4 and every streaming service out there. When she's not writing about the next unmissable show to add to your to-watch list or delving into royal protocol, you can find Emma cooking and watching yet more crime dramas.