Is there a season 7 of Outlander, when will it be released and which cast members are returning?
Everything there is to know about Outlander season 7...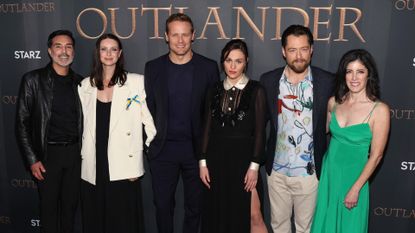 (Image credit: Getty)
Outlander season 6 landed in March 2022, continuing the adventures of the Frasers and their family. But after a lengthy wait, is there finally going to be a an Outlander season 7?
Outlander is based on one of the bestselling books from the past decade and fans have been obsessed with this romantic drama television show since it first burst onto screens in 2014.
Outlander Season 7 has finally been announced, but what do we know about this upcoming season? When will it be released? Which cast members will be returning? Here is everything we know so far...
Will there be a season 7 of Outlander?
Yes, it has been confirmed that season 7 of Outlander is in the works. Starz officially announced that it was renewed for another season in March 2021.
And a photo on Outlander's official social media accounts in April 2022 showed several cast members back on the Scotland set at the start of production.
But while there was a huge 21-month wait between seasons five and six, fans hopefully won't have to wait quite as long for season seven.
Outlander boss Maril Davis confirmed to Digital Spy (opens in new tab) that they had started shooting for season seven in May 2022. While she remained coy about when it may hit our screens, she did say that they were on "a fairly typical schedule," while also pointing out that it's set to be a "supersized season."
Outlander's seventh outing is going to be twice the length of season six, at 16 episodes long.
When will season 7 of Outlander be released?
While there has been no official confirmation of when Outlander season 7 will be released, Starz told Deadline (opens in new tab) that filming for the series is scheduled to end soon and that fans can expect an Outlander season 7 release date either in late 2022 or early 2023.
But according to Digital Spy, filming for season seven will last for 13 months, which would take us up to at least May 2023. We'd expect to see episodes soon after that, but unfortunately, that would mean we're likely looking at mid-2023 for season 7.
Executive producer Maril Davis explained, "I haven't been told when we will be airing season seven, all I know is we are at the beginning of shooting it now, and that's all I can say."
Which cast members are returning for Outlander season 7?
Season 7 will focus on events featured in author Diana Gabaldon's sixth and seventh books of the Outlander series, 'A Breath of Snow and Ashes' and 'An Echo in the Bone.'
Those books feature all the main characters so the following actors will definitely be back: Sam Heughan (Jamie Fraser), Caitriona Balfe (Claire Fraser), Richard Rankin (Roger Mackenzie), Sophie Skelton (Brianna Mackenzie)
We'd also expect to see other fan-favorites return including: John Bell (Young Ian), Lauren Lyle (Marsali), Cesar Domboy (Fergus), Caitlin O'Ryan (Lizzie), David Berry (Lord John).
Other former characters that have been confirmed for the next season include Geillis Duncan (Lotte Verbeek), Brian Fraser (Andrew Whipp), Dougal MacKenzie (Graham McTavish), Ian Murray (Steven Cree), Joan MacKimmie (Layla Burns) and Laoghaire Fraser (Nell Hudson).
And Bridgerton star Chris Fulton is joining the season 7 cast as Roger and Brianna's acquaintance Rob Cameron.
Showrunner Matthew B Roberts said of the cast announcements, "One of the many joys of our epic story is the element of time travel which allows us to revisit some of our favorite characters in different times and places, and we're thrilled to welcome back so many familiar faces for season 7."
He continued, "In addition to our returning cast, we're also excited to welcome several new actors to the Outlander family"
We can't wait to meet them!
Robyn is a celebrity and entertainment journalist and editor with over eight years experience in the industry. As well as contributing regular to woman&home, she also often writes for Woman, Woman's Own, Woman's Weekly and The Sun.