Is there a Christmas tree shortage? Experts reveal how to avoid missing out on a real tree this year
Experts have warned of a Christmas tree shortage—here's how to make sure you don't miss out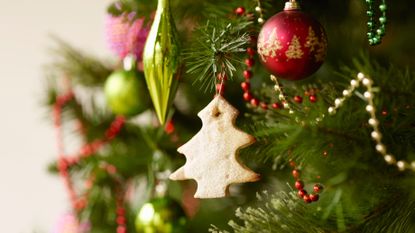 (Image credit: Getty Images)
A Christmas tree shortage could be on the cards ahead of the festive season due to the lorry driver crisis and Covid restrictions, experts have warned.
Of course, bringing the ultimate Christmas tree decoration ideas to life in your home is one of the most thrilling parts of the lead up to December 25th—but that can't happen if your tree shopping plans are scuppered.
And if hunting for the best real Christmas tree at the garden centre is a December tradition for you, you might have to start scouring the high street and internet for the best artificial trees instead.
Is there a Christmas tree shortage?
Brits have been urged to start shopping for Christmas trees early and to get their pre-orders in now in order to avoid a potential shortage of real trees, caused by a lack of lorry drivers and Covid restrictions.
With a shortage of HGV drivers impacting the country's petrol supplies, we might now face issues with getting our freshly-grown fir trees over from Europe.
Meanwhile, tree pros are also expecting a surge in demand for Christmas trees, as we prepare to enjoy a far merrier Christmas than we had in locked-down December 2020.
"The last few years have played havoc with the Christmas tree market. Mild winters in Scandinavian countries have made it more complicated to fell trees. Add in the Covid restrictions in place last year and the current shortage of lorry drivers and you can see why we're concerned that there could be a shortage of trees," founder of GardeningExpress, Chris Bonnett, explained.
In order to avoid Christmas tree disappointment, we could start buying Christmas trees online early, if they can forsake the unbeatable smell of a real fresh tree, Chris explained.
Alternatively, getting your hands on a real tree early via pre-order could make sure you don't go without.
"For Britons really wanting to go all out to celebrate this year, the best advice is to plan ahead and get all the essentials pre-ordered so you can enjoy the festivities without the stress."
However, he adds that Christmas tree deliveries from Europe could pick up in time for Chrimbo.
"Hopefully between now and December, things will improve."
Meanwhile, other Christmas tree retailers have assured shoppers that there is no need to start panic buying when it comes to your piney centrepiece.
David Swinscoe, owner of Wyaston Nursery in Derbyshire, said that transportation issues could impact the trees getting to the UK but said it's unlikely shoppers won't be able to get our hands on one, as long as they're smart with when they buy.
When should you buy a real Christmas tree this year?
"The busiest weekend for tree buying will be 27th and 28th November so if you're worried about missing out it might be wise to buy your tree slightly earlier this year," Christmas tree grower David advised.
If you're worried about your tree losing its needles and looking naked before the big day arrives, David says a Nordmann Fir is the best option for retaining needles across the festive period.
He also advises that heading to a nursery that grows its own trees, rather than a retailer that relies on imports from Europe, will ensure you won't miss out on snagging your perfect tree.