Is The Handmaid's Tale coming back? New trailer hints at season 5 storyline
As the season 5 trailer for The Handmaid's Tale drops, fans can't help but wonder what will happen to June in the new episodes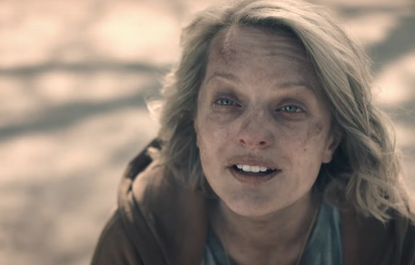 (Image credit: Hulu)
It's official: The Handmaid's Tale is coming back with season 5 on September 14.
The Handmaid's Tale season 4 finale has left fans eager for season 5 with the most explosive series end yet, so when Hulu dropped the trailer for the new episodes earlier this week, the Internet nearly exploded with excitement.
Spoilers ahead: last summer, season 4 ended in the wake of the pretty satisfactory murder of Commander Fred Waterford (Joseph Fiennes) by June Osborne (Elisabeth Moss) alongside a number of women who were wronged by Fred and the totalitarian government he created.
June, referred to as Offred, was also finally able to escape Gilead: an incredibly satisfactory turn of events after years of watching her struggle inside the state and trying to reach Canada.
Specifically, fans witnessed Fred and his wife Serena Joy (Yvonne Strahovski) getting arrested at the end of season 3. As a reminder, June was assigned as Fred's handmaid in season 1, forever referred to in Gilead as Offred (literally: Of Fred). Her role? To provide him a child given that his own wife was thought unable to do so.
In season 4, Fred and Serena were imprisoned in Canada and hoped to get out after cutting a deal with officials. Fred promised information in exchange for his freedom.
June, however, had other plans: she set up a deal by which Fred would be returned to Gilead in exchange for 22 women. Although Fred was led to the border, he quickly realized that things wouldn't go as he was promised. In fact, he was met in the woods by June and a number of other women. Although Fred started running away hoping to escape, the women eventually caught up with him and beat him to death. They even cut off his finger to return to his wife.
What we learned from the season 5 trailer of The Handmaid's Tale
Fred was obviously a big shot in Gilead and, considering that season 5 might be the final one of the series, we expect his death to have many repercussions and the new trailer proved just that.
The clip kicks off with the last scenes from the previous season. "He was a monster," June is heard saying about Fred to her husband Luke (O-T Fagbenle). "He took away our country. I killed him and I loved it so much."
A few seconds later, the trailer highlights Fred's widow's reaction to his murder: fans should expect her to figure out the person responsible for it, a fact that did not seem to scare June herself. "I want her to know it was me," she says in the video.
Perhaps most shockingly, viewers learn that June and Luke are actually gearing up to get back into Gilead to find their daughter Hannah.
The 2-minute trailer ends with June in prayer, asking God to protect their children, hoping they'd "do better than we did."
When is The Handmaid's Tale coming back?
The first two episodes of season 5 of The Handmaid's Tale will drop on Hulu on September 14 in the United States. One new episode will drop on the platform each week after that. There are a total of 10 episodes expected to air this season.
There is no official release date for UK audiences just yet, but we expect the episodes to be available there soon after their US premiere.
Anna Rahmanan is a New York-based writer and editor who covers culture, entertainment, food, fashion and travel news. Anna's words have appeared on Time Out New York, the Huffington Post, Fortune, Forbes, Us Weekly, Bon Appetit and Brooklyn Magazine, among other outlets.