Is Meghan Markle Inspiring Young Women To Study Law?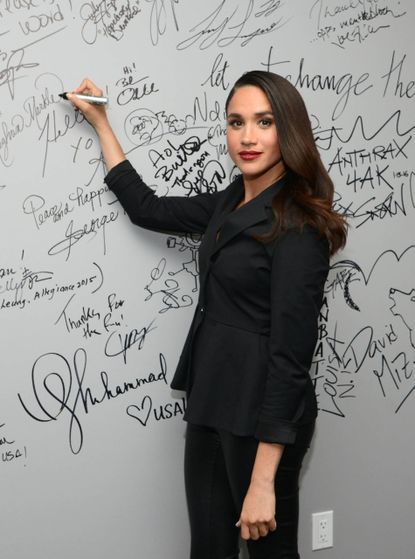 (Image credit: Rex)
Granted, we can't all replicate Meghan Markle's dating situation - but some of us have even higher ambitions after watching her paralegal character in New York based TV series Suits.
Yes, that's right: Prince Harry's girlfriend is amongst a host of TV stars who are apparently inspiring young women (aged between 18-30) to study law thanks to her role as Rachel Zane,a senior paralegal (and daughter of a top lawyer) with dreams of going to law school on her own terms.
A survey conducted by the north west legal firm Fletchers Solicitors interviewed 2,000 TV fans and the results were surprising: 62% have researched a legal job and 35% said they joined the legal profession after seeing it represented on their television screen.
The proof is in the rising statistics: applications for law degrees among women have reportedly increased by 20% over the past five years according to latest UCAS figures.
"The impact of TV role models shouldn't be underestimated," Ed Fletcher, CEO of Fletchers Solicitors said in response to their findings (opens in new tab).
"We have seen in previous years how shows such as CSI have lead to a surge in forensic science course applications," he added. "Now it seems that it is now the turn of the law and business professions to benefit from an influx in interest and applicants."
Other TV appearances that have also inspired millennials when considering careers include the Dragon's Den panel (14%) and everyone's favourite pop-star-turned-particle-physicist Brian Cox (17%).
Which only goes to show: our television watching habits have more of an influence on our lives than we originally thought. Perhaps our Netflix subscription is worth our monthly £5.99 afterall...