Ina Garten drinks martinis with Stanley Tucci and we need to know how we can get an invite
The Barefoot Contessa enjoyed a martini for the first time - made by Stanley Tucci himself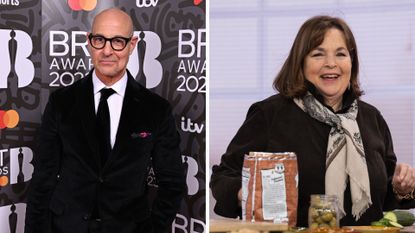 (Image credit: Getty Images)
Ina Garten and Stanley Tucci shared martinis together on her show Be My Guest with Ina Garten, and we're seriously begging for an invitation to their next cocktail night.
Believe it or not, Ina Garten, who recently showed off her incredible kitchen renovation, had never had a proper martini until she spent some time with Stanley Tucci recently. Yes, you read that right - the Barefoot Contessa has tried it all, except a proper martini.
The Food Network star, who is known for her incredible recipes, her lush home in the Hamptons, and her charming personality, invited Stanley Tucci to her show, where they gabbed and explored palatable arts - specifically, martinis.
"Can I tell you a secret?" Garten says to Stanley in a clip from the show, adding, "I've never had a martini in my life ... Seriously, so this is my first."
Then, Stanley responds in true Stanley Tucci fashion, laughing, "Jeez, you gotta get out more."
As fans of Ina know, she's no stranger to having a cocktail. She's known for making refreshing spritz and cocktails at a moment's notice, and is quite the expert when it comes to white wine. In all her years, however, she had never had a martini - which honestly, stunned us.
"But you make the best ones of all, right?" she asks Stanley.
Stanley laughs and agrees humbly - he's known to be quite the mixologist on his social media accounts.
For Ina's first ever martini, he makes her a "super dry" one - aka, a very minuscule amount of vermouth.
Then Ina hilariously compares drinking martinis to something a little more PG-13.
"Do you remember the first time you had a martini?" Ina asks.
"Is it kind of like sex — you remember the first time and who you had it with?"
Stanley laughs, "Yeah, I think the first time I had a martini - or do you want to talk about the sex?"
Stanley's gin martini recipe, which is revealed on the show, includes 3/4 oz. of white vermouth with 4 oz. of gin in a pitcher with ice, which helps dilute the alcohol. Then, after stirring (not shaking!) the alcohol, he strains it into a chilled glass. Finally, he rubs a lemon rind around the rim of the glass before he drops the rind and an olive in the martini glass.
"Stirred has a slightly more delicate taste," he tells Ina in the hilarious video.
"That's gorgeous," she says to Stanley, adding, "I thought it was gonna be sheer alcohol, but it's not."
After they've both tasted and admired Stanley's fabulous martinis, Ina thanks him for the libations. "So I'll always remember who I had my first martini with," she says sweetly to her dear friend.
Ina and Stanley also shared Oysters Rockefeller together - as oysters and martinis are a classic combination.
Madeline Merinuk is woman&home's US lifestyle news writer. She covers celebrity, entertainment, fashion, and beauty news but is also obsessed with internet trends - you can find her reciting trending TikTok sounds out loud at any given time.
After winning multiple student journalism awards for her investigative work, she graduated from Hofstra University in 2021 with a B.A. in Journalism. After graduating, she worked at today.com, the digital site for the Today Show, where she wrote pop culture news and interviewed big-name personalities like Emily Ratajkowski, Haley Lu Richardson, Emma Corrin, and more.
Her personal interests, in no particular order, are: cheese, Joni Mitchell, reading, hot yoga, traveling, having multiple chapsticks in every handbag at all times, and dancing to ABBA songs as if she were in the Mamma Mia movies.