Iconic contemporary artist Jake Chapman is creating the wildest works of art using Prince Harry's book, Spare
Fans of Prince Harry should look away now…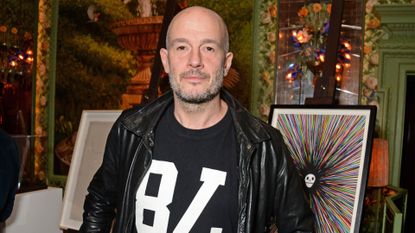 (Image credit: Getty Images)
Iconic British artist Jake Chapman has put his very own spin on Prince Harry's book Spare by using the cover image to create some seriously wild and unique works of art.
The limited run of creations - which are painted directly onto the book's cover, incorporating parts of, or covering Prince Harry's face - have already sold out to the tune of £1,000 ($1,200) a pop. But don't worry, more intriguing designs (including some pretty awesome sculptural pieces) are on the way soon according to the artist's Instagram account.
Titled 'Spare Prick at a Royal Wedding', the run of books looks like it could have been inspired by Jake's wife Rose Ferguson's birthday, as the first copy of Spare to be worked on was dedicated to her.
After being leaked early, Spare contained numerous revelations about the Royal Family including Prince Harry's subtle swipe at Princess Anne, and details on a physical attack that saw Prince William knock Harry to the floor.
Jake parodies the book's contents with 27 (so far!) tongue-in-cheek designs that include googly eyes, rainbow glitter, bold painted details, and some seriously skillful drawings, with all current iterations already sold out on his website.
His newest artworks have yet to go on sale but feature huge sculptural noses that are slightly reminiscent of Jake's early works, specifically pieces from Jack & Dinos Chapman: Bad Art for Bad People, shown at the Tate Liverpool in 2006/07.
Art lovers, critics, and fellow artists are obsessed with Jake's latest wacky creations with Tracey Emin commenting, "This one made me laugh" on a design that features burning incense sticks, while art critic Jerry Saltz said, "Masterpieces one after the other for England."
---
It's not the first time Jake has incorporated the British Royal family into his art. During the Frieze Art Fair of 2007, the Chapman Brothers (Jake and his brother Dinos) launched Currency Project, a collection that saw the duo deface the image of the Queen on £10 and £20 notes. Following the Queen's death in 2022, Jake resurrected his defaced banknote collection with weekly drops selling out in mere seconds.
The Chapman Brothers rose to prominence in the early 90s as part of the Young British Artist scene alongside the likes of Tracey Emin, Chris Offili, and Marc Quinn.
Lydia is woman&home's Lifestyle News Editor and a freelance travel writer. Day-to-day she manages an international team of nine news writers and oversees all news content on woman&home.com. Her travel writing has been published in BBC Good Food, Oh magazine, Harper's Bazaar, Town&Country, ELLE, MailOnline, Woman, and woman&home.