Tracey Emin requests 10 Downing St remove gifted neon artwork following 'shameful' actions by Boris Johnson and government
The request follows Boris' public apology to the Queen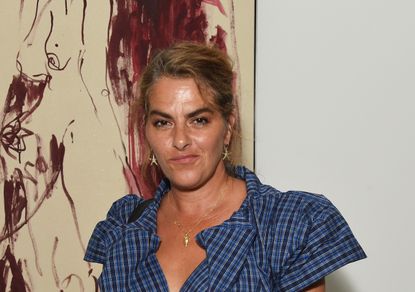 (Image credit: David M. Benett/Dave Benett/Getty Images)
Treasured British artist Tracey Emin is in the process of requesting her artwork be removed from 10 Downing St.
The piece in question comes from Tracey's neon light series and depicts the words 'More passion' in bright red. Tracey gifted the piece to The Government Art Collection back in 2011 and it currently hangs in 10 Downing St.
Following the controversy surrounding Boris Johnson's apparent rule-breaking in the midst of COVID-19 lockdowns, Tracey posted a photo of the piece to her Instagram account alongside a caption detailing how she's in the process of getting it removed.
"This is my neon that hangs at 10 Downing Street. It was a gift from myself to the Government Art collection. I am now in the process of requesting that my art work be removed from 10 Downing Street. I feel More Passion is the last thing this present government needs. This current situation is shameful", the artist wrote.
Boris Johnson publicly apologized to the Queen this week over events that took place at Downing Street while the rest of the country was dealing with a strict lockdown—a measure imposed by his own government.
In a statement, Boris said, "I deeply and bitterly regret that that happened. I can only renew my apologies both to Her Majesty and to the country for misjudgments that were made, and for which I take full responsibility."
Members of the public were outraged when it came to light that two parties were held at 10 Downing St when England was under restrictions banning indoor mixing, and it seems, Tracey is just as annoyed.
The celebrated artist began working with neons in the early 1990s, creating hundreds of witty and wonderful slogans for pieces that are highly sought-after across the globe. 'More Passion'—the piece currently hanging in Downing Street was said to be worth around £250,000 at the point it was installed 11 years ago.
After recovering from bladder cancer last year the artist has announced plans to open an art center in her hometown of Margate. TKE Studios will be housed in a former bathhouse and have room for 30 art studios so "any kid in the area who wants to come in and learn to draw, can" she told The Financial Times.
Lydia is woman&home's Lifestyle News Editor and a freelance travel writer. Day-to-day she manages an international team of nine news writers and oversees all news content on woman&home.com. Her travel writing has been published in BBC Good Food, Oh magazine, Harper's Bazaar, Town&Country, ELLE, MailOnline, Woman, and woman&home.