How To Soothe a Stressed Pet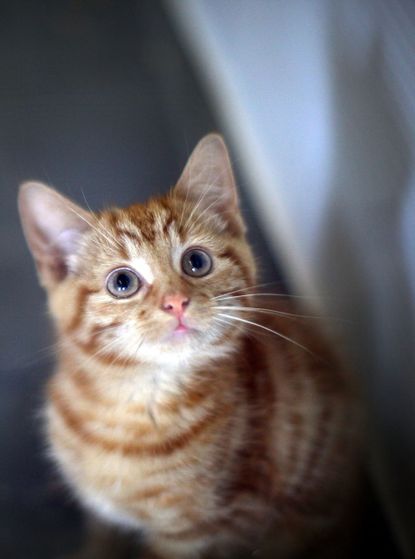 woman&home newsletter
Sign up to our free daily email for the latest royal and entertainment news, interesting opinion, expert advice on styling and beauty trends, and no-nonsense guides to the health and wellness questions you want answered.
Thank you for signing up to . You will receive a verification email shortly.
There was a problem. Please refresh the page and try again.
If you've got a beloved dog or cat, you'll know how upsetting it can be when they're anxious. You also probably know there's nothing to fear - it could be as simple as another pet on their 'patch,' or noisy building work next door - but with no way of communicating this your pet can become distressed and difficult to calm down.
Fireworks are a pretty universal cause of pet stress. While we love the sights and sounds, dogs have acute hearing so those bangs, flashing lights and burning smells are amplified. For both cats and dogs the noises are completely unexpected, causing a similar 'fight or flight' adrenaline response that anyone might get from a sudden intense bang - heavy breathing, shaking, trying to run away and more. It can be quite unsettling, and you can't stop your neighbours having an impromptu fireworks display on Guy Fawkes Night, but there are some simple steps you can take to ensure your pet is as calm as can be. Read on to discover how to soothe your stressed pet for a happier household, including celebrity vet, Marc Abraham's tips on creating a 'zen zone' for fireworks night.
Creating a Zen Zone with Marc The Vet
"The month of November - whilst fun for us humans - is often one of the most distressing times of year for our pets, which no animal-lover ever likes to see." says Marc Abraham. "The loud bangs and flashing lights are confusing to our cared-for creatures, with many associating the noises with danger, resulting in a heightened feeling of anxiety. I've worked with Hive to create our 'Pet Zen Den' advice to help pets feel a little more peaceful and protected."
1. HIT THE LIGHTSWith the flashing lights happening outside, it's best to keep lighting in your home dimmed to help keep your animal relaxed. If you have a dog, dimmed lighting will keep them relaxed and sleepy; so sleepy they may even nap through the loud bangs. With Hive Active Lightsyou can dim the lights from your phone - so if you're out and about and hear fireworks going off, you can quickly dim the lights in your 'den' to help soothe your scared pet.
2. KEEP YOUR PET WELL-FED AND REFRESHEDThe noise from Bonfire Night can make your pets feel anxious and when animals are anxious this can also lead to loss of appetite. In preparation for this, feed your pet an hour or so before the night draws in and fireworks are expected to go off, so you don't have to worry about whipping up a midnight feast for your animal once their anxiety subsides.
3. KEEP A LITTER TRAY CLOSE BYIf you have a cat that usually goes to the toilet outside, be sure to have a litter tray inside. Anxious cats often need to go to the toilet more than normal, so make sure it's an empty tray to begin with too.
4. WARM UP Like humans, pets are calmer and more relaxed when they're warm. To set the exact temperature and time it so that the heating comes on when your animal needs it, tryHive Active Heating (opens in new tab). The thermostat can be controlled via the Hive app, so if you notice your pet looking uncomfortable from your seat on the sofa, you can crank up or turn down the heat without even having to move.
5. PLAY MUSIC Research shows that animals calm down when they hear music. There are a variety of 'pet playlists' available online, or you may even know your pet's personal music preference based on how they react to music in the home.
6. CALMING CHROMOTHERAPY Like humans, many animals will react to various colours and shades. Some animals are known to react and relax to warming colours such as red and orange. Like humans, the warm colours can make animals feel cosy and secure - just what they need when fireworks take flight. To find out exactly what colour your pet prefers, you may even want to try different coloured hues in advance and see how they react.
7.WHAT MAKES YOUR PET HAPPY? What makes your cat purr? What makes your dog roll onto their back so you can scratch their tummy? Remember, a happy pet is a relaxed pet. Once you have identified the things they love, bring them in to the space! This is their 'zen den' so make sure it contains everything that makes them feel secure.
More soothing buys for your pet
Comfort Dog Blanket, £25, Banbury & Co
Super soft and snuggly, this faux fur blanket makes the perfect 'den' for dogs
BUY IT NOW (opens in new tab)
Music For Cats, £9.99, David Teie
This mixture of classical compositions and cat-friendly noises (chirping, purring) by the American Symphony Orchestra's David Teie has been shown to calm cats in studies.
BUY IT NOW (opens in new tab)
Bedtime Biscuits, £2.99, Lily's Kitchen
Like a soothing herbal tea for your furry friend, with chamomile flower and probiotic yoghurt to ease digestion.
BUY IT NOW (opens in new tab)
Feliway Cat Calming Diffuser, £19.99, Waitrose Pet
A 'pheromone therapy' diffuser that soothes stressed cats in your home for a whole month.
BUY IT NOW (opens in new tab)
Beauty Editor, womanandhome.com
As woman&home's Beauty Channel Editor, Fiona Mckim has tried more products than she's had hot dinners and nothing makes her happier than raving about brilliant finds on womanandhome.com or her instagram grid (@fionamckim if you like hair experiments and cute shih-tzus). Fiona joined woman&home as Assistant Beauty Editor in 2013 under industry legend Jo GB, who taught her everything she needed to know (learn about ingredients and employ extreme cynicism). She has since covered every corner of the industry, from interviewing dermatologists and celebrities to reporting backstage at Fashion Week and judging the w&h Beauty Awards.