Holly Willoughby And Phillip Schofield's Best This Morning Moments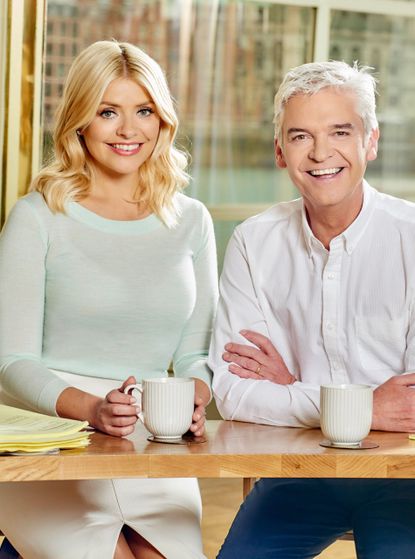 Since 2009, Holly Willoughby and Phillip Schofield have been the much-loved faces of ITV's This Morning. Providing the nation with hours of entertainment during their 9-year reign as the King and Queen of daytime television, they've experienced highs, lows and everything in-between, from confronting troublesome celebs to shedding tears over photos, not to mention countless giggling fits and innuendos!
It's been a long, emotional and heart-warming ride, and shows no signs of slowing down! Here are some of Holly Willoughby and Phillip Schofield's best moments... The Morning After
Following a win at the 2016 National Television Awards, the pair went straight to work the next day from a boozy after-party at Ant McPartlin's house. "I haven't been home yet," confesses Willoughby in this hilarious clip where they're both still wearing their red carpet attire from the night before.
http://www.youtube.com/watch?v=nbLLnPcvgEw
Holly Gets Spooked
During a segment about ghosts, a distressed Holly can't bear to look at a photo of an alleged ghost - so much so that she has to leave the stage!
http://www.youtube.com/watch?v=uNY3gcOqlK0
Sandy Clams
If there's anything Holly and Phil are known for, it's their tongue-in-cheek humour and shameless innuendos. Last year, the pair burst into a giggling fit after Holly asked whether Phil had 'sandy clam stuff' in his throat. She makes a strange sound with her throat, and they spend minutes trying to pull themselves together. Just try not to laugh while watching this video - it's impossible!
http://www.youtube.com/watch?v=PHuLy0DT_84
When Holly And Phil Met Katie
They known how to have fun on This Morning, but that won't stop Holly and Phil challenging some of their interviewees. On one episode, controversial TV personality and newspaper columnist Katie Hopkins voiced her opinions on children's names and what they tell you about a child's class.
"I don't like footballer's names," said Hopkins. "I don't like names after seasons of the year, I don't like geographical location names...names like Brooklyn or London."
Phil points out that Hopkins' daughter is called India while Holly descends into yet another fit of giggles.
http://www.youtube.com/watch?v=izW_IZeBHhE
Gwyneth Paltrow's Pantry
Unlike many long-running shows, This Morning - and its presenters - gets better with age, as we'll see in this very recent clip of Holly and Phil. As the duo spoke about Gwyneth Paltrow's pantry after Paltrow shared photos with Goop magazine, they failed to keep a straight face when mentioning 'Gwyneth's tidy pantry'. "You're going to have to bleep a lot of that," says Willoughby as Schofield cries with laughter.
[twitter]