Happy Birthday Mary Berry!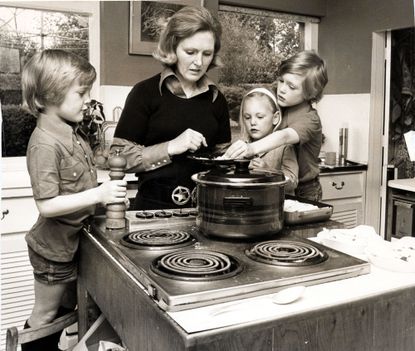 (Image credit: Rex)
As the Queen of Cakes celebrates her 80th birthday, we look back at the life of the nation's favourite baker...
The nation's favourite baker turns 80 years old today and to celebrate, we take a look back over the years of Mary Berry's glorious bakes, loving family and trend-setting fashion.
Born in Bath, Mary Berry began her cooking career at the Bath electricity board showroom, where she would drive round to people's houses and show them how to use their electric ovens by whipping up a Victoria sponge (lucky them!). Mary later studied cooking at Le Cordon Bleu before starting a career back in Britain as a recipe tester, food writer and magazine editor. At the age of 31, she married antiquarian bookseller Paul Hunnings; the couple will celebrate their golden wedding anniversary next year.
The author of more than 70 books (with sales of five million worldwide), Mary is perhaps best known for her role in The Great British Bake Off alongside fellow judge, Paul Hollywood.
Mary Berry has certainly left her mark on British cooking, and she shows no signs of slowing down! She has just released another book, Mary Berry's Favourites, with the TV series due on our screens soon.
But Mary's not just a master baker, she's a rising style icon as well. From her bright floral blazers paired with her classic pearls to her stunning eveningwear, Mary Berry knows a thing or two about how to dress.
Proving that it's attitude, not age, that counts, Mary Berry says of turning 80 years old that life is great. 'My life has never been better than it is now. The fantastic thing about reaching this age is that I have no urgent ambitions. I want to continue to be a good granny and a good wife. My great privilege is that I can say "no" to things, so I only do what I love. And I really do love Bake Off - they're my other family,' Mary Berry revealed in our April 2015 issue.
And how will the Queen of Cakes be celebrating her 80th birthday? With an eight-tiered cake, of course! Former Great British Bake Off contestant Ruth Clemens has teamed up with Stork to create the 16.5kg cake. Each tier represents a decade from Berry's life, highlighting the biggest cake trend from that time (Lemon Gin and Elderflower Drizzle is our favourite!). Keep clicking to see exactly how massive the cake really is!
Here is Mary pictured with her children Annabel, Thomas and William in 1975. We don't know what it is they're making, but we bet it's totally delicious (and that there isn't a soggy bottom in sight)!
Take a journey through time with our pick of the best Mary Berry moments...
Mary Berry in the 1970s
Here's Mary Berry preparing a delicious supper for her first television series 'Afternoon Plus' in the 1970s. She hasn't changed one bit!
Mary Berry at National Television Awards in 2012
We love Mary Berry's Great British Bake Off uniform of jeans and a stylish bomber jacket, but Mary looks equally beautiful dressed up on the red carpet. "I like dressing up to go somewhere special," Mary Berry revealed in our April 2015 issue. "And, above all, I dress to please my husband, Paul. He does love a dress on a woman."
Mary Berry with Pippa Middleton
With her friendly demeanor and infectuous smile, is it any wonder that Mary Berry has all sorts of friends and acquaintances? Here she is with Pippa Middleton at the annual Waitrose Summer Party held at Lord's Cricket Ground in May 2014.
Mary Berry in 1974
Another oldie but goodie! Here's Mary Berry in 1974 with fellow cookery expert Prue Leith and journalist Jack De Manio taking part in an egg tasting test. Looks like fun!
Mary Berry with her grandchildren
Family is very important to Mary, pictured here with daughter Annabel Bosher and grandsons Hobie Bosher and Louis Bosher. Don't you just love her bright pink blazer? 'I like to wear things that suit me for my age. I don't want to wear anything too short or low cut. I do think people tend to dress a bit too young sometimes. Sheer fabrics can cover a multitude of sins without being frumpy. Long sleeves, and also a fairly high neck, are a good thing,' Mary Berry said in our April 2015 issue.
Mary Berry with Lorraine Pascal and Kirstie Allsopp
Now there's a party that we wish we had been invited to! Here's Mary Berry with fellow baker Lorraine Pascal and home expert Kirstie Allsopp in May 2012.
Mary Berry with Great British Bake Off team
We can't imagine our favourite baking show without these lot! Here's Mary with fellow judge Paul Hollywood and dynamic duo Mel Giedroyc and Sue Perkins at the 2013 British Academy Television Awards (where the team scooped up a Best Features award - well deserved!).
Mary Berry at Royal Ascott 2013
Doesn't Mary look lovely? 'I like simple lines, elegance and a bit of colour. I love cashmere and if I'm not in a polo neck I'll wear a scarf or Susie Pringle faux pearls. Pearls lift your skin tone and give it a sheen,' Mary Berry told w&h in our April 2015 issue.
Mary Berry and Paul Hollywood
What's more gorgeous - Mary's flower blazer or Paul Hollywood's piercing blue eyes? These two have been judging Great British Bake Off since 2010 and Paul has said of Mary, 'She really is such a lovely woman, an absolute breath of fresh air and we've become really good friends.' Paul even admits that whenever he passes Mary's house, he'll always pop in for a cup of tea and a slice of cake!
Mary Berry with a Victoria Sponge cake
Happy birthday Mary Berry! That Victoria sponge looks delicious, but we hope that someone else is doing the baking for you today...
Mary Berry's birthday cake
Former Great British Bake Off contestant Ruth Clemens has teamed up with Stork to create a 16.5kg eight-tiered cake. Each tier represents a decade from Berry's life, highlighting the biggest cake trend from that time. Layers include Fruit Cake, Madeira, Black Forest Gateaux, Orange Sponge, Chocolate Fudge, and a surprise pinata cake at the top! Image © Stork/The Pink Whisk (opens in new tab)