Gwyneth Paltrow kept this date night dress from when she was with Brad Pitt - and for good reason
Goop founder and Oscar-winning actress Gwyneth Paltrow takes fans inside her huge archive fashion closet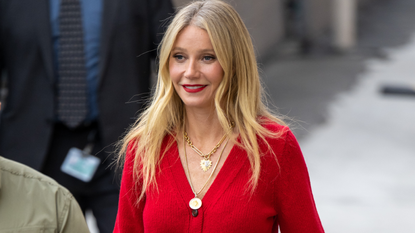 (Image credit: RB/Bauer-Griffin / Contributor)
The only thing that is more exciting than looking inside a celebrity's closet is being able to gaze at their fashion storage archives, usually filled with style pieces they've worn throughout their years in the spotlight.
To the delight of her legions of fans, Gwyneth Paltrow, who just posed pantsless for new Goop campaign, recently gave folks what they want by taking them inside of her "storage facility" in a new video posted to the Goop YouTube account.
There is so much to analyze in the nearly 5-minute-long clip, starting with the sheer volume of beautiful clothes, accessories and shoes that the 50-year-old actress and entrepreneur has held onto.
"Welcome to my storage facility where I keep all of my archived clothes," Gwyneth says on camera. "I pull things from this closet every once in a while if I need something special or things that I just love that I'm saving for myself if things come back in style."
Gwyneth also explains that she saved a lot of pieces for her now 18 year old daughter Apple, whom she shares with ex husband Chris Martin of Coldplay fame.
In the video, Gwyneth runs through some outstanding closet picks, including a Calvin Klein outfit that she wore when she was dating Brad Pitt back in the 1990s.
"This is a nineties Calvin Klein dress I think I wore to a premiere of something when I was going out with Brad Pitt," Gwyneth says on camera referring to the red carpet event for her 1996 movie The Pallbearer. "Very nineties, you know, shirt dress kinda thing. It's like, slouchy, it's relaxed, it's giving that very nineties 'I don't give a f—k.'"
Also on deck: a pair of G. H. Bass loafers that she the star wore while playing Margot Tenenbaum on the iconic 2001 movie The Royal Tenenbaums, the Manolo Blahnik shoes she donned when she won the 1999 best actress Oscar for Shakespeare in Love, a beautiful Chloe gown that she showed off at the Met Gala in 2019, the Dior brown suede slip dress that she paired with a lot of chokers by the same designers in 1999 when her own hair was brown, the red red Gucci suit that, by her own account, she rocked a number of times, including at the 1996 MTV Video Music Awards, and a whole bunch of pieces from her own G. Label collections.
But, perhaps most sentimental and important is a floral dress that Gwyneth shows off towards the end of the video.
"This is the dress I was wearing when Brad proposed to me," she says, referring to her current husband Brad Falchuk. "We were in Italy and climbed up to a roof deck thing and he surprised me!"
There is just something about Gwyneth that is so effortlessly cool that renders every project of hers exciting - and not just in relation to her stunning fashion choices. For some reason, we always want to listen to what she has to say.
Case in point: back in December, the actress caused a stir when swearing by these eye patches that you can actually get on Amazon now and she also made headlines when sharing her secret to getting along with your exes.
Speaking of exes: although Gwyneth and Brad Pitt dated decades ago, from 1994 to 1997, the two clearly still respect each other.
In a relatively recent interview, Brad went on the record about his ex-girlfriend. "
I love what Gwyneth's done [with Goop]," Brad said to British Vogue. "She is still a really dear friend, and she has built this empire. She has always had that in her as a curator, and it's been a lovely creative outlet for her. In fact, come to think about it, she was probably the first one who got me to even wash my face twice a day… maybe."
Clearly, we should follow more of Gwyneth's thought-out advice.
Anna Rahmanan is a New York-based writer and editor who covers culture, entertainment, food, fashion and travel news. Anna's words have appeared on Time Out New York, the Huffington Post, Fortune, Forbes, Us Weekly, Bon Appetit and Brooklyn Magazine, among other outlets.