Grantchester season 7 recap: Did Will marry Bonnie, the finale explained and what we can expect from Will and Geordie in season 8
Here's our Grantchester season 7 recap as the hit crime drama returns teasing huge changes for Reverend Davenport and DI Keating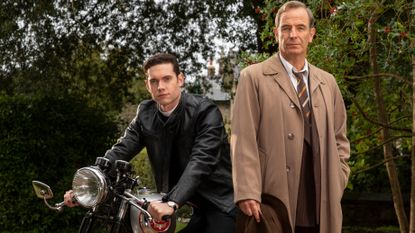 (Image credit: BritBox/ITV)
woman&home newsletter
Sign up to our free daily email for the latest royal and entertainment news, interesting opinion, expert advice on styling and beauty trends, and no-nonsense guides to the health and wellness questions you want answered.
Thank you for signing up to Woman & Home. You will receive a verification email shortly.
There was a problem. Please refresh the page and try again.
Some fans might be in need of a Grantchester season 7 recap now that Reverend Will Davenport and DI Geordie Keating are back in the latest season.
It's only just started in the US with a UK air date to come, but Grantchester season 8 has already delivered some seriously shocking moments. However, much of what we can expect from the new season is made all the more emotional or meaningful because of season 7. The finale was a particularly heart-wrenching watch as Will and Geordie had to accept that they might've been wrong about one of their cases. But given how long ago it aired, there are likely many people who could be looking for a whirlwind Grantchester season 7 recap before diving into the new season.
Here is our Grantchester season 7 recap, including what happened in the finale and what we can expect from Will and Geordie in season 8…
*Warning: Spoilers ahead*
Grantchester season 7 recap and finale explained
Similar to Endeavour season 9 and Vera season 12, Grantchester's episodes tend to be standalone. However, sometimes a case isn't confined to a single episode and in Grantchester season 7 one in particular stands out. There's nothing quite like a case not being closed to get a finale off to a suspenseful start and it was the investigation into the murders of homeless men which came back to the forefront.
These deaths were investigated by Will and Geordie earlier on in season 7 episode 3 after the DI linked a current murder with two unsolved cases. The detective and vicar eventually identified student Robin Fellows as the killer. He'd experienced a breakdown and gone back to live with his parents but had disappeared.
When he showed up at former curate Leonard's café he was apprehended by Geordie but it's clear he's in no fit state to stand trial. By the end of the series another body had been discovered, leading to an explosive finale episode as the case was examined. The supposed killer was behind bars, so Geordie and Will were forced to the conclusion that either a copycat killer was out there or Robin never committed the original murders.
The DI and vicar set off to question Robin only to be informed he was dead. Before he died he had a visitor, Professor Edith Larson, who told the detecting duo nothing they could use. Geordie later found her after she'd been attacked by Jim Baker. Robin had claimed Jim was the murderer and instead of calling the police, Edith hadn't believed him.
Meanwhile, none-the-wiser Will had actually invited Jim into the vicarage. But despite not knowing what Geordie had found out, the vicar soon put the pieces together himself. Jim told Will that he believed that killing the people he did was relieving them of "the guilt, the weakness [and] the desires of the flesh".
In his mind Robin (who had known Jim was responsible and took the blame hoping it would make him stop) was also weak for not helping him and having a breakdown after seeing him kill. And he wasn't the only one the student had taken against as he viciously called Will "pathetic" and violently stabbed him.
As Will lay on the floor desperately needing medical assistance he was unable to communicate his situation to Geordie's niece Bonnie who'd come to bid farewell to the man she loved. Thankfully, the DI caught up with her and the pair got inside to find Will covered in blood and Jim, whom Geordie punched. F
ans were in for an anxious wait as Will's fate remained uncertain for several moments, but just like Morse after the Endeavour finale gunshot, Will was revealed to be alive and in hospital. After intense scenes and that shocking escape from death for Will, thankfully Grantchester season 7 concluded on a much more hopeful note.
Did Will marry Bonnie in Grantchester season 7?
The path of true love never did run smooth and just like the Endeavour ending which gave fans a wedding amidst some heart-wrenching moments, Will did marry Bonnie in Grantchester season 7 but only after everything went seriously wrong. Will almost lost her and her son Ernie forever when she told him through the vicarage letterbox that she was leaving. Expecting him to seize on her opening to give her a reason to stay, he stayed quiet to protect her from Jim inside.
Even after getting him to hospital and all they'd gone through Bonnie still wasn't convinced of his feelings for her. Visiting the vicar, Geordie told Will that unless he stopped her, his niece and Ernie really would be getting the train out of Grantchester that day.
In the way of the best romantic books and shows, Will went off to find Bonnie and whilst Geordie entertained Ernie, Will poured out his heart to her and declared his love. The Grantchester season 7 ending saw Will and Bonnie officially became Mr and Mrs Bonnie Davenport. Although Bonnie had told her now-husband she wasn't "posh" when he told her he loved her, she gained his mother's seal of approval.
Amelia Davenport told Bonnie that she'd never seen her son look happier, adding, "And that's down to you" whilst Bonnie won over her somewhat snobbish stepfather-in-law St John Gurney-Clifford with her charm.
By the time the speeches came any fans that weren't already a bit tearful likely became so when Geordie proudly declared, "The only thing better than having Will as my friend is having as part of my family".
Ultimately, Will marrying Bonnie in Grantchester season 7 rounded off the series in heart-warming style. Mrs C who had been awaiting surgery nervously appeared to have recovered well and attended the wedding, even catching the bouquet which she passed to Daniel who, along with Leonard, looked incredibly touched.
And the theme of love continued into the final scenes which saw Will tell his new "Uncle Geordie" that he loved him. Initially hesitant to express his own feelings, the DI responded and the pair embraced as they looked back at the church in the sunshine.
What can we expect from Grantchester season 8?
When ITV first confirmed that fans would be getting Grantchester season 8 it was announced that the focus of the latest season would be "faith, forgiveness and redemption" and that Geordie and Will would be pushed to the "limit". This certainly came through in the Grantchester season 8 trailer and episode 1 where huge potential changes were already in motion following on from season 7.
In the opening episode of Grantchester season 8, the idea of early retirement was put to Geordie who wasn't at all on board despite being told it was him simply being afraid of change. Meanwhile, the honeymoon period was well and truly over for Will and Bonnie - who was now heavily pregnant with their first child together. In the season 7 finale she told Will she didn't necessarily believe in god and now she's a vicar's wife this hasn't changed.
It was made clear in episode 1 that she hated attending church groups and perhaps this will start to cause friction between her and Will. But as they very nearly lost each other in season 7, fans might well be hopeful that they'd be able to work through their differences.
Ernie had also been acting up in season 8 and Will struggled throughout episode 1 to discipline him. Towards the end of the episode Bonnie decided to go and look after her mother who'd had a stroke and argued with Will for treating her like she's fragile, just because she's pregnant.
Will continued to be tormented by the fear that he will be just as terrible a father to his child as his own father was to him. Alone and eager for a bike ride, things took a dramatic turn ahead of episode 2 as the tragic "accident" teased by ITV took place. Will hit a man who stepped into the road when he was out riding his bike and his fate is left in the balance.
Having spent a lot of Grantchester season 7's finale considering the idea of forgiveness it remains to be seen how Will will respond and whether the man will survive. Geordie and Will's bond was reaffirmed in the final moments of the Grantchester season 7 finale and now they are officially family thanks to Will's marriage to Bonnie.
But with him now potentially responsible for a death, will Geordie be able to help him or could an investigation drive a wedge between them? As season 8 continues, more will come to light and now you've explored our Grantchester season 7 recap you know exactly what plot-threads have implications for the latest series.
Sign up to our free daily email for the latest royal and entertainment news, interesting opinion, expert advice on styling and beauty trends, and no-nonsense guides to the health and wellness questions you want answered.
Emma is a Royal Editor with seven years of experience working in digital publishing. Her specialist areas including literature, the British Royal Family and knowing all there is to know about the latest TV shows on the BBC, ITV, Channel 4 and every streaming service out there. When she's not writing about the next unmissable show to add to your to-watch list or delving into royal protocol, you can find Emma cooking and watching yet more crime dramas.