Elvis Presley's private jet just sold for this staggering amount of money after being parked in the desert for 40 years
The 1962 Lockheed 1329 JetStar sold for a quarter million dollars on what would have been Elvis' 88th birthday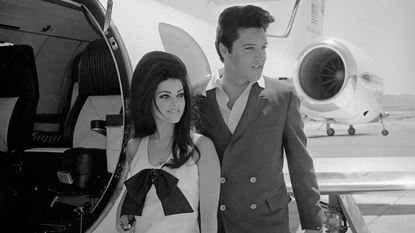 (Image credit: Bettmann / Contributor)
Talk about memorabilia: Elvis Presley's former private jet, which has been parked smack-dab in the middle of the desert at the Roswell International Air Center in New Mexico for nearly 40 years, just sold at auction for a staggering amount of money.
Priscilla Presley, Elvis' former wife, who spoke out on the artist's death anniversary about the 'toughest' moment in Baz Luhrmann's relatively recent Elvis movie, was present at the Mecum Kissimmee Collector Car auction in Florida and witnessed first-hand the sale of her ex's plane for $260,000.
Perhaps not coincidentally, the event took place on January 8, on what would have been Elvis' 88th birthday - turning the entire shindig into a celebration of the iconic musician's life. Priscilla even took the stage to recount her former husband's passion for both cars and planes, which he collected.
According to the auction's official website (opens in new tab), Elvis originally bought the jet on December 22, 1976. The aircraft boasts custom interior upholstery featuring red velvet and gold-finish hardware, an on-board microwave, cassette player and television set, interior cabin seating for up to nine occupants and six passenger chairs with swivel and recline functionality.
An unnamed bidder made the purchase over the phone, clearly not minding the fact that the private jet looks pretty worn down from the outside. Either way, the sale seems to be a steal since, according to Robb Report (opens in new tab), businessman Jim Gagliardi was the last owner of the plane, which he bought during an auction in 2017 for $430,000 - almost double what the aircraft just went for.
"I was going to have it as kind of an advertisement, have people go in it and look at it," Jim told the Roswell Daily Record (opens in new tab) back then, hoping to increase business at his equipment dealership in Madera. However, the buyer never ended up even retrieving - or seeing! - the plane from Roswell Air Center.
"When Elvis took ownership of this particular JetStar, registered with the FAA as N-20TF, the entertainer was no stranger to luxurious aviation acquisition," the auction's website explains, touching upon the late artist's passion for planes. "He had already amassed a modest fleet, which included a custom Convair 880 named the "Lisa Marie" that went by the call sign of Hound Dog 1, along with a second JetStar identified by its call sign of Hound Dog 2. With a busy touring schedule, these crafts were needed to transport the singer, his TCB band, backup groups, Col. Tom Parker and the ever-present Memphis Mafia to venues, concerts and appearances all around the country."
To be able to fly at a moment's notice, Elvis reportedly kept several pilots on retainer as well.
Shocked? Elvis was one of the, if not the, most famous people in the world: what did you expect from him?
Anna Rahmanan is a New York-based writer and editor who covers culture, entertainment, food, fashion and travel news. Anna's words have appeared on Time Out New York, the Huffington Post, Fortune, Forbes, Us Weekly, Bon Appetit and Brooklyn Magazine, among other outlets.