Ellen DeGeneres finale highlights: Jennifer Aniston jokes about divorce and Ellen's emotional final monologue brings fans to tears
The Ellen DeGeneres Show officially wrapped up after 19 seasons and the host delivered a memorable monologue to mark the occasion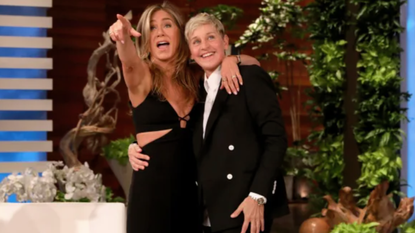 (Image credit: Warner Bros.)
The Ellen DeGeneres Show kicked off to much fanfare back in 2003. In the years since, host Ellen welcomed hundreds of different guests on stage, shedding light on issues that have shaped the culture at large. Alas, after 19 full seasons, the show officially wrapped up earlier this week with an emotional and star-studded finale.
Ellen DeGeneres bid farewell to her fans after taping the final show a few weeks ago, but the segment only aired yesterday, which is why folks are still talking (and crying!) about it.
Ellen herself, now 64 years old, got emotional throughout the NBC show, especially when delivering a monologue that touched upon the whole history of the show and her experience with it.
"I walked out here 19 years ago and I said, 'This is the start of a relationship.' Today is not the end of a relationship, it's more of a little break," she said on set before drawing laughs. "You can see other talk shows now. I may see another audience once in a while."
Ellen then took on a more serious tone. "Twenty years ago, when we were trying to sell the show, no one thought that this would work. Not because it was a different kind of show, but because I was different," she said honestly . "Very few stations wanted to buy the show and here we are 20 years later celebrating this amazing journey together."
The host got even more candid, revealing that when she first started the gig she was actually not allowed to use the word gay on air.
"I couldn't say 'we' because that implied that I was with someone," she continued, referring to her wife of almost 14 years, Portia de Rossi. "Sure couldn't say wife. That's because it wasn't legal for gay people to get married and now I say wife all the time."
Ellen also recalled how, almost three decades ago, her eponymous sitcom was actually canceled because, "they didn't want a lesbian to be in prime time once a week." Here we are today, 25 years later, with Ellen at the head of one of the most successful daytime talk shows in the history of television.
"What a beautiful, beautiful journey we have been on together and if this show has made you smile, if it has lifted you up when you're in a period of some type of pain, some type of sadness, anything that you're going through, then I have done my job," she said. "Because of this platform, we have been able to change people's lives and this show has forever changed my life. It is the greatest experience I have ever had, beyond my wildest imagination. So, one last time, dance with me."
Following her heartfelt monologue, which unsurprisingly did not touch upon the one million viewers lost since rumors about a 'toxic workplace' began circulating, Ellen started dancing with her audience members to The Emotions song Best of My Love.
WHICH CELEBRITIES MADE APPEARANCES ON THE ELLEN DEGENERES SHOW'S FINALE?
Plenty of stars showed up during the final episode of The Ellen DeGeneres Show earlier this week. In primis: Ellen's very good friend Jennifer Aniston, who was actually the first guest on the show when it first premiered back in 2003.
During her visit, Jennifer made a rare joke about her own love life that had fans laughing out loud.
"I wanna talk about the ending of Friends," Ellen said to Jennifer during her own show's finale. "What did you do to deal with that?"
"Well, I got a divorce and went into therapy," Jennifer responded, calling out to her very public split from ex-husband Brad Pitt back in 2005. "Then I did a movie called The Break-Up. I just leaned into the end. I was just like, 'You know what, guys? Let's make this a completely new chapter.'"
In addition to Jennifer's quips, the audience was treated to appearances by Grammy Award winner Billie Eilish and a musical performance of What About Us by Pink.
We can officially say that it's the end of a television era.
Anna Rahmanan is a New York-based writer and editor who covers culture, entertainment, food, fashion and travel news. Anna's words have appeared on Time Out New York, the Huffington Post, Fortune, Forbes, Us Weekly, Bon Appetit and Brooklyn Magazine, among other outlets.