Eamonn Holmes shares this hilarious story about his son's 'surprise' birthday party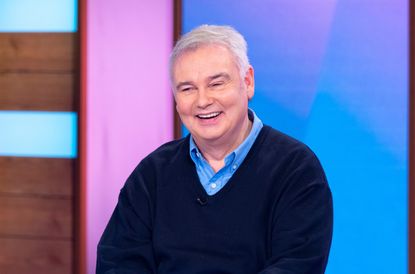 Eamonn Holmes took to social media over the weekend to share a funny mishap that him and his family experienced whilst attempting to surprise his son for his birthday.
As the face of breakfast television, Eamonn Holmes is a very busy person so it was lovely to hear he was able to take the time to celebrate his eldest son, Declan's, 30th birthday over the weekend.
The ITV This Morning presenter, thoughtful as ever, attempted to organise a surprise birthday party for his son but as he revealed on Twitter, there was an unfortunate turn of events with the surprise element being ruined. What a pity!
Eamonn shared the humorous story on social media, explaining what had happened. He said, 'We are overly helpful in Belfast ......to a fault. Organised a surprise Birthday Party for my eldest lad last night. All went well until he arrived at the venue and someone blurts....." You've just missed your Dad and family " They're upstairs in the function room"'
Orchestrating a surprise party can be a difficult task... It's the thought that counts!
The story went down well on social media and fans shared their own experiences with the popular broadcaster. One person said, 'I planned a surprise 50th for my mum in Ballymena where we are from and when we walked in I said table for Mairs and the waiter said is that for the big party upstairs.'
Another person said, 'That exact thing happened to us too on my dad's 60th! "Are you going up the stairs to the surprise birthday party aye?"'
So it seems Eamonn is not alone!
Fans were also keen to pass on their best wishes. One person said, 'Ah what a shame hope it didn't spoil the surprise too much and a fun time was had by all' while another said, 'Ha ha....Too funny!! Hope you had a great night!'
Despite his busy weekend filled with birthday celebrations, Eamonn presented Sunday's This Morning with his wife, Ruth Langsford.
We love waking up to this pair!
Rachel Howatson is a digital writer who works across a range of publications. Whatever your passion, whether it's hillwalking, cooking, gardening, running, socialising or even sleeping, she'll likely have written about it.