11 reasons grown-ups are subscribing to Disney+ that have nothing to do with kids
And why you should be too!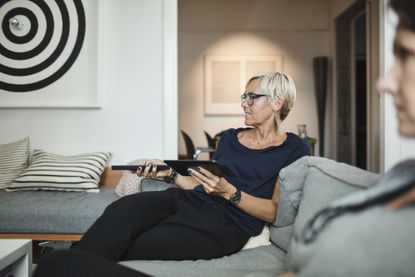 (Image credit: Getty Images)
There's not much we love more than snuggling down on a Friday evening for a cosy night in front of the television.
In fact, during the UK lockdown (opens in new tab), it's pretty much the highlight of our weeks at the moment.
While we're all staying home - only venturing out for food, medicine or one session of exercise a day - catching up on our favourite films and TV shows, or discovering new ones, cosy in some of our favourite loungewear (opens in new tab), is a brilliant way to unwind.
After all, movies and TV provide a dose of escapism, entertainment, and light relief - things that are all much needed at the moment.
Experience Disney+ with a 7-day free trial, and then pay just £5.99 a month - kick-start your subscription here (opens in new tab).
But if you're fed up of the same old daytime TV, Disney+ provides a shed load of fresh new things to feast your TV-watching eyes on.
The streaming platform, which launched just a few weeks ago, has thousands of of movies, series, and shorts for you to get stuck in to - and trust us when we say it's not just for the little'uns.
Although it does offer range of family-friendly flicks, there's also an enormous selection of content for adults to enjoy. Here are just some of the reasons adults are flocking to subscribe to Disney+.
1. Hamilton
Fans of the theatre were delighted to hear that Disney+ would be bringing the live production of hit West End and Broadway musical Hamilton to screens - a whole year earlier than anticipated!
The live recording of the original Broadway production - with the original cast, including Lin-Manuel Miranda - will hit Disney+ on July 3rd, and will no doubt be a draw for swathes of adults across the world.
The production, which is centred around the little-known story of the America founding father Alexander Hamilton, was meant to be released in its film version in 2021. But it seems that the coronavirus pandemic has changed plans, meaning we can all enjoy it in lockdown, a lot sooner than planned.
If you've not seen the show live, expect songs so catchy you won't be able to forget them, and a surprisingly fascinating insight into the story of the controversial founding father, and American history in general...
A trailer of the show has just been released too - and it looks brilliant!
https://www.youtube.com/watch?v=DSCKfXpAGHc
Hamilton isn't the only live production on Disney+ either. For fans of Disney classics, there's also a live version of The Little Mermaid, or, there's Earth Live, from National Geographic, which will take viewers on a live journey throughout the natural world.
2. Free Solo
Prepare to be fascinated and utterly terrified in equal measure.
Free Solo is a 2018 documentary profiling Alex Honnold, who is attempting to perform a free solo climb of El Capitain, a rockface in Yosemite National Park.
And when we say free solo we mean - without any safety equipment or tools whatsoever. No harness, no safety net.
The documentary won multiple awards last year, and critics promise that the final 20 minutes will have you on the edge of your seat.
3. 10 Things I Hate About You
This iconic 90s flick will bring back all of the nostalgia, and it's been a big draw for older audiences with Disney+. The movie, based on Shakespeare's Taming of the Shrew, stars Julia Stars, Joseph Gordon-Levitt, and the late, great Heath Ledger.
Perfect viewing for those who haven't seen it yet, it's also a brilliant reason for fans who haven't watched the film in years to sign up to Disney+ - the film isn't showing anywhere else.
4. Mrs Doubtfire
Robin Williams films never fail to bring a smile to our faces, so we were delighted to find this one on Disney+. It's one of his most popular movies, and is one that adults and kids alike can enjoy.
So settle in this Sunday evening and prepare to be left in hysterics by the hilarious Scottish housekeeper's antics...
5. Titanic: 20 Years Later with James Cameron
Disney+ offers a chance to revisit the awful yet fascinating tragedy of the Titanic once more, with this 2017 film with the director of the hit film, James Cameron.
In the documentary, James revisits the crash site of the disaster. There, he discovers that the ship still has stories to tell and, as the tagline for the film reads, "Cameron feels a responsibility to both the living and dead to tell them."
It certainly sounds intriguing...
6. All of the original Disney musical classics
For another nostalgia hit, the original Disney animations are all on Disney+. Think Beauty and the Beast, Aladdin, Snow White and the Seven Dwarfs, The Lion King, Mulan, Lady and the Tramp, and The Hunchback of Notre Dame, among so many others.
For many of us, these are films we might not have watched for decades - or perhaps films we watched alongside our kids when they were little. Either way, revisiting the likes of Belle, Quasimodo and Gaston is a wonderful way to revisit those times. And in these rather stressful times, diving back into comforting classic can feel like a warm blanket being wrapped around us.
7. Sister Act and Sister Act 2
Another much-loved 90s flick, Whoopi Goldberg shines in this film centred around a lounge singer forced to hide from the mob in her local convent.
MORE:How many calories do you burn doing household chores? And how to make them part of your fitness routine (opens in new tab)
Disney+ also has Sister Act 2: Back in the Habit, which sees Deloris going undercover as Sister Mary Clarence in an attempt to help out a troubled inner-city school.
8. Never Been Kissed
The 1999 classic is on Disney+! Starring Drew Barrymore, fully-grown adult editor Josie returns to school for a journalism assignment, but finds it a little more difficult than expected.
And things become a little more complicated when she meets Sam - the man who is meant to be her English teacher at the school...
https://www.youtube.com/watch?v=xPyMf4ROt3Q
9. Almost all of the Star Wars films
The Star Wars films are ageless, and loved as much by 90-year-olds as they are by 9-year-olds.
So if that's the kind of thing that takes your fancy, you won't be disappointed by the selection on offer at Disney+, which has almost all of the franchise's back catalogue available to dive in to.
All films and series through from the 1977 film "A New Hope" to 2017's "The Last Jedi" are available to watch on Disney Plus.
10. Diana: In Her Own Words
Although there are a huge range of documentaries ready to watch on Disney+, Diana: In Her Own Words, is one of the most talked about.
The 2004 documentary first aired on the BBC, and proved controversial at the time, given that it used a series of tapes that Diana recorded with her speaking coach.
Experience Disney+ with a 7-day free trial, and then pay just £5.99 a month - kick-start your subscription here (opens in new tab).
It also includes interviews given during her separation from Prince Charles, so certainly provides an interesting take on one of the most explosive periods of modern royal history.
11. Three Men and a Baby
Revisit this classic 80s film - starring Tom Selleck, Ted Danson and Steve Guttenberg - with Disney+.
The happy bachelors lives are thrown into disarray when a baby named Mary arrives on the doorstep of their New York city apartmentFrom then, chaos ensues...
Amy Hunt is an experienced digital journalist specialising in homes, interiors and hobbies. She began her career working as the features assistant at woman&home magazine, before moving over to the digital side of the brand where she eventually became the Lifestyle Editor up until January 2022. Amy won the Digital Journalist of the Year award at the AOP Awards in 2019 for her work on womanandhome.com.