Did Rochelle Humes 'replace' Candice Braithwaite as host for new childbirth documentary?
Did Rochelle Humes replace Candice Braithwaite?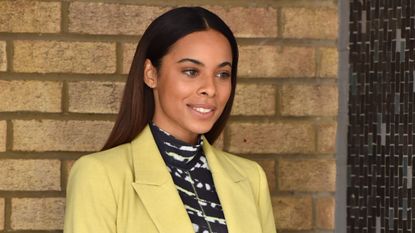 (Image credit: Getty)
She's a well known face on TV, but Did Rochelle Humes 'replace' Candice Braithwaite to land a new role hosting a documentary about black women dying in childbirth?
Rochelle hit headlines this week after it was speculated that she had replaced Candice to host the new TV show, after the author revealed she'd been dropped from the documentary.
In an Instagram post, Candice revealed: "The truth is up until six weeks ago I thought I was going to present that documentary."
Both women have now spoken out to clear up the rumours. But what did they say?
Did Rochelle Humes replace Candice Braithwaite?
Initially, it seemed as though Rochelle had perhaps replaced Candice as the host of the documentary, which will investigate why there is a higher mortality rate in black women during labour.
Candice shared an Instagram post revealing how "gutted" she was to learn that she would no longer be presenting the programme.
Shortly after the post, TV favourite Rochelle Humes announced she would be hosting a documentary with the same theme.
Candice also said she had lost out on a job to a "lighter-skinned black woman more than once in the last six months."
However, after speculation mounted that Rochelle had taken her presenting role, Candice took to Instagram to clear up what really happened - which is that the ladies were actually working on two different documentaries.
Candice said: "The producer of the show that Rochelle Humes is to present has called me asking to clarify that I was never in the running to present that particular documentary.
"I was contacted in March 2020 by a different production company about developing a similar documentary.
"I've been advised that the show with Rochelle was also being developed at the same time I was engaged in discussions and obviously commissioned.
"The producer said that fortunately for him his show was simply acquired first and these things happen in television."
And Channel 4 said in a statement to Metro: "It is completely untrue that Rochelle Humes replaced Candice Brathwaite on this film.
"Rochelle was the only presenter attached to the project. Candice was approached to be interviewed but declined."
More from woman & home
What has Rochelle Humes said about the Candice Braithwaite controversy?
Taking to her Instagram stories, Rochelle said of the saga: "Hey gang. The situation around the documentary playing out online is complex and I know that my response won't satisfy everyone.
"That being said, I am going to speak to the facts and what I know to be true.
"Firstly, recognise that I am contributing to a conversation that many black women have been central to and fighting for a long time.
"When taking on this project, it was necessary to the producers and I, that the voices of the people who've been directly affected are centred in the storytelling."
Rochelle added: "It's important to me personally and everyone involved in this documentary that this ongoing issue is brought to the widest possible audience.
"I was offered the role as host last year, to go on an exploratory journey through the lends of the audience to ask the question why.
"To tackle any issue on a national scale, it involves a community of people pulling together to advocate and rally for change as ultimately we all share the same goal.
"This is bigger than me and not about me, I'm just bringing this topic to a wider audience and championing the incredible women that haven't yet had their voices heard.
What else has Candice Braithwaite said?
Since the controversy, Candice has continued to thank fans for their support.
In one Instagram post, she said: "More life, love and energy.
"Can't pop up and act like it's all normal but what is evident is how supported I am.
"And I can't thank you lot enough. Sometimes I want to duck out of this path, pull this crown off cause my neck is hurting.
"But with this energy I feel like there is nothing I can't do."
In another heartfelt post, she wrote: "I need a moment to gather myself, real talk.
"The end goal is the same I'm gonna work hard enough to to become a gate keeper.
"The key is ownership. I don't come this far to just come this far.
"Big love to all the dark skinned women in my inbox who are using it as a safe space."
Robyn is a celebrity and entertainment journalist and editor with over eight years experience in the industry. As well as contributing regular to woman&home, she also often writes for Woman, Woman's Own, Woman's Weekly and The Sun.