Christmas dinner etiquette: your guide to festive manners
The etiquette experts from Debrett's are on hand to make sure you don't commit any faux pas this Christmas!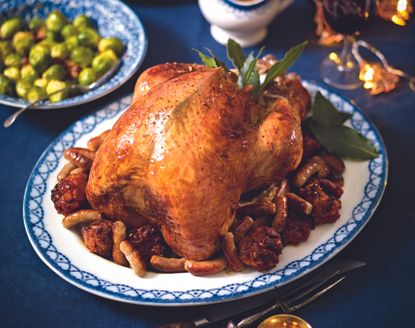 The festive period is time for making things feel really special and celebrating in style.
However, Christmas dinner etiquette is something that leaves many of us feeling puzzled. Is turkey OK or should you do goose? How to lay the table? And what do you do if you're a guest?
We've consulted with posh party veterans and the trusty Debrett's guide to manners to explain how to navigate Christmas dinner etiquette.
Christmasnapkins
Etiquette bible Debrett's makes no mention of napkin rings, and instead advises you to simply place your folded napkins on top of the plates. No need for fussy napkin rings, which is at least one thing fewer for you to worry about when setting the table.
Christmas table decorations
When it comes to Christmas table decorations, less is more. Tinsel is seen as "vulgar" in posh circles, but there is always a single, small kitsch novelty item present for a festive feel, such as a Father Christmas gravy boat.
Cutlery
This is famously a tricky one, but Debrett's has your back for Christmas dinner etiquette.
It says: "Whether it is a formal dinner or a much more casual occasion, the basic rules do not vary when laying the table. Give each person as much elbow room as the table permits. Leave an even amount of space between places. Knives and spoons go on the right, forks on the left." Simple! Visit the Debrett's website (opens in new tab) for more information.Visit the website for more information.
Christmas Champagne
Only wallies pop the cork, so don't even think about doing the comedy thing of letting it fly across the room. Hold the bottle firmly, peel the foil off around the cork, unscrew the wire cage and remove it, hold the cork and twist the bottle carefully. This was you'll get a gentler sound from the bottle, and less overspill. One you've filled glasses for everybody - helping yourself last - put it in an ice bucket to chill. The same rules apply for prosecco!
Guest behaviour
If you're being hosted for Christmas, breathe a sigh of relief that you won't be up at 5am to remove the turkey from the brining bucket. But there are some important rules to adhere to. The obvious applied - that it's important to let the host know well in advance of any dietary requirements, and come armed with presents and good cheer.
But Debrett's has some slightly more technical advice if you're attending a formal meal. "Guests should try and pace their eating and keep an eye on others. They should also speak to one neighbour during the first course then turn the other way so that no one gets left out. A woman will usually turn first to her left. If there is a gap, perhaps because the host or hostess is doing something in the kitchen, then talk across it till they sit down."
Christmas meat rules
A turkey is completely acceptable to serve on Christmas Day, but it should be the best quality that you can get. Goose is seen as a real treat, but don't do it if you don't fancy it as it can make a bit of a mess of the oven, is very fatty and disgusting cold. However, a veteran of posh Christmas dinners tells w&h that "something like Capon is the business".
Our expert also adds that "If attending another person's Christmas, suggesting they cook a goose is terrible manners as it implies that they'd be unable to keep the turkey breast moist."
They continue: "Ham is entirely unnecessary but completely essential. It's a 'cut and come again' meat for when you expect a rolling series of guests throughout the Christmas period. It should be served hot on the first occasion and cold thereafter." It's best to serve it for the first time on Boxing Day lunch.
"It's also pretty vulgar and 'fast' to eat anything that isn't leftovers between Christmas and New Year's Eve."
Mollie worked as a junior reporter across Women's Lifestyle brands, focusing on news, with a particular fascination with all things royal.
Mollie started out doing work experience across digital websites, before taking up a role as a digital intern, working mainly on woman&home, where she excelled at sourcing original stories for the woman&home audience, but also wrote up fashion, beauty, and general lifestyle features. She now works in marketing for a creative media recruitment company.
Mollie is a candle, film, and food fanatic, who also makes a mean margarita.