Carol Vorderman interview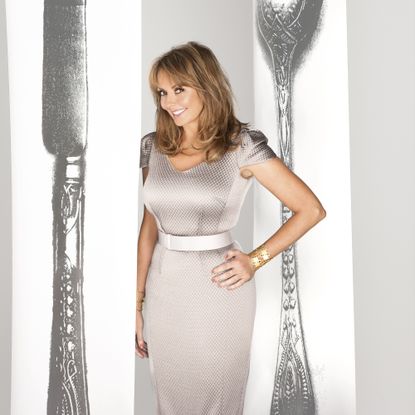 Food, Glorious Food is all about finding the best recipe. It's lovely because the people who've been bringing their recipes are so different. From a 92-year-old Cornish lady called Eunice, who makes the most traditional pasty, to young kids who've taught themselves to cook to an incredible level, to blokes who only cook one thing, but they do it really, really well.
Food and cooking is about sharing it with the people you love. My stepfather was Italian and cooked every Friday. I would cook with him and we would make battered steak. It was gorgeous. I still make it now.
I'm not a brilliant cook, but if I had to cook one dish, it would be pasta. I adore pasta. Pappardelle is just beautiful. I'd have it with broccoli florets, some Parmesan and lemon. I'm hooked on broccoli – I could eat it every day.
My mum isn't a chef. She heard the first ping of a microwave and that was it, she never touched a cooker again.
My big adventure has been learning to fly. At my interview for Cambridge, they asked why I wanted to read engineering and I said I wanted to be a pilot. In those days, the RAF wouldn't take female pilots, so I planned to do commercial training with British Airways, but they closed the training school because there was a glut of pilots. So I decided to move to plan B – I just wasn't sure what that was!
When I had time to have flying lessons in my early 20s, I had no money. And then when I had more money, I had no time. Now is the first time in my life that I can make time and have the money.
So I took a big break in December and went to America to have lessons. I went to San Diego, where good weather is guaranteed because beginners aren't allowed up if there's a certain amount of cloud, or the cloud is at a certain height.
I'm a little bit of a bloke. I am inherently interested in anything to do with engines. And I think I'm a boy trapped in the body of a woman as I think like one, even in relationships. My daughter is like that too. It's how we're programmed. We are geeky.
Age is confidence. I have lived through an awful lot and experienced so much. You realise that what doesn't kill you makes you stronger. And you become very comfortable in your own skin.
I don't get worked up any more. It was a change that happened in my forties. I decided to just do what I do and enjoy it. It's taken me a long time to realise that no one should fight what they actually are.
Food, Glorious Food with Carol Vorderman begins in February on ITV1.
This is an edited version of Carol's interview. To read the full article, pick up the March issue of woman&home, out now.