Great British Bake Off winner Candice Brown reveals she made a birthday cake for Colonel Tom
She shared a snap of the veteran with his cake on Instagram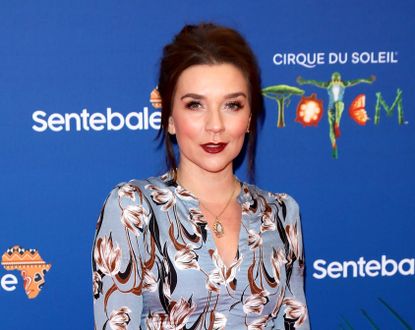 Great British Bake Off winner Candice Brown has described her 'proudest moment' as making a cake for Colonel Tom Moore.
Colonel Tom, who recently raised more than £32million for frontline NHS staff working during the coronavirus pandemic, celebrated his 100th birthday last month.
But it seems he received an extra special (sweet) treat from the 35-year-old baker, to mark his milestone birthday.
Candice took to Instagram on Friday to share some photos of the cake she made for Colonel Tom (opens in new tab) and his family. In the snaps the 100-year-old can be seen sitting next to his edible gift.
In the post she writes,'Wanted to share this and today seems a good time to do so. A couple weeks ago I needed to make a lovely cake, and that lovely cake went to the one and only Captain Tom Moore.'
Candice adds that while it was not the most professional-looking cake, it was still an incredibly proud moment for her.
She continues, 'It's not the most beautiful or extravagant but this was one of the proudest moments of my life being able to give this hero an early birthday cake along with dinner for his simply delightful family (we are just down the road from them) an honour doesn't cover it. I, we salute you sir, what a wonder you truly are.
'Thank you Colonel, for what you did then and for what you have done today'
One of Candice's followers replied to the post, 'What a beautiful tribute, thank you for sharing.'
While another added,'What a joy, a wonderful cake for a wonderful man - a real hero.'
The veteran celebrated his 100th birthday on April 30th and was appointed as an honorary colonel of the Army Foundation College in Harrogate.
Colonel Tom received more than 125,000 birthday cards for his big day, which are being stored at his grandson's secondary school.
Lizzie Thomson is a regular contributor to woman&home, and also contributes to Metro.co.uk, Ideal Home, Culture Trip, and Evening Standard, covering all things lifestyle.