Bradley Cooper finally breaks silence on those Lady Gaga romance rumors—including that intimate Oscars moment
Bradley Cooper has opened up on those Lady Gaga rumors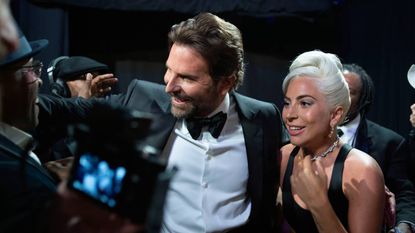 (Image credit: Eric McCandless / Contributor)
It took over two years but Bradley Cooper just confirmed that, despite a clear connection, him and A Star is Born co-star Lady Gaga were always just friends.
Who can forget the steamy performance by the pair at the 2019 Oscars? Sitting at a piano, Lady Gaga (who stars in this month's much-anticipated House of Gucci) was joined on stage by Bradley in the intimate award show moment that quite literally went viral and re-ignited the romance rumors that were swirling following the release of their critically acclaimed movie A Star is Born—a remake of the 1937 original.
But, in a new interview with The Hollywood Reporter, Bradley admits that, despite popular opinion, he and Gaga have always remained friends and the noticeable intimacy during the performance of "Shallow" was just the result of a process meant to calm his nerves.
According to the magazine, "[Bradley] had conceived the performance to unfold like a scene from the movie in part to help manage his own fears about singing live."
The actor himself noted that "[the characters] kind of fall in love in that scene in the film. It's that explosive moment that happens to them on a stage in front of thousands of people... It would have been so weird if we were both on stools facing the audience." He went on to say that "from a personal standpoint, [planning the performance out] reduces the anxiety level."
Just in case the Oscar-nominated actor's comments aren't enough to convince you, Gaga herself discussed the matter in the November 2019 issue of Elle. "Quite frankly, I think the press is very silly," she previously said. "I mean, we made a love story. For me, as a performer and as an actress, of course we wanted people to believe that we were in love [...] and we wanted people to feel that love at the Oscars. We wanted it to go right through the lens of that camera and to every television that it was being watched on."
Alas, our hopes for a real-life romance between the two have been squashed.
Gaga, who recently made headlines following the shock abduction of her dogs, is actually currently dating entrepreneur Michael Polansky. Bradley, who has a four-year-old daughter with ex-wife Irina Shayk, is currently (reportedly!) single.
Anna Rahmanan is a New York-based writer and editor who covers culture, entertainment, food, fashion and travel news. Anna's words have appeared on Time Out New York, the Huffington Post, Fortune, Forbes, Us Weekly, Bon Appetit and Brooklyn Magazine, among other outlets.