Bored Over The Festive Break? Here are 9 Podcasts You NEED To Listen To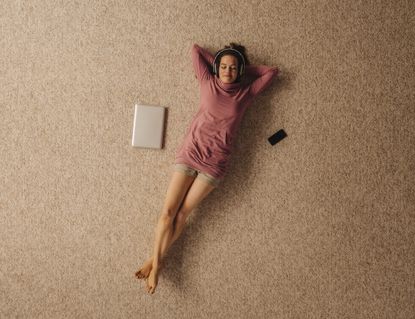 (Image credit: WestEnd61/Rex Features/Shutterstock)
Christmas is a relentlessly busy time - with presents to wrap, a turkey to roast and a bustling home to keep tidy, it can be hard to find time to put your feet up (and enjoy the festive tele specials).
Happily, podcasting is only getting more popular (opens in new tab) - as demand for on-the-go entertainment only gets higher. With more and more creators, presenters and even celebrities putting out content on everything from history lessons to whodunnits. You can enjoy the thrill of a murder mystery, stories from your favourite comedian or interviews with the icons wherever you are - busy day or not...
Need some inspiration? Here are 9 of our favourite podcasts to keep you entertained this Christmas:
Esther Perel
Esther Perel is a relationship expert who believes that the quality of our relationships determines the quality of our lives. Her podcasts are full of relatable advice on how to combat the most common of relationship woes. From avoiding having the same argument over and over with your other half to finding 'the one', this is the one stop podcast for all things 'love'.
FIND OUT MORE (opens in new tab)
The Dinner Party Download
Whether you're most at-home when it comes to entertaining or dread the idea of hosting, The Dinner Party Download brings the joy of dining with friends to the airwaves. An hour of foodie and cultural chat that flies by - plus celebrity guests and a themed cocktail recipe for each episode.
FIND OUT MORE (opens in new tab)
Untold: The Daniel Morgan Story
If you loved the likes of Serial and S-Town (and are patiently waiting for series 2 of Making A Murderer), your next download should be Untold: The Daniel Morgan Story. Each episode picks apart the most-investigated murder in British history, which largely went unreported. Listen to find out why...
FIND OUT MORE (opens in new tab)
Call Your Girlfriend
We love this unequivocal ode to female friendship. Dubbed as the 'podcast for long distance besties everywhere', Call Your Girlfriend was born out of tech expert Aminatou Sow and journalist Ann Friedman's weekly calls to eachother. Eavesdrop on everything from politics to The Great British Bake Off.
FIND OUT MORE (opens in new tab)
You Must Remember This
Hollywood's long-concealed secrets are revealed in this incredibly fascinating series, written and hosted by author and film critic Karina Longworth. Get absorbed into the world film noir and listen to unknown tales on the likes of Marilyn Monroe, as well as a chilling mini-series on Charles Manson.
FIND OUT MORE (opens in new tab)
The Emma G Show
Presenter and beauty editor Emma Gunavardhana is warm, funny and relateable. Her weekly podcast, which started out as a series of beauty-focused expert interviews, now covers everything from mental health to careers, books and feminism, with a brilliant new guest each time. Beauty lovers, trawl back through the archives to find Emma's chats with skincare supremo Nadine Baggott.
FIND OUT MORE (opens in new tab)
Late Night Woman's Hour
The even franker, funnier and ever so slightly naughtier twin sister of BBC Radio 4's Woman's Hour is presented monthly by Lauren Laverne - delving into topics such as ageing, activism and female friendship with guests including entrepreneur Hilary Devey and musician Viv Albertine.
FIND OUT MORE (opens in new tab)
Kermode & Mayo's Film Review
Film buffs will love clever duo Mark Kermode and Simon Mayo's round-up of the week's film releases, complete with A-list guests such as Dame Judi Dench and Emily Blunt. The real stars of the show are the presenters, however, who've won a huge following with their easy on-air chemistry and trademark quick wit.
FIND OUT MORE (opens in new tab)
Here's The Thing
You may be surprised to learn that Hollywood star Alec Baldwin has even joined the podcast party - taking his listeners inside the dressing rooms, offices and homes of fellow actors, as well as other famous faces. Don't miss the recent episode featuring screen legend Barbara Streisand, who shares an intimate conversation with Alec from her house in Malibu.
FIND OUT MORE (opens in new tab)