As Whatsapp scam strikes thousands, here's how to spot a fraudulent message
Wondering how to spot a fraudulent message? As scams are increasingly sophisticated, experts advise how you can protect yourself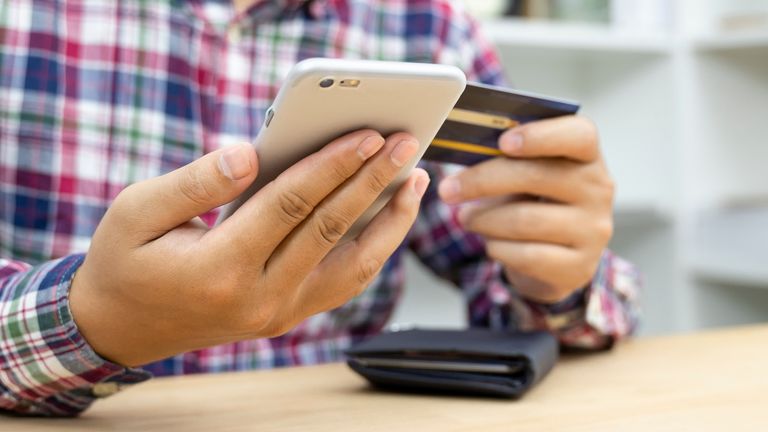 (Image credit: seksan Mongkhonkhamsao/Getty Images)
Learning how to spot a fraudulent message is, unfortunately, a vital skill in modern times. As yet another scam, sent out to thousands via messaging app Whatsapp, is reported, woman&home reached out to experts to find out what you can do to stay safe.
Only weeks after the Cadbury Easter egg scam affected countless consumers across the UK, another Whatsapp scam has hit the headlines, as users are being warned to be vigilant.
This warning came on April 23, 2022, when WABetaInfo, a site dedicated to news about the messaging app, warned its followers of the scam. Users of the popular app are being urged to report and then delete any messages that they receive from unknown accounts, that are pretending to be from Whatsapp themselves.
What's the latest Whatsapp scam?
In one of the latest Whatsapp scams, fake accounts claiming to be Whatsapp are trying to mine people's private information including credit card details, warning that failure to provide them could result in their account being terminated.
WABinfo says of this sort of message, "WhatsApp never asks for details about your credit card and information like your 6-digit code or two-step verification PIN. WhatsApp doesn't even ask for money or confidential information to avoid terminating accounts."
They continue, "If someone wants to get this information, it means it is a fake account that's trying to scam you."
Kathryn Harnett, Policy Manager at WhatsApp says, "WhatsApp protects our users' personal messages with end-to-end encryption, but we can all play a role in keeping our accounts safe by remaining vigilant to the threat of scammers."
She continues, "We advise people never to share their six-digit PIN code with others, not even friends or family, and recommend that all users set up two-step verification for added security."
If you receive a suspicious message, even if you think you know the person, Kathryn's advice is to call them or request a voicenote, to check someone is who they say they are. "A friend in need is a friend worth calling," she says.
---
Whatsapp scams—everything to know
how to spot a Whatsapp scam
Mandy Lamb, Visa's UK MD, spoke to woman&home about sure-fire ways of spotting fraud.
Visa recently partnered with researchers from Aston Institute for Forensic Linguistics (AIFL) and uncovered Fraudulese, the language used by fraudsters – in order to help protect consumers online.
Here's Mandy's tips on spotting Fraudulese in your messages.
Spell-check messages—inconsistencies in the language used in a message, such as errors in grammar and spelling, or differences between the sender's name and the URL link provided, could indicate it's fraud. If you receive a message from a company or individual out of the blue, be vigilant in checking for these errors.
Be cautious of urgent actions—language encouraging you to take urgent action is a common tactic used in bogus communications. Look out for phrases like 'send (…) here' or 'click (…) below', or updated timeframes such as 'in 48 hours' or 'by tomorrow morning'. Always take the time to consider whether the message is genuine. If you think it's fake, it's important not to click on any links to avoid compromising your personal information.
Watch out for suspicious asks—fraudsters often entice you by either highlighting a problem (e.g., asking you to rearrange a delivery) or making a tempting offer (e.g., suggesting you have won a prize). Think about your recent dealings with that organization or individual. If you don't recognize the problem you're being asked to resolve or the offer they're trying to get you to react to, it might be fraud. If you're unsure, don't click on any links or contact the sender in any way.
Validate they are who they say they are—fraudsters often work hard to convince you of their credibility, sometimes using words and phrases that you might find in genuine communications. It can be hard to tell the difference, so if you are unsure, you can check by using a different form of communication to the one they have used to reach you. For example, if you get a text asking for bank information, try emailing or web chatting with the company directly to check if it's a true request.
Check the message with someone you trust—people can be great at understanding language and communication in social contexts. It may sound obvious, but if you're unsure about the legitimacy of a message, it can help to discuss it with someone you trust. They may have also received a similar message and might be able to help advise on the best course of action to take. Sharing your experience might save someone else from falling victim too.
what to do if you've been scammed
James Brown, Director at Protect Your Bubble said, "If you suspect you've received a scam email, message, or call, ensure you report it to both the business and to Action Fraud to prevent this from happening to someone else."
You can report suspicious text messages by forwarding them to 7726 and it's free of charge.
WABinfo adds, "just block and report the fake contact right within their chat info," they advise further. "The last 5 messages from this chat will be shared with the official WhatsApp moderation team so they can understand the context of the conversation and they can suspend the account."
why are there so many Whatsapp scams?
While these scams are nothing new, there does appear to be a new wave in recent months. The resurgence of text and WhatsApp scams appear to be taking advantage of circumstances brought about by the pandemic. Peter Owen, Head of Product at Protect Your Bubble, discusses the issue with woman&home.
"The pandemic has extended the window of opportunity for fraudsters to successfully target people with a variety of different themes," he explains.
Peter references the huge surge in delivery and Royal Mail scams, which reacted to the huge upsurge in online shopping. As well as this, there were a lot of financial scams based on the schemes to help those in need.
He says, "Financial measures related to the pandemic such as the furlough scheme, may have given people the impression HMRC altered its operations and were, therefore, less wary of unsolicited communications."
One of the tricks implemented by these fraudsters is sending these scam messages en masse, and asking for little enough money so it doesn't seem too dodgy. This way, Peter says, "only a small percentage of recipients need to fall, victim, for them to make significant sums of money."
"The increase in these scams suggests they do work and their success encourages 'copycat' scams, with new fraudsters experimenting with their own scams.
what's being done to crack down on Whatsapp scams?
A worrying report from The Telegraph in February 2022, found that found seven in 10 Britons get text scams each month. Incredibly, their research found that according to the latest Home Office data, "only 24 text scam cases were charged for fraud by false representation in 2020 under the Fraud Act 2006."
Peter says, despite this concerning information, "the government, police, and governing bodies are cracking down on these scam artists."
He adds, "Only recently, phone networks could be forced to make it harder for scammers to use their networks, under a range of measures proposed by regulator Ofcom. Not only that, the government has made changes to the Online Safety Bill to tackle scams and fraud, in their fight against online fraudulent activity."
Aoife is Junior News Editor at woman&home.
She's an Irish journalist and writer with a background in creative writing, comedy, and TV production.
Formerly Aoife was a contributing writer at Bustle and her words can be found in the Metro, Huffpost, Delicious, Imperica, EVOKE and her poetry features in the Queer Life, Queer Love anthology.
Outside of work you might bump into her at a garden center, charity shop, hot yoga studio, lifting heavy weights, or (most likely) supping/eating some sort of delicious drink/meal.