Ana de Armas says she faced 'horrible' attention when dating Ben Affleck
After her much-talked about relationship with Ben Affleck, Ana de Armas found the need to move away from Los Angeles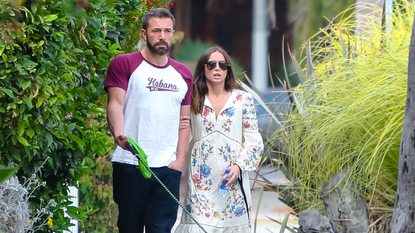 (Image credit: BG004/Bauer-Griffin / Contributor)
Over a year after Ana de Armas and Ben Affleck parted ways, the Knives Out actor opened up about what it was really like to date a superstar and constantly draw the attention of the press.
In a new interview with Elle, Ana de Armas, who looks just like Marilyn Monroe in the first teaser trailer for the new Netflix movie Blonde, got very candid about the drawbacks of extreme fame, specifically dissecting her former relationship with Ben and revealing that she eventually decided to move away from Los Angeles because of the "horrible" attention she experienced in connection to her relationship.
"It became too much," the 34-year-old actor said to the outlet. "There's no escape. There's no way out. It's always the feeling of something that you don't have, something missing. It's a city that keeps you anxious."
As a result of the scrutiny and anxiety, Ana decided to move to New York, where she now lives with her boyfriend Paul Boukadakis, an executive at Tinder, and also made a commitment to not Google herself.
"I deleted Twitter years ago," she said to the outlet. "I have barely been on Instagram for almost a year."
WHEN DID ANA DE ARMAS AND BEN AFFLECK DATE?
Ana and Ben, 49, met on the set of their film Deep Water right at the beginning of the COVID-19 pandemic, around May 2020. Ana herself indirectly confirmed their status by posting a series of photos on Instagram on her 32nd birthday. Some of them depicted her and Ben cuddling and the media quickly took interest in the couple, especially when spotted on vacation together in spots like Costa Rica and Ana's native Cuba.
Ana was even seen meeting Ben's kids Violet, Seraphina and Samuel, whom he shares with ex-wife Jennifer Garner, in August 2020, when she moved into his house.
The couple split up in January 2021, apparently via phone call. Reports at the time cited Ana's desire to move away from Los Angeles and Ben's decision to stay in town in order to remain close to the three children.
Back then, a source close to the couple told PEOPLE that, "She broke it off. Their relationship was complicated."
Another source said to the outlet that the decision was a "mutual" and "completely amicable" one. "They are at different points in their lives," reported the outlet. "There is deep love and respect there."
Ana and Ben have clearly both moved on. Ben is currently engaged to Jennifer Lopez, having proposed to her a second time in April 2022 after nearly 20 years since their first breakup.
Ana, on the other hand, now lives in New York with her boyfriend.
WHO IS ANA DE ARMAS' BOYFRIEND?
Ana met her current boyfriend, Tinder executive Paul Boukadakis, in New York through a mutual friend.
According to reports, given the fact that pandemic-related restrictions were still in place when the two first got together, the couple's initial dates were spent at each other's houses, "drinking wine and getting to know one another."
The two now share an apartment in the East coast city.
Anna Rahmanan is a New York-based writer and editor who covers culture, entertainment, food, fashion and travel news. Anna's words have appeared on Time Out New York, the Huffington Post, Fortune, Forbes, Us Weekly, Bon Appetit and Brooklyn Magazine, among other outlets.