Queen is releasing a brand new song with actual vocals from Freddie Mercury
The new Queen song, featuring original Freddie Mercury vocals, is called Face it Alone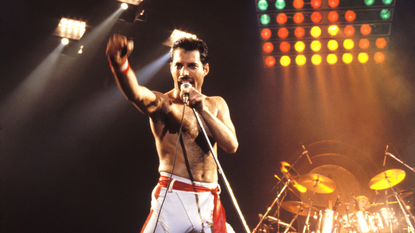 (Image credit: Steve Jennings / Contributor)
It's official: there is brand-new Queen music coming our way.
While folks around the country were celebrating the much-chronicled Platinum Jubilee 2022, the iconic band Queen's guitarist Brian May and drummer Roger Taylor told BBC Radio 2 that they recently found a previously unheard song featuring late Freddie Mercury's vocals and that they plan on releasing the track in September.
"We did find a little gem from Freddie that we'd kind of forgotten about," 72-year-old Roger said this weekend, also revealing that the track was recorded during the 1988 sessions for Queen's penultimate album with the singer, The Miracle. "It's wonderful. Actually, it was a real discovery."
Said album also included hits like The Invisible Man, Scandal and I Want It All, so expectations for the new release are obviously high.
According to Deadline (opens in new tab), Freddie, who famously snuck Princess Diana into a gay bar in drag, called the song Face It Alone.
"It was kind of hiding in plain sight," Brian said to the BBC about the discovery. "We looked at it many times and thought, 'Oh no, we can't really rescue that.' But, in fact, we went in there again and our wonderful engineering team went, 'Okay, we can do this and this.' It's like kind of stitching bits together [...] but it's beautiful. It's touching."
As for what sort of sound we should be expecting, all the band members gave away is that fans will be treated to, "a very passionate piece".
This isn't the first time that Queen releases a song featuring Freddie, who passed away from AIDS-related complications at the age of 45 in 1991, posthumously. Made in Heaven, the last album that Freddie worked on, was released four years after his death in 1995. In 2014, the album Queen Forever featured three previously unreleased tracks boasting the star's vocals: Let Me in Your Heart Again, Love Kills and There Must Be More to Life Than This.
Unsurprisingly given Freddie's level of stardom, fans have taken to social media to express their excitement over the musical update.
"I'm literally tearing up at the idea of hearing a new song featuring Freddie Mercury," one Twitter user wrote on the platform.
We're joining the chorus of excited fans asking: is it September yet?
Anna Rahmanan is a New York-based writer and editor who covers culture, entertainment, food, fashion and travel news. Anna's words have appeared on Time Out New York, the Huffington Post, Fortune, Forbes, Us Weekly, Bon Appetit and Brooklyn Magazine, among other outlets.