Adele 30 vinyl demand had her rushing to finish the album early—and it's good news if you want one
The huge demand for an Adele 30 vinyl meant she had to finish the album months in advance—but old school record lovers are in luck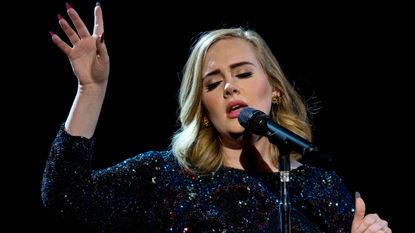 (Image credit: Photo by Philipp Schmidli/Getty Images for September Management)
The epic anticipation surrounding Adele's first album since 2015 partnered with shortages within the physical record industry meant that Adele was forced to rush to finish 30 to make sure demand was met.
Any fan wanting to get their hands on an Adele 30 vinyl will be able to get their hands on one when the album launches this month, in spite of shortages in the vinyl production industry, thanks the global music icon's forward planning.
Production for the vinyl version of 30 was stepped up amid shortages and delays caused by pandemic and shipping issues to make sure that hundreds of thousands of the Adele 30 vinyl could be made in time.
According to Variety, Sony Music sources have confirmed that over 500,000 copies of the long-awaited album have been pressed, with Adele, who is set to tour in 2022, finishing the musical project six months in advance to make sure there would be enough produced in time for November 19th, with a risk of huge limitations on the supply of 30 vinyls if she had left it any later.
Thirty Tigers label head David Macias told Variety, "If you miss your album street date by three or four months, it can reduce your vinyl sales to 30-40% of what they otherwise would have been."
If you had your heart set on the Adele 30 vinyl being added to your collection at the same time the album is available to stream on the likes of Spotify and Apple Music, you're likely not to miss out thanks to Adele's decision to wrap the album up way in advance.
With the 30 album tracklist featuring titles like I Drink Wine and Cry Your Heart Out, we're glad there won't be anything standing in the way of us and that music.
And Adele wasn't the only artist tweaking the completion date of an entire album to ensure the upmost success when it came to vinyl sales.
Fellow British music trailblazer Ed Sheeran admitted that he had no choice but to get his new album '=' done and dusted to have his share of the vinyl production after Adele's epic record mission.
Speaking on The Kyle and Jackie O Show, Ed explained that his fourth studio album had to be in the bag two months early to make sure his vinyls could materialise in time for his October 29th release date.
"The album wasn't, like, finished this week and then handed in. I handed it in in July 'cause it had to get printed on vinyl," he said when asked if he was nervous about releasing new music after several years off.
Ed, who has also released '=' on cassette tape to hack into the nostalgic music market even further, continued, "There's like, three vinyl factories in the world, so you have to do it really [early]. And Adele had basically booked out all the vinyl factories, so we had to get a slot and get our album in there."