10 Things You Need To Know About James Norton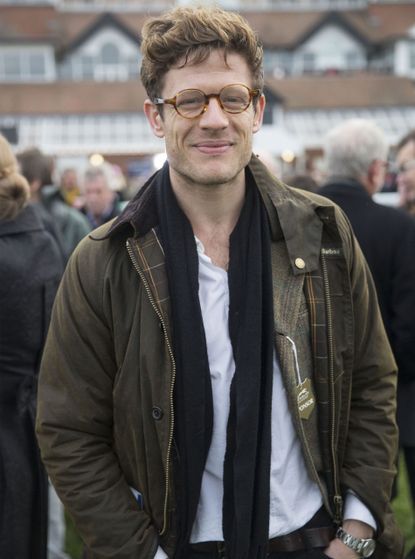 (Image credit: Rex Features (Shutterstock))
If you've been tuning into War and Peace on Sunday night you'll no doubt be familiar with James Norton, aka the dashing Prince Andrei. Forget Eddie Redmayne and Marc Darcy, here's everything you need to know about the Yorkshire man making everyone swoon...
1. He's a (very clever) Cambridge graduate After attending Ampleforth College where he boarded from the age off 11 and was taught by Benedictine monks, James went on to study at Cambridge where he received a first class honours degree in Theology. 2. He dropped out of RADA Post university and a brief spell travelling in Nepal (obviously), James got a place in the notoriously competitive Royal Academy of Dramatic Art but left six months before graduation in favour of an acting role. We love a risk taker.
3. He's already won a BAFTA James received a Best Supporting Actor BAFTA TV nomination for his role as a drug dealing psychopath in Happy Valley - the BBC mini-series. Could an Oscar be next on the list? 4. He's a fashionista He once had his own stall where he sold men's vintage clothes. Bless.
5. He's single (woop!) Yes indeed. And in case you wanted to know he lives in London - Peckham to be precise. 6. He likes to go on long walks We can just imagine James trudging through the Yorkshire moors in a worn out Barbour jacket (see above). He's climbed the Brecon Beacons, rambled through the Lake District and roamed South Downs. So romantic. 7. James and Lily James turn to Whitney Houston when filming romantic scenes in War and Peace Lily James, who plays Natasha Rostova in War and Peace recently revealed that she plays 'I wanna dance with somebody' to James just before the show's steamy romantic scenes to lighten the mood.
8. He's tall 6"1 exactly. 9. He is a feminist James feels there are not enough opportunities for women in the film industry. He also hopes that young female directors will turn it all around. Awww.
10. He acted as Gwen Stefani in a school miming competition Which is how he first caught the drama bug, FYI.