Five Truly Magical Cinderella Moments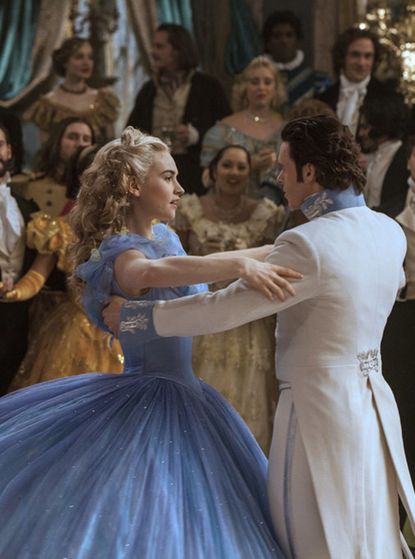 From the original 1950 animation of Walt Disney's Cinderella has emerged a real life fairytale played by actress Lily James as Cinderella with Cate Blanchett as her wicked step-mother and Helena Bonham Carter as her fairy godmother. Interwoven with fantastical characters, a captivating love story and a strong moral message, it's a truly magical film and here are the five most magical moments of all:
http://www.youtube.com/watch?v=sYPXeNzpDJE
1. The fairy godmother
If you're a fan of the 1950 animation, you may miss the soundtrack as the songs only feature in the credits. That said, as Helen Bonham Carter uses her magic wand to conduct a scene of total enchantment, she sings her own tuneful rendition of 'Bippity boppity boo'. The special effects used, exceed expectations as her wand twinkles, sparks fly and she turns lizards into coach men, mice into white horses, and, of course, the pumpkin into a glowing golden carriage.
2. The glass slipper
The exquisite glass slippers worn by Lily James were meticulously crafted by Swarovski. They are even more luxurious in real life film than they ever were in animation and leave you wanting to catch just another glimpse. It's not just Swarovski that has been inspired by Disney's new Cinderella film - prestigious designers from Jimmy Choo to Manolo Blahnik have created their own interpretations of Cinderella's glass shoe.
3. The moral message In keeping with traditional 1950 fairytale, the film is laced with strong, moral messages. The phrase 'have courage and be kind' crops up a few times at intense moments in the plot, reiterating the lesson taught through the fairytale, which proves, in the end, that good will always triumph evil. In true Disney fashion, while parents hope the message will infiltrate the minds of their children, it is just as applicable to adult viewers - Cinderella's kind and forgiving nature is unfaltering despite the trials and tribulations that she faces and the nasty characters she encounters.
4. Rob Brydon as a comical court painter
Rob Brydon features in a few scenes as a comical court painter. His scenes are light hearted, comic and a welcome distraction at tragic points in the plot. Staying true to his character in the TV series Gavin and Stacey, his thick Welsh accent and witty humour is sure to conjure up some laughter.
5. The costumes
The costumes satisfy our childhood longing for elaborate fairytale features that reflect the morality of the characters. The two ugly sisters and Cinderella's terrifyingly cruel step-mother sport grotesquely colourful dresses while she wears humble rags yet appears naturally beautiful, emulating her innately good nature. Even the pets reflect their owner's morality, or lack thereof. While Cinderella is portrayed building miniature dining tables for her mice friends, the step-mother's cat, aptly named Lucifer, lurks viciously behind furniture, determined to eat them up.
Be sure to catch Walt Disney Studios' Cinderella, out in cinemas on 27th March 2015.
Sign up to our free daily email for the latest royal and entertainment news, interesting opinion, expert advice on styling and beauty trends, and no-nonsense guides to the health and wellness questions you want answered.